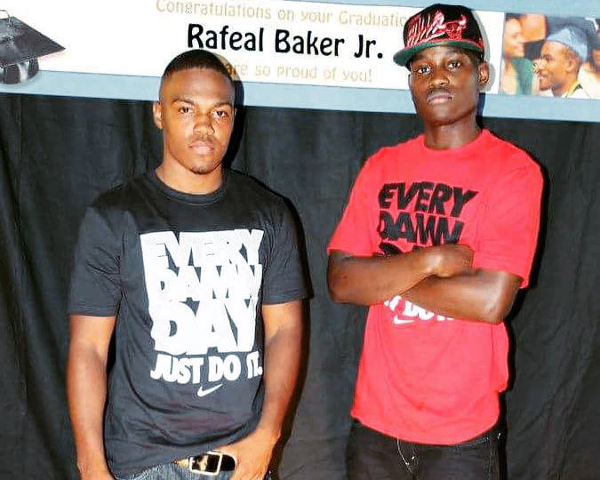 Akeem Baker – Ahmaud Arbery's best friend – breaks down during an interview while talking about who his best friend was. It's gut wrenching to watch, but necessary. Also, Ahmaud's mother says she wants the death penalty for the two white men who gunned her son down in cold blood. Details inside…
From elementary school to adulthood. Ahmaud Arbery and Akeem Baker were friends for life.
Even though Akeem went off to college, Ahmaud would still call him up to make sure he was doing OK and that he was on the right track. Now, Akeem will never get another check up call from his best friend since two white men decided they would play God and fatally shoot him while he was taking a jog in a Georgia neighborhood.
"He was everything I could ask for when it came to friendship," Akeem told CNN's Don Lemon.
While fighting back tears, Akeem said Ahmaud always saw the best in him and would tell him things he needed to hear and not the things he wanted to hear.
"He was a bright light in a world of darkness," he said about his friend.
Akeem said before Ahmaud would hang up the phone he would always say he loved him.
As for his aspirations, Akeem said Ahmaud wanted to become an electrician and wanted to own his own business.
You can watch his emotional interview below that we could barely get through ourselves due to tears:
"He was a bright light in a world of darkness."
Akeem Baker remembers his best friend, Ahmaud Arbery, who was fatally shot while jogging in Georgia. He says he wishes he'd "had another conversation with Ahmaud." https://t.co/L5oZPiQsWQ pic.twitter.com/Vd8bXCmt6x
— CNN (@CNN) May 13, 2020
Heartbreaking.
Akeem Baker graduated from Morehouse with a degree in biology in 2016. He then went to Boston University to work on a master's degree in medical sciences hoping to get into medical school. According to The NY Times, Akeem grew depressed and began to doubt his long-held dream. He returned to the Brunswick area and took a job at a nearby chemical plant.
Also…
Wanda Cooper-Jones – Ahmaud's mother – said she wants all those who were involved in her son's murder to get the death penalty.
"I would like for all hands that were involved, who played a part in my son's murder, to be prosecuted to the highest," Wanda told TMZ."My point of view: My son died, so they should die as well," she continued.
Ahmaud's mother also wants William Bryan, the man who recorded video of Ahmaud's murder, to be prosecuted as well.
Wanda confirmed she has spoken Joyette Holmes – the newly appointed lead prosecutor and she said she did give her some assurances, but she can't share any details. During the interview, Wanda's attorney, Lee Merritt, stopped Wanda from disclosing any information the prosecutor shared with her.
It's possible the new prosecutor (the 4th to be appointed to the case) could seek the death penalty.
TMZ reports:
There may be several circumstances in this case that would allow the prosecutor to seek the death penalty, including this provision of Georgia law … the death penalty can be sought if "the capital offense was outrageously or wantonly vile, horrible, or inhuman in that it involved torture, depravity of mind or an aggravated battery to the victim."
People have been protesting in Brunswick (and elsewhere) calling for justice.
Ahamud's alleged killers/father-son duo Gregory & Travis McMichael are reportedly being housed in a separate wing of the Glynn County Detention Center away from the general population. The reason? "For their own safety." We're honestly not surprised. It's reported the father and son are not in the same cell, nor are they in cells close enough for them to communicate with one another. Allegedly.
TMZ reports:
What they can do, we're told, is eat alone, periodically leave their units under a secure setting — but only among themselves — and that's about it, really. We're told there are no TVs in the section of the jail where they're being housed, so they can't follow the case in the news.
For security reasons, Corbett refused to say whether the men were on suicide watch or whether threats have been made on their lives.
Hmph.
Photos: Akeem/AP