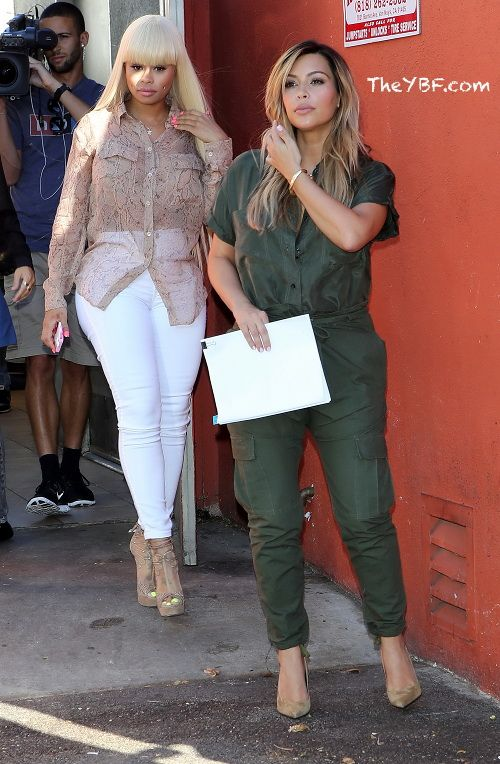 Blac Chyna woke up and chose….truth. Sis had some things on her mind that she shared with her social media followers that pointed out the double standard about "baby mamas" when it comes to The Kardashians. Find out what she said inside….
Blac Chyna woke up and chose….the truth… recently when she hopped online to shed light on the double standards that exist between black women and the Kardashian sisters, including Kim, Kourtney, Kylie, and Khloe.
Oh yes, Chyna got on Beyonce's internet to call a spade a spade and she clearly doesn't care who doesn't like it. There were no subliminals, no reading between the lines. Chy said exactly what she wanted to say. It's unclear what prompted the online commentary (since she shared a picture that was posted a while ago), but sometimes a chick just has to release some things off her chest.
The Lash Boutique owner shared a picture from a Kim K IG fan page of the KKW Beauty honcho's "surprise" party that went down in October 2020 on her IG Stories. She captioned a picture of Kim and her sisters: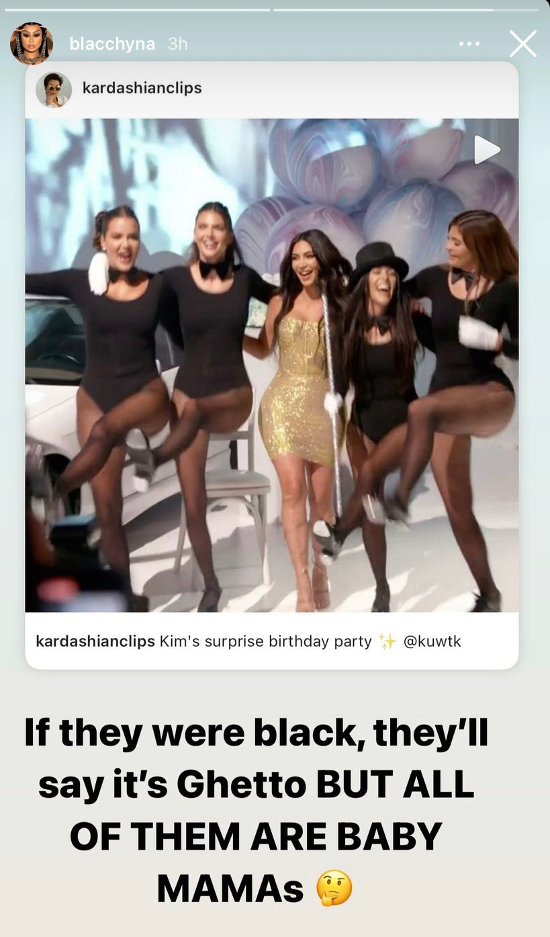 "If they were black, they'll say it's Ghetto BUT ALL OF THEM ARE BABY MAMAS," Chyna wrote.
Honestly though, where is the lie? Society is quick to shame a black woman for having kids and not being married to the kids' father(s). Yet, when "others" do it, their actions aren't scrutinized. If anything, their actions are celebrated by their fan bases. Take Khloe, for example. It's rumored she's trying to have baby #2 via surrogate with her cheating boyfriend Tristan Thompson. Make it make sense.
Kim is set to divorce the father of her four kids, Kanye West. Kourtney never married her kids' father Scott Disick. Obviously, Khloe and Tristan aren't married. And Kylie isn't married to her daughter's father, Travis Scott.
Again, we aren't sure what prompted Chy to pop off on the Kardashian-Jenner clan. What we do know is that she's in the middle of a court battle with the Kardashian-Jenner clan over her reality show, "Rob & Chyna," being canceled.
In the suit, Chy claims Kim, her momager Kris Jenner, and the family conspired to have E! execs cancel the 2nd season of Chyna's reality show with her daughter's dad, Rob Kardashian. She claims the family told lies about her, which resulted in the network axing her show, causing her to lose millions.
The Kardashian-Jenners have reportedly been trying to have the case dismissed, but they haven't been successful. If they don't reach an agreement soon, the case will go to trial later this year. Oop.
The 10-day trial for the Chy's case was originally set to start on November 29, 2021, but will now take place a whole month earlier on October 18, 2021.
In a statement to Page Six, Chyna's lawyer, Lynne Ciani, said the reality star is "thrilled" that her court date has been rescheduled. But according to the legal documents, both parties are also still open to pursuing mediation before the trial starts this fall, and a post-mediation status hearing has been set for July 26, 2021.
We shall see….
Photo: INF