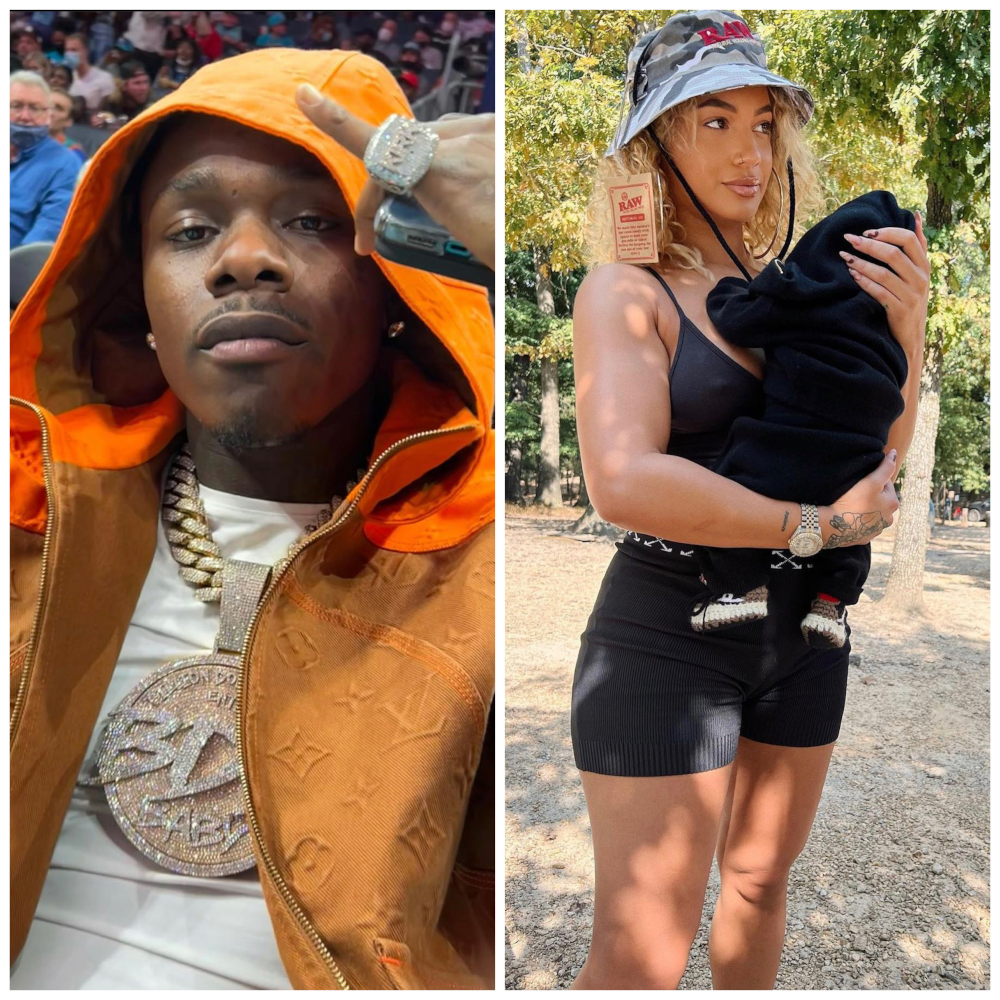 After a drama filled fight that was blasted all over the Internet, DaniLeigh has been charged with assault after DaBaby called the cops on her when he demanded she and their daughter leave.
Dani's family members are speaking out after DaBaby made claims that they "disowned" her for having a half Black child. Now her brother wants all the smoke with the rapper. Get it all inside….
DaBaby vs. DaniLeigh continues!
Yesterday, DaBaby and DaniLeigh, who have a 3-month-old daughter, let the world in on their behind-the-scenes drama, which resulted in Dani having a total breakdown on social media after the cops were called. She also feuded with DaBaby's other baby mama, MeMe.
According to reports, the "Yellow Bone" raptress was charged with two counts of simple assault for allegedly attacking the "BOP" rapper twice. Cops believe she assaulted DaBaby Sunday night and Monday morning during their feud that was broadcasted on social media.
The Charlotte Observer revealed the police were called to DaBaby's home twice, once Sunday night (Nov. 14th) and again Monday morning (Nov. 15th). First, the 29-year-old rapper (real name Jonathan Kirk) told Charlotte-Mecklenburg officers that DaniLeigh (real name Danielle Curiel) assaulted him when they showed up to his crib Sunday night. Things simmered down before DaBaby called the cops a second time Monday morning to report another assault at the hands of Dani.
Apparently, DaBaby contacted the Magistrate's Office to pursue charges because Dani was served with a criminal summons for simple assault for both incidents.
CMPD tells me DaniLeigh has been charged with simple assault. DaBaby told CMPD that DaniLeigh assaulted him. DaniLeigh and DaBaby have a child together @wsoctv pic.twitter.com/j3kAv2Ucu1
— Joe Bruno (@JoeBrunoWSOC9) November 15, 2021
The world saw the former couple during a heated argument that went down while Dani was holding and feeding their 3-month-old daughter.
During their online feud, Dani accused DaBaby of kicking her and their baby out of his home. She claims she had a Plan B sent to his condo where she has been living and that made him mad. Dani said she didn't leave because she didn't want to be out in the streets late at night with her newborn. After DaBaby posted a "statement" on Instagram addressing the drama, he hopped back online Monday morning, posting a live video where he dubbed her a "certified side b*tch" as she tried to defend herself in the background before walking into another room and slamming the door.
The 26-year-old mother followed up with a timeline of their "relationship," telling fans he broke up with her after he got her pregnant and then she took him back before their daughter was born. They have allegedly been living together ever since. Dani posted videos of herself and DaBaby all boo'd up with dates attached to prove they were secretly together after everyone else believed they had broken up.
Being spiteful, DaBaby then hopped back online to show their daughter for the very first time. In the video, he blasted Dani's family for "disowning her" because she decided to get pregnant by a black man. Check it:
View this post on Instagram
After hopping on plane, Dani confirmed she left DaBaby's home and thanked her fans for their support:
View this post on Instagram
Once Dani got on a plane, her family started to speak out. Dani's mother put up a post about getting her daughter and granddaughter to "safety" just as Charlotte PD announced the rapper filed an assault report on her. DaBaby accused Dani's mother of disowning her granddaughter because she's mixed.
View this post on Instagram
More of Dani's family members took to social media to respond to the drama. Dani's brother, Brandon Bills, wants ALL the smoke. He posted a video challenging DaBaby to fight whenever he comes back to the west coast.
"This has nothing to do with my sister anymore, this is me and you, you feel me. You Mr. tough guy, beating up b*tches. I'm in a hospital. I got in a car accident. I'll still beat you a** on god. When you come to the west coast, we catch this one-on-one fade."
Swipe through to see the clip below:
View this post on Instagram
After all of the drama, Dani posted (then deleted) her final words about everything that went down between her and the father of her child. She wanted to clear the air about why she stayed in DaBaby's home after he asked her to leave.
View this post on Instagram
It's giving very much ghetto baby daddy/baby mama drama.
In the midst of it all, DaBaby's daughter's mother MeMe shared a cute flick of herself and her daughter.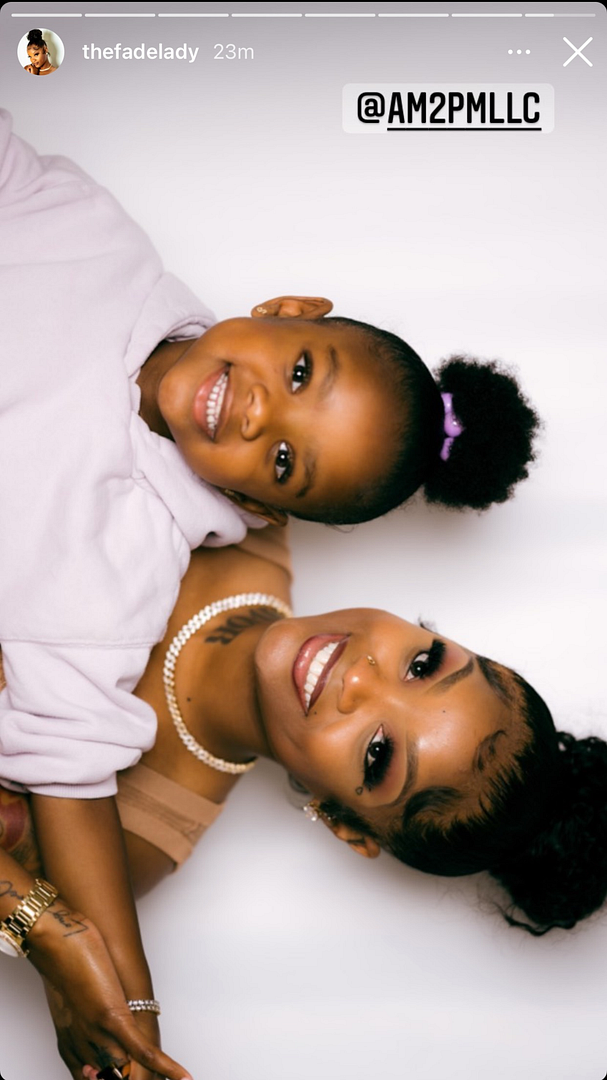 And, of course, she threw in a good meme for good measure (as she often does):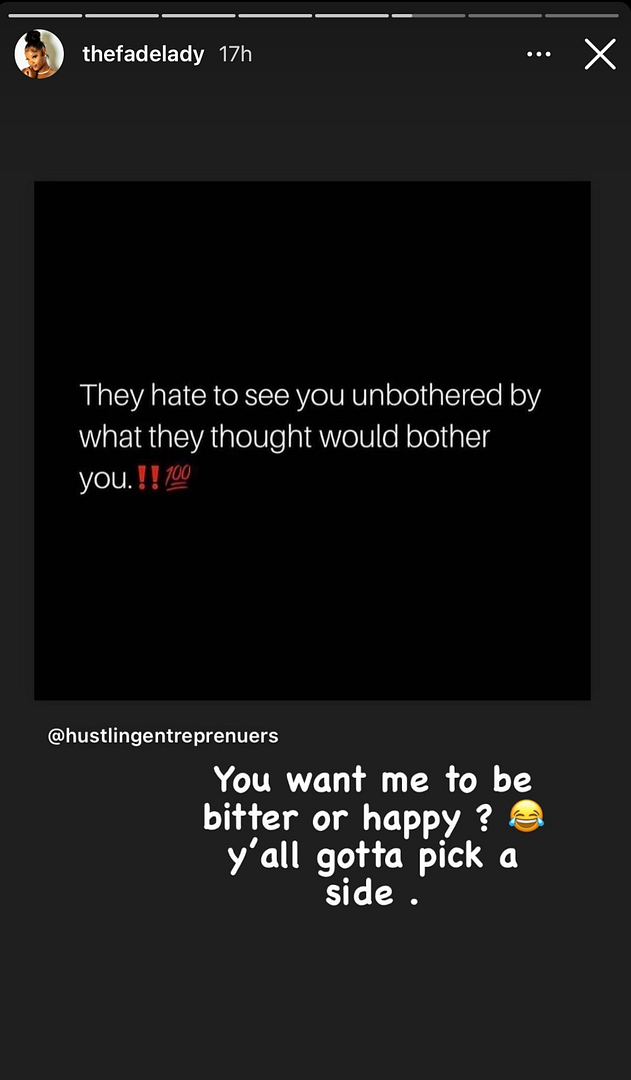 Photo: Instagram