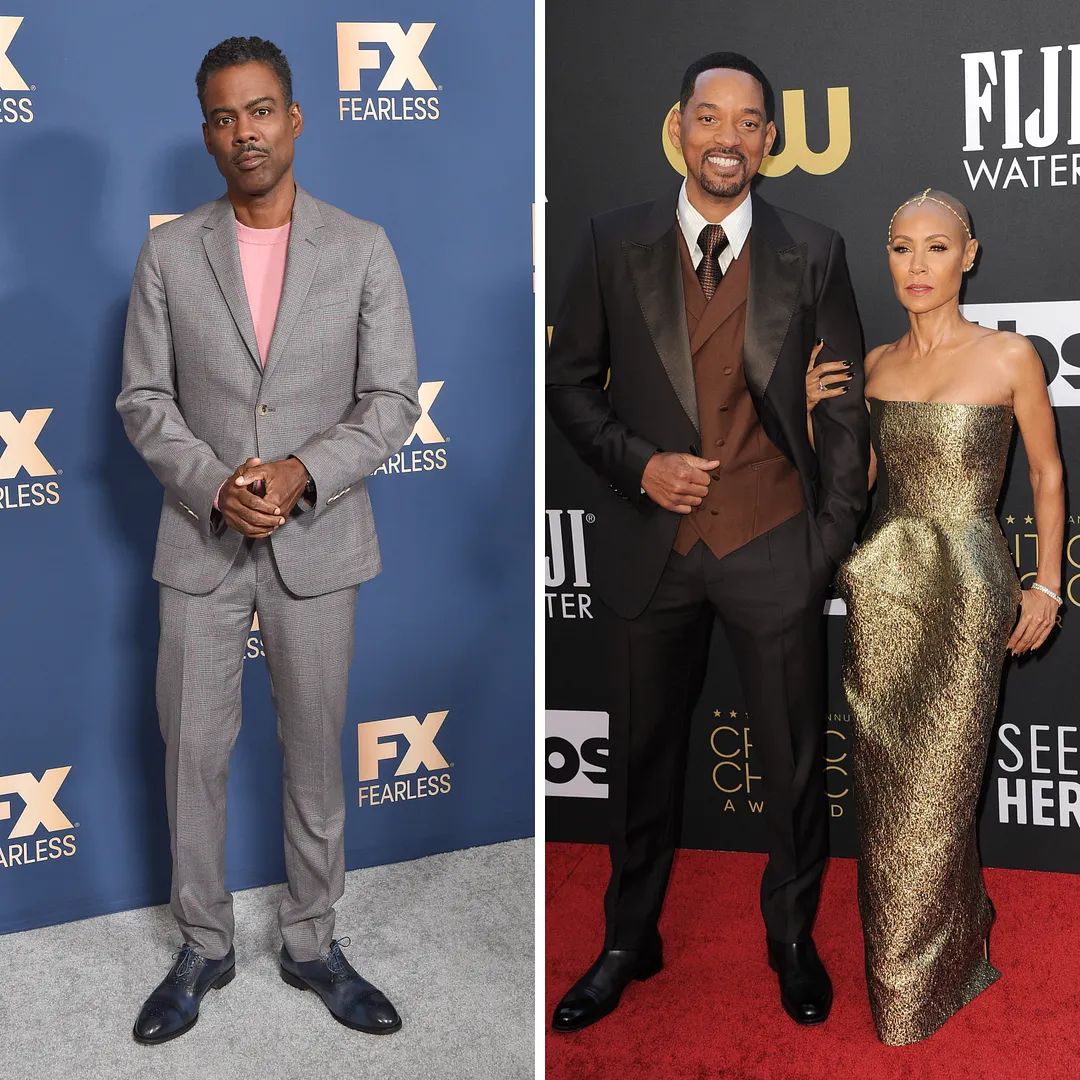 Chris Rock responds to the new, public apology Will Smith recently posted involving the Oscars slap heard around the world. Find out what they both said inside…
The aftermath continues on.
Fours months after the infamous Oscars slap "heard around the world," Hollywood actor Will Smith released a video apology to Chris Rock and his family for his actions on the night he won his very first Academy Award.
As you know, Will rushed the Oscars stage and slapped presenter Chris Rock across his face after he made an off-script joke about his wife Jada Pinkett-Smith's bald head, comparing her to the G.I. Jane character.
During his first "Ego Death World Tour" show since Will released his apology video, the "Good Hair" host joked about the slap, dubbing Will "Suge Smith," a play on the name of Death Row Records CEO Suge Knight (who is currently incarcerated).
The 57-year-old comedian hit the stage at the Fox Theatre in Atlanta on Sunday (July 31st) to basically subtweet Will onstage as he didn't mention his name, but it was clear what he was referring to.
"Everybody is trying to be a f**king victim," he said. "If everybody claims to be a victim, then nobody will hear the real victims. Even me getting smacked by Suge Smith … I went to work the next day, I got kids."
"Anyone who says words hurt has never been punched in the face," he joked.
Early Friday morning, the King Richard star – who won the Best Actor award – took to Instagram to post a video apology to Chris. In the video – that almost six minutes – he apologized to Chris, Chris' brother Tony Rock (who defended his brother), and their mother.
"I will say to you, Chris, I apologize to you. My behavior was unacceptable, and I'm here whenever you're ready to talk."
The Pursuit of Happyness star answered questions that were raised on the internet following the Oscars slap. When asked why he didn't apologize to Chris during his acceptance speech, he shared:
"I was fogged out by that point. It is all fuzzy. I've reached out to Chris and the message that came back is that, he's not ready to talk. When he is, he will reach out. I will say to you, Chris, I apologize to you. My behavior was unacceptable and I am here whenever you are ready to talk. I want to apologize to Chris's mother. I saw an interview [she] did, and that was one of the things I just didn't realize. I wasn't thinking, but how many people got hurt in that moment. I want to apologize to Chris' mother, I want to apologize to Chris's family, specifically Tony Rock. We had a great relationship. Tony Rock was my man. This is probably irreparable. I spent the last three months replaying and understanding the nuance and complexity of what happened in that moment. I'm not going to try to unpack all of that right now, but I can say to all of you, there is no part of me that thinks that was the right way to behave in that moment. No part of me that thinks that is the optimal way to handle a feeling of disrespect or insult."
After Chris made the G.I. Jane joke, we all saw Jada roll her eyes in annoyance. Despite how the Internet tried to pin this altercation on Jada, Will confirmed she had nothing to do with his spontaneous actions.
"No. I made a choice on my own, from my own experience, and my history with Chris. Jada had nothing to do with it. I'm sorry, babe, and I want to say sorry to my kids and my family for the heat that I brought on all of us."
He apologized to fellow Philly native Questlove for ruining his Oscar moment after winning the Academy Award for Best Documentary for his "Summer of Soul" doc.
"To all my fellow nominees, this is a community," Will continued. "I won because you voted for me and it really breaks my heart to have stolen and tarnished your moment. I can still see Questlove's eyes – it happened on Questlove's award – and I am sorry isn't really sufficient."
In conclusion, Will said he's human and he's going to do everything in his power to put "light and love" into the world.
"Two things. One, disappointing people is my central trauma. I hate when I let people down, so it hurts me psychologically and emotionally that I didn't live up to peoples' image and impression of me. The work I am trying to do is, I am deeply remorseful and I'm trying to be remorseful without being ashamed of myself. I'm human and I made a mistake and I'm trying not to think of myself as a piece of shit so I would say to those people, I know it was confusing, I know it was shocking, but I promise you I am deeply devoted and committed to putting light and love and joy into the world. If you hang on, I promise we will be able to be friends again."
Peep his apology video below:
View this post on Instagram
In April 2022, Will officially and voluntarily resigned from the Academy of Motion Picture Arts & Sciences, just weeks before his scheduled hearing, following his Oscars night slap.
Will was also banned from attending Academy Awards ceremonies for the next 10 years.
Previously, Chris said he wasn't addressing the Oscars slap until he got paid. However, he hit the stage at Madison Square Garden last weekend alongside Kevin Hart and Dave Chappelle where he broke his silence about the slap.
"Anyone who says 'words hurt' has never been punched in the face," he shared.
In true Kevin Hart fashion, the Night School comedian brought a real-life goat out on stage and joked it was "Will Smith."
Photos: DFree/Tinseltown/Shutterstock