Folks have plenty to say after Jay-Z made it crystal clear no one can compete with him in a VERZUZ battle. Future threw his own name in the mix, Kevin Durant popped off on Gen Z, and Lil Duval said Lil Wayne could give Hov a run for his money. Busta Rhymes & R. Kelly's names were also thrown in. More inside…
Ever since VERZUZ launched in March 2020, Hip Hop fans have enjoyed epic Instagram live sessions with their faves. The battles put tons of our faves on stage for a night to celebrate their musical hits.
Obviously with Jay-Z being one of the Rap GOATS, people have always debated on which Hip Hop head he should go up against. But who? That's where everyone has a difference of opinion.
The Rock & Roll Hall of Famer popped up for a surprise appearance during a Twitter Spaces chat with Alicia Keys to make it clear that he's his only competition.
"Can't nobody stand on the stage with me," he said. "I ain't gonna lie, no disrespect. Everyone's amazing in what they've done. No one can stand on stage with me," he continued.
"There's not a chance in hell that anyone can stand on that stage with me .. for… I don't know how long it is, two hours. You gotta stand in front of the 'Grammy Family (Freestyle)' live. No one's ever even seen me perform that and you gotta stand in front of that. That ain't gonna never happen, man," he said.
While he said what he said, everyone wants to debate what he said. Future being one of them.
The "Life Is Good" rapper shared a screenshot of @bigbankdte's post that read, "I Promise You, Errbody From Atlanta Feels Like Pluto Can Win A Versus Against Hov!"
Yeah, no. Most of the Internet wasn't feeling that…including Brooklyn Nets baller Kevin Durant:
"Gen Z got Jay-Z f**** ed," he tweeted.
Comedian Lil Duval said he's a Hov fan, but he thinks Lil Wayne would give him a run for his money: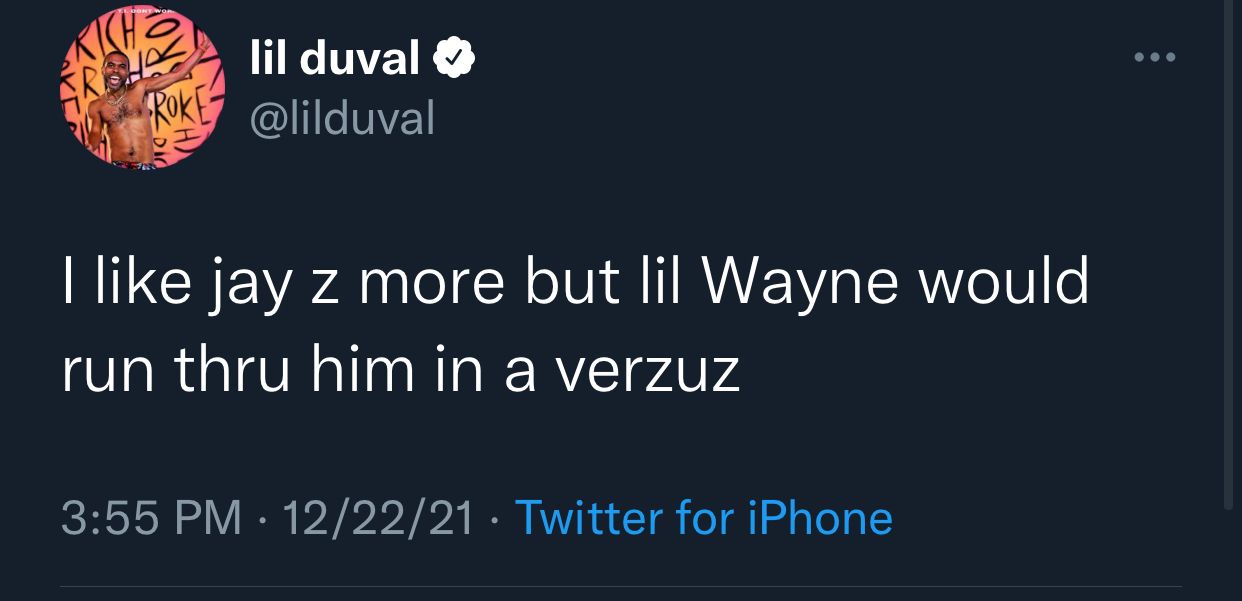 Rapper Lil Jon said rapper Busta Rhymes would "smoke" Jay-Z in a VERZUZ Battle:
View this post on Instagram
Pretty Ricky's Baby Blue – who was just sentenced to prison for PPP loan fraud – mentioned R. Kelly (who is currently in federal prison on sex abuse charges) would be the perfect opponent for Hov because fans would get the "best of both worlds," a play on their 2002 album:
Earlier this month, Rick Ross appeared on "The Real" and said it was a "possibility" he would go against Hov in a VERZUZ Battle:
View this post on Instagram
Everyone wants smoke with Hov! Who would you pick to go against Jigga Man?
Photo: Richard Shotwell/Invision/AP