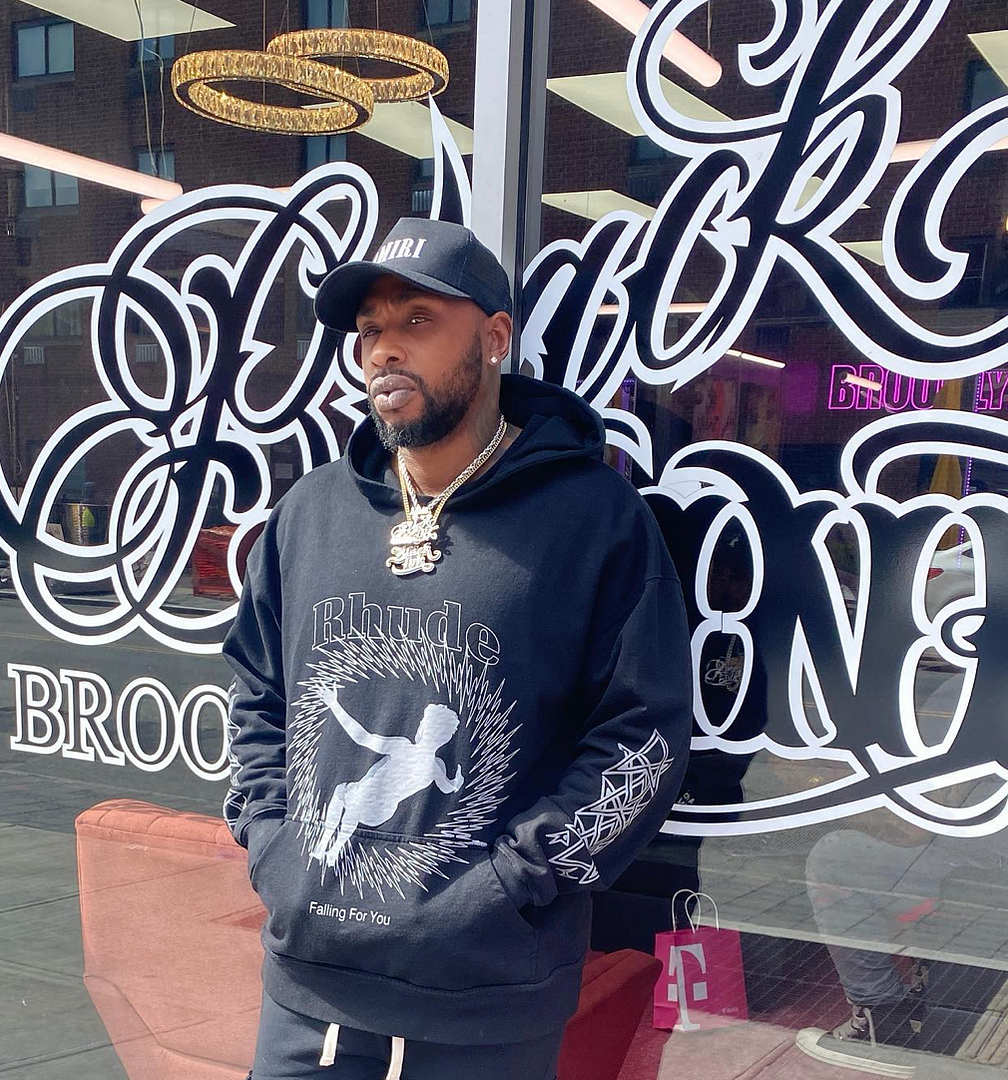 Fired "Black Ink" star Ceaser Emanuel turned himself in to authorities after he was hit with animal cruelty charges in Georgia. He then took to social media to share some subliminal messages, seemingly comparing himself to civil rights icons Martin Luther King Jr. and Rosa Parks. See his posts inside…
Former "Black Ink" star Ceaser Emanuel seemingly compared himself to civil rights leaders after he turned himself into police over animal cruelty charges.
The 43-year-old tattoo artist surrendered to the Fulton County Police Department in Georgia after he was charged with two misdemeanor charges of animal cruelty and one felony charge of aggravated cruelty to animals. His arrest comes just a few weeks after a video of him abusing a dog went viral.
Records show Ceaser was briefly incarcerated and then released that same day. After he was released he took to social media to post some subliminal messages where he seemingly compared himself to civil rights icons Martin Luther King Jr. and Rosa Parks, posting their mugshots on his IG Stories:
Now Ceaser….
In June, VH1 decided to cut ties with the "Black Ink" honcho after a video (recorded from a security camera) surfaced that appears to show him abusing his dogs. It's hard to watch Ceaser beat the dog with a folded medal chair and folks have been coming for his neck ever since it surfaced. You can view the disturbing video HERE.
In an interview with TMZ, Ceaser said he was simply trying to separate his dogs because they were "trying to kill each other." While trying to deescalate the situation and break up the dogs, he claims one of them tried to attack him.
"I was nervous and I was scared," he said. "Not one time was I trying to abuse this dog."
View this post on Instagram
Ceaser said he knows the footage looks crazy, but he was trying to keep himself from being injured. Now, he wishes he had handled the situation a better way.
"I know the footage everybody is seeing – it looks crazy. Even me looking at it, it looks crazy. It's a moment in time I wish I could take back," he said.
It's interesting because Ceaser confirms the footage was recorded off of his Ring security camera at his house. Since it was leaked, he believes he's been "set up."
"I'mma keep it a buck with you. I feel like I'm being set up in some way because the way I'm being portrayed is just like… that's not my character."
Later, Ceaser hinted his ex-girlfriend Suzette likely leaked the video of him abusing the dog in a radio interview. She clapped back, telling TSR she had absolutely nothing to do with the video leaking. The site reports:
"I'm not the only one who had access to that video. Three people have that video. Ceaser is beefing with two of them," she claimed. Suzette said that Ceaser has so many enemies that someone tried to kick their door down in their former home last year, and that's why she moved. "Why would I leak the video?! He was threatening me that if I left, he would have production make me look crazy this season," she explained. "So I sent a text saying, 'You know I have this video of you, so when the show airs in September if y'all ni***s make me looking crazy, I'm ending all of y'all."
Suzette said Ceaser's assistant reassured her that she had nothing to worry about. However, she feels Ceaser uses 'Black Ink Crew: New York' and the production team to manipulate people. "I wasn't with him for clout. I'm not a tattoo artist. I have my own brand," she declared. Suzette also claimed that her ex wasn't making the coins, as people may believe. She said he didn't pay for things until seven months into the relationship. She paid half the bills and said Ceaser never contributed financially to her surgery, as seen on the show, nor was he there for her.
The tea is far from over. Although Suzette doubled down that she didn't release the animal abuse video, she said she planned on using it as leverage if she wasn't displayed in the correct light on the upcoming season of 'Black Ink Crew: New York.' "He called my friend's phone last week and had a three-hour conversation saying the network was going to destroy me," she told us.
SMH! A mess!
Former "Black Ink" star Donna Lombardi DRAGGED her former boss online, posting the dog abuse video with the caption, "If you can treat a dog like this, it shows how sick of a person you truly are. I don't even get into the life of this man, but this video made me so upset. Anyone who knows me, knows I LOVE animals. Especially dogs," Donna wrote. "Even after he beat his daughter up, @vh1 @viacom_intl & the new @blackinkcrew producers tried to protect Ceaser, even made up fake conflicting storylines about my relationship to do it!," she continued. "Now this, cannot be undone. I pray the people see you, @ceaserblackink , as the monster you are. Your karma has been adding up for years, but to do this to two innocent dogs!?! This is crazy. CHARGES NEED TO BE PRESSED, and CANCELLATIONS NEED TO BE MADE! THE WORLD IS WATCHING! EVERYONE MUST BE HELD ACCOUNTABLE! CANT CHANGE THIS NARRATIVE!"
"Black Ink" fans have posted tons of tweets and social media posts wondering why VH1 decided to fire Ceaser when he abused his dogs, but when his estranged daughter, Cheyenne, revealed he abused her, nothing happened.
Thoughts?
Photo: Ceaser's IG/TMZ