Chris Rock was met with several standing ovations as he publicly addressed the "Oscars Slap" for the first time. Meanwhile, the Academy released a statement claiming Will Smith refused to leave the ceremony after the now-infamous blow, however, folks in his camp say that's a LIE!
Also, there's a new video from a different angle that appears to show Jada Pinkett-Smith laughing after her husband slapped the comedian onstage. Everything inside…
Chris Rock says he's "still processing" what happened at the 2022 Oscars.
Last night, the famed comedian, who is currently on his "Ego Death Tour," hit the stage for a scheduled performance at Boston's Wilbur Theatre from March 30th – April 1st.
Fans lined up for comedian Chris Rock's first standup performance at the Wilbur Theatre in Boston following the #Oscars https://t.co/iVSdtJeOvu pic.twitter.com/NXsnWxMP6f
— Reuters (@Reuters) March 31, 2022
As the saying goes, any publicity is good publicity because ticket sales for Chris Rock's upcoming comedy tour, "Ego Death World Tour" are BOOMING following "the slap." Ticket sales have seen a 200% increase where prices have gone from $46 per ticket on March 18th to a minimum of $341 now.
Making an emotional return to the spotlight for the first time since Will Smith slapped him at the Oscars, the 57-year-old went before a sold-out crowd, who stood for a few minutes to greet him with a standing ovation. In fact, he received two back-to-back standing ovations that lasted several minutes that caused him to get emotional.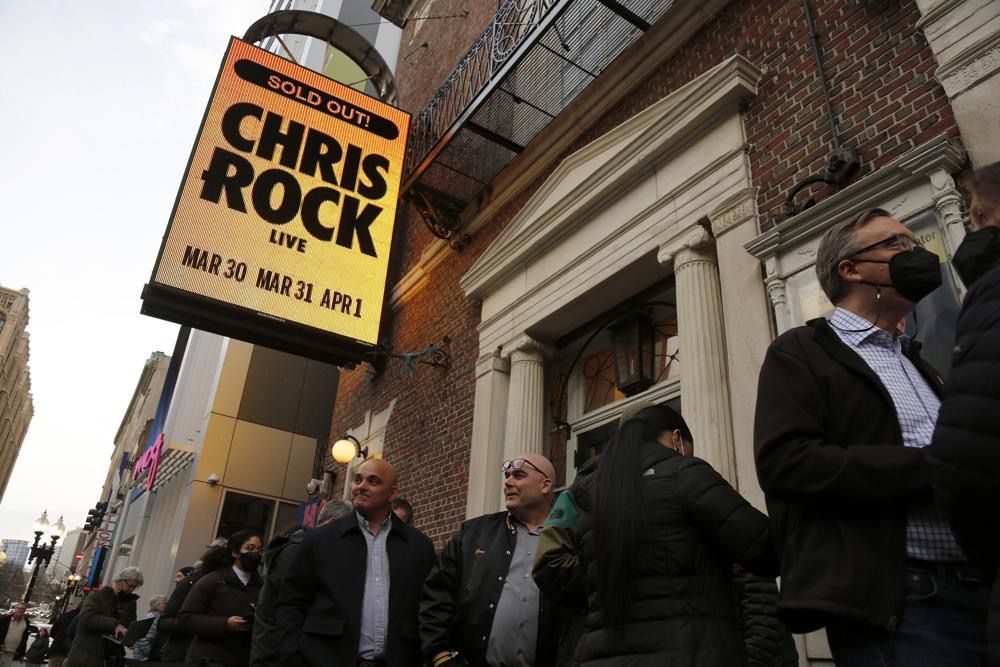 "Let me be all misty and sh*t," the comedian said, with tears in his eyes. "I don't have a bunch of sh*t to say about that, so if you came here for that…' he said, and paused. "I had written a whole show before this weekend."
"I'm still processing what happened, so at some point I'll talk about that sh*t," he continued. "It'll be serious. It'll be funny, but right now I'm going to tell some jokes."
Then, he jokingly asked, "How was YOUR weekend?" to which the audience responded with laughter.
There's a small media frenzy outside the Wilbur Theatre in Boston, where Chris Rock is making his first public appearance since Will Smith slapped him at the #Oscars pic.twitter.com/mD5YeYgVf5
— Rebecca Rubin (@rebeccaarubin) March 30, 2022
At the beginning of his set, he made it clear that he didn't have plans on going in depth about the "the slap" and said he would give a full response later.
"I haven't talked to anyone, despite what you heard," he told the audience, likely in reference to what Diddy said about them already squashing their beef.
Watch a clip from the show below:
Peep reactions from fans who saw the show below:
While Chris received a standing ovation, some comedy fans told reporters after the show that they wanted their money back.
While Chris didn't have much to say about the incident, his brother/comedian Tony Rock sure did. He did a Q&A on Twitter where he answered questions fans asked him about the Oscars fiasco.
"What are you going to do to Will?," one fan asked.
"Respond," Tony responded.
"How did you feel about the Oscar fiasco?," someone else asked.
"Foul," he said.
Swipe below for more of his responses:
View this post on Instagram
Overnight, a new video that shows a different angle of the Oscars slap aftermath surfaced (that originally appeared on TikTok).
View this post on Instagram
It appears to show Jada Pinkett-Smith laughing after her husband slapped Chris following the "G.I. Jane" joke Chris told as he was presenting Best Documentary.
As Will walked back to his seat after slapping Chris, the comedian said, "Wow, Will Smith just smacked the sh*t out of me."
"Keep my wife's name out of your f*cking mouth," Will yelled back.
The show went on with Chris dubbing the altercation as "the greatest night in the history of television," in which it appeared Jada chuckled. Peep the clip above.
The "Good Hair" host may find himself in additional drama as show producers were reportedly not aware he was going to tell the "G.I. Jane" joke. According to production sources, Chris did NOT tell that joke during rehearsals and they claim the joke was unvetted before the live show.
Power 105's "The Breakfast Club" host Charlamagne the God said he spoke to Chris and he claims Chris didn't know Jada is suffering from alopecia.
Not long after the now-infamous slap, the Academy asked the King Richard star to leave and he refused – at least that's what they're claiming in a third statement about the incident.
"Mr. Smith's actions at the 94th Oscars were a deeply shocking, traumatic event to witness in-person and on television," the Academy of Motion Picture Arts and Sciences wrote in a Wednesday, March 30th, statement via the Associated Press. "Mr. Rock, we apologize to you for what you experienced on our stage and thank you for your resilience in that moment. We also apologize to our nominees, guests and viewers for what transpired during what should have been a celebratory event."
The statement continued: "Things unfolded in a way we could not have anticipated. While we would like to clarify that Mr. Smith was asked to leave the ceremony and refused, we also recognize we could have handled the situation differently."
Not so fast! Folks in Will's camp say that's a lie. Sources claim Will was never asked to leave and that Oscars producer Will Packer even asked him to stay. TMZ reports:
We're told there was a split among the officials … some did want him booted, but others did not. There were various discussions during several commercial breaks, but they never reached a consensus.
We're told Will was aware there was talk about asking him to leave the theater. During one of the commercial breaks, we're told Oscars producer Will Packer walked up to Will and said, "We do not want you to leave" … this according to our sources.
Will Packer walked up to Will Smith just after 8 PM, around 35 minutes after the slap. That's when he told Will he could stay, according to our sources. Will won the Best Actor Award around 5 minutes later.
So, what's really good?!
The Academy's board of governors held a metting to initiate disciplinary proceedings against Will for violations against their standards of conduct. The Academy said the Bad Boys For Life star has the opportunity to defend himself in a written response before the board meets again on April 18th.
On Monday, the Concussion star apologized to Chris Rock (for the first time) and apologized to the Academy (again) for his actions that he said were "out of line."
Comedian Wanda Sykes – who co-hosted the Oscars with Regina Hall and Amy Schumer – appeared on the "Ellen DeGeneres Show" where she said it was "gross" that Will was allowed to remain at the awards show after he slapped Chris Rock. After the slap, she said Chris came up to her and apologized for causing drama on her big night.
Watch her interview below:
Also…
View this post on Instagram
An interview where the "Good Hair" host talks about being in therapy due to experiencing trauma throughout his entire life has resurfaced, causing some folks to feel more empathy for him. Check it out above.
Thoughts?
Photos: AP Photo/Mary Schwalm/Michael Dwyer