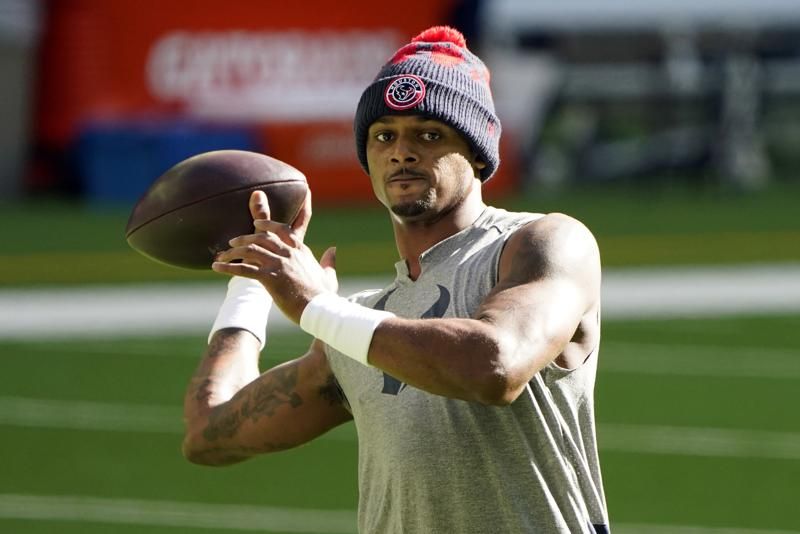 As Deshaun Watson arrived in Cleveland for his first day with the Browns, a second Texas grand jury declined to indict the quarterback, who has been hit with 22 civil lawsuits with accusations of sexual misconduct.
The new Browns QB reacted to the news, still claiming his innocence. Deets inside…
Deshaun Watson arrived in Cleveland, Ohio for his first day with the Browns and his first day with the team was nothing ordinary.
The Browns' new quarterback – who's currently dating IG model/aspiring rapper Jilly Anais – joins the team with a lot go baggage…22 civil lawsuits worth after he was accused of sexual misconduct by several women. However, the pending lawsuits didn't stop the organization with offering him a historic five-year, $230 million GUARANTEED contract after he waived his No Trade clause with the Texans. It's the largest guaranteed amount in NFL.
"I know these allegations [are] very, very serious," Deshaun said. "But I've never assaulted any woman. I never disrespected any woman."
While the Browns made claims that they performed "extensive investigative, legal and reference work" before offering the three-time Pro Bowler the historic contract, high-profile Texas attorney Tony Buzbee, lawyer for the 22 women who sued Deshaun for sexual misconduct during massage therapy sessions, claims otherwise. Buzbee said the organization never reached out to him and he didn't expect them to.
In case you were wondering, Deshaun said he doesn't have any intent to settle the 22 civil cases because he didn't do what his accusers are accusing him of and that he was surprised by the pending lawsuits.
"I understand the whole circumstance is very difficult, especially for the women's side of the fans in this community; I'm not naive to that," Deshaun said. "The things that are off the field right now that came up caught me by surprise because I never did anything that these people are alleging."
Cleveland general manager Andrew Berry said that legal counsel advised the Browns against contacting the women directly "out of concern it would be considered interfering with a criminal investigation." Andrew Berry said the team did use independent investigators but would not say whether those investigators contacted the women.
"I'll say the investigators that we hired were able to get a full perspective of all the cases," Andrew answered. "I'm not going to go into necessarily the details of everything the investigators did, but they got a full perspective for all the criminal and civil cases."
On Thursday, a second grand jury in Texas declined to indict Deshaun on an additional claim of sexual misconduct, one that lies outside of the Harris County juridiction so it required involvement from a different grand jury, the Brazoria County District Attorney said.
Newsweek reports:
The possibility of a new complaint comes just two weeks after a grand jury in Harris County declined to indict the quarterback on nine criminal complaints. The latest development is related to an incident that lies outside the jurisdiction of the Harris County District Attorney's Office.
And today, that Grand Jury declined to indict. ESPN reports:
"After a careful and thorough review of the facts and evidence documented in the reports prepared by the Brazoria County Sheriff's Office and the Houston Police Department, as well as hearing testimony from witnesses, the Grand Jury for Brazoria County has declined to charge Deshaun Watson with any crimes. Accordingly, this matter is closed," Brazoria County District Attorney Tom Selleck said in a statement.
Rusty Hardin, Watson's attorney, said in a statement that he was "thrilled" by the news.
"We've known all along what people who learn the facts also know — Deshaun committed no crimes. In fact, two separate grand juries have now found that there wasn't even probable cause to believe he committed a crime."
He added: "It is time to let the civil litigation proceed at a normal pace and for Deshaun Watson to take his place as the quarterback of the future for the Browns. I am fully confident that the Cleveland community will discover that Deshaun Watson is not just a great quarterback but also an incredibly decent person they will be proud to have represent their city."
Earlier this month a grand jury in Harris County (in Houston) declined to indict Deshaun – who has two more depositions scheduled next week – on criminal charges involving at least 9 complaints. Nine days later, the Browns offered Deshaun the contract.
According to reports, eight of the women who filed lawsuits also filed criminal complaints with Houston police and had been set to appear before the grand jury. Two victims who decided NOT to sue also filed police complaints.
The trade will not affect the NFL's investigation into Deshaun and he could still possibly face a suspension (a minimum of six games) for violating the league's personal conduct policy, but we won't know for sure until the investigation is complete.
There's still those 22 civil suits pending as well.
We shall see…
Photo: AP Photo/Eric Christian Smith, File