Chris Brown wants his name cleared after a woman accused him of drugging and raping her. He just shared text and voice receipts on social media allegedly from his rape accuser and he said he's gearing up to seek legal action against her for lying. After releasing the bombshell evidence, Nick Cannon and Lil Duval offered up support.
Everything inside…
WARNING! This post contains sexual assault details which could be triggering for some.
Chris Brown is tired of women accusing him of wrongdoing, so he's clapping back with receipts in the latest case.
A woman – identified as Jane Doe – accused the Grammy winner of allegedly drugging and raping her on a yacht docked outside of Diddy's Miami residence in December 2020. Back in January, she sued him for $20 million.
The R&B crooner called it cap then. And he's calling it cap now, except this time, he has receipts.
Taking to social media, Breezy posted a voice recording allegedly from the woman who claimed he drugged and raped her. In the clip, she complained to the singer he was sending her "mixed signals."
In the series of messages allegedly provided by the Miami Police, the woman sent several nude flicks and even told Chris he was the "best d*ck" she ever had. The messages also revealed Chris told the woman to get a Plan B pill (emergency contraception) even though he "definitely didn't bust inside" her. He said he was just "hella faded so I wanted to be sure."
You can click through the messages (obtained by RadarOnline) below:
Chris Brown's, unidentified accuser explicit text messages has been leaked pic.twitter.com/dYjXgp2w2v
— Naija (@Naija_PR) March 9, 2022
According to the lawsuit, the woman – described as a a model, choreographer, and musical artist – said she arrived at the yacht parked outside of Diddy's Star Island residence on December 30th (2020) after speaking to him via FaceTime while she was on the phone with a friend. She claims he took the phone from a girl at the party – her friend she was on facetime with – and he told her to come to Diddy's home ASAP on Miami's Star Island immediately, so she did.
Once on the yacht, the woman claims Breezy offered her a drink when she entered the kitchen. He handed her a red cup and they started talking, according to her account. Apparently, he filled her cup a second time and soon after, she said she started to feel "a sudden, unexplained change in consciousness."
Jane Doe described she felt "disoriented, physically unstable, and started to fall in and out of sleep." She said the 32-year-old singer allegedly took her to a bedroom while she was "drugged" and "half-asleep" and that he wouldn't leave. According to the woman, the "City Girls" singer alleged removed her bikini bottom and began kissing her, ignoring her pleas to stop. He then allegedly proceeded to rape her. She said the R&B crooner ejaculated inside of her, stood up and told her he was "done."
The next day, Breezy allegedly contacted the woman and demanded she take a Plan B pill, which is an emergency contraception pill. She took the pill and never reported the incident to authorities.
On Breezy's IG Stories, he shared a clip of the voice message where the woman allegedly claims she wants to "f*ck" with him again. Peep the clip below:
View this post on Instagram
"Well, you're giving me mixed signals. You're like reading my messages and stuff and you haven't blocked me yet so I'm guessing you don't hate me," the women allegedly said in a voice note. "I just wanna see you again, I mean, you just answered the phone and then you just hung up. Like, just let me know. Like, if you want me to leave you alone I definitely will, but I really just want to f**k with you again."
Following the audio clip, the Grammy winning artist said he wants the media to "keep that same energy" when reporting on new facts in the case.
"No more dragging through the mud. CLEARLY YOU CAN ALL SEE THE [cap eomji]. Now let's see if the media will keep that same energy they had trying to destroy me, to Run the real story. Me and my team are taking legal action on this situation. You don't play with people lives like that. THX TEAM BREEZY…," he wrote.
"I'll wait….," he said in another IG Story.
George Vrabeck of Vrabeck Adams & Co. Inc., – the singer's attorney – said in a written statement that they intend "to hold ALL parties accountable so that we might begin to eradicate this behavior from our society. Our client deserves justice. The same justice that all victims of sexual abuse deserve."
TMZ spoke with Jane Doe's attorney – Ariel Mitchell – and she confirmed the woman sent Chris Brown the texts and audio message. Attorney Mitchell said she's withdrawing from the case because the woman had not informed her about the messages.
TV host Nick Cannon and comedian Lil Duval has offered Breezy support on social media:
"Praying for my brother @chrisbrown," Nick tweeted, followed by a bible verse.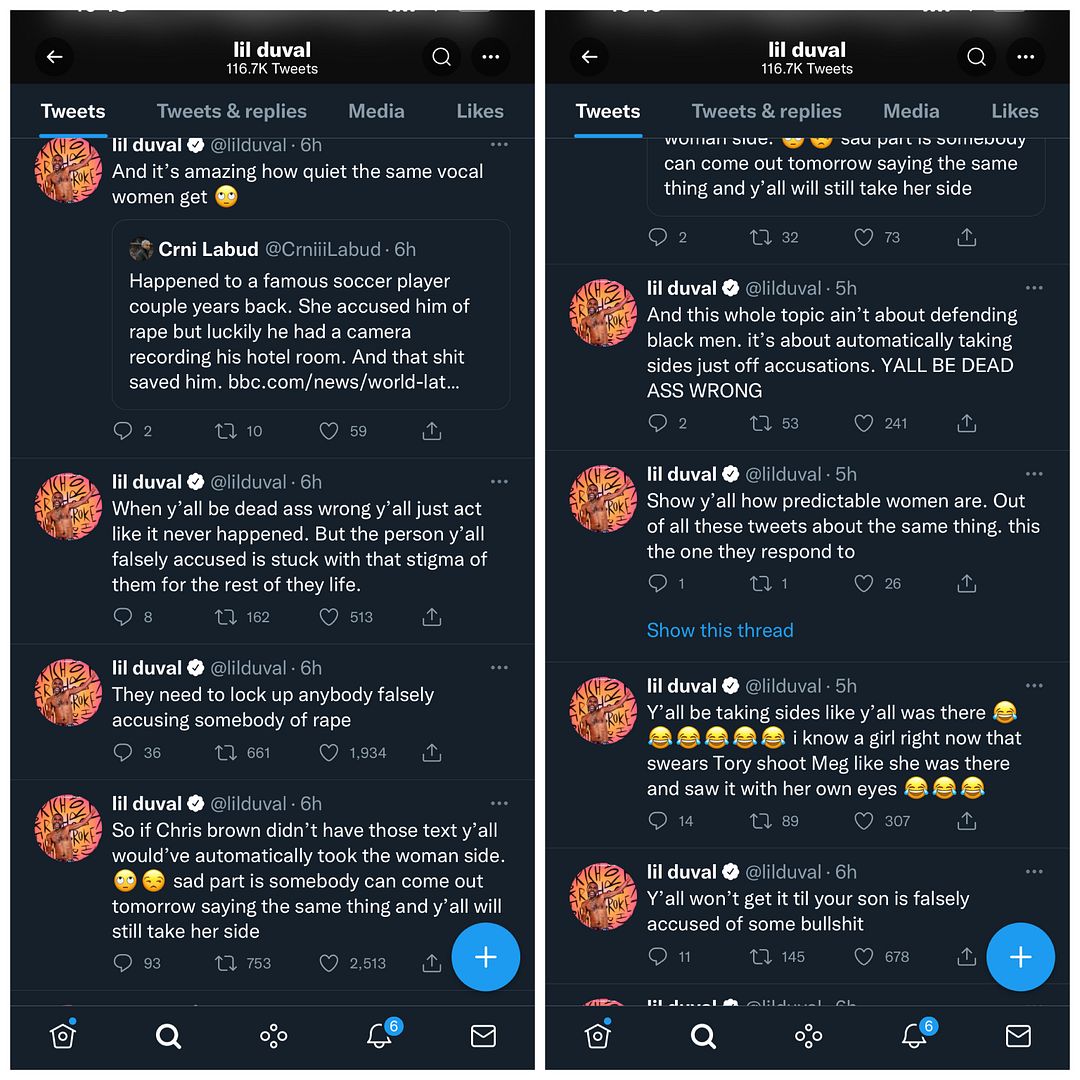 "So if Chris Brown didn't have those text y'all would've automatically took the woman side. Sad part is somebody can come out tomorrow saying the same thing and y'all will still take her side. They need to lock up anybody false accusing somebody of rape," Lil Duval wrote before continuing to argue his point.
False stories of rape need to end immediately because all it does is make it that much harder for people to believe a true victim of sexual assault and rape. So many women and girls stay quiet and don't report how they were violated in fear that no one will believe them. It's also important to note, just around 2% of rape and sexual assault cases, nationally, are proven to be false claims. Perspective is key.
Photos: Jean_Nelson/Depositphotos