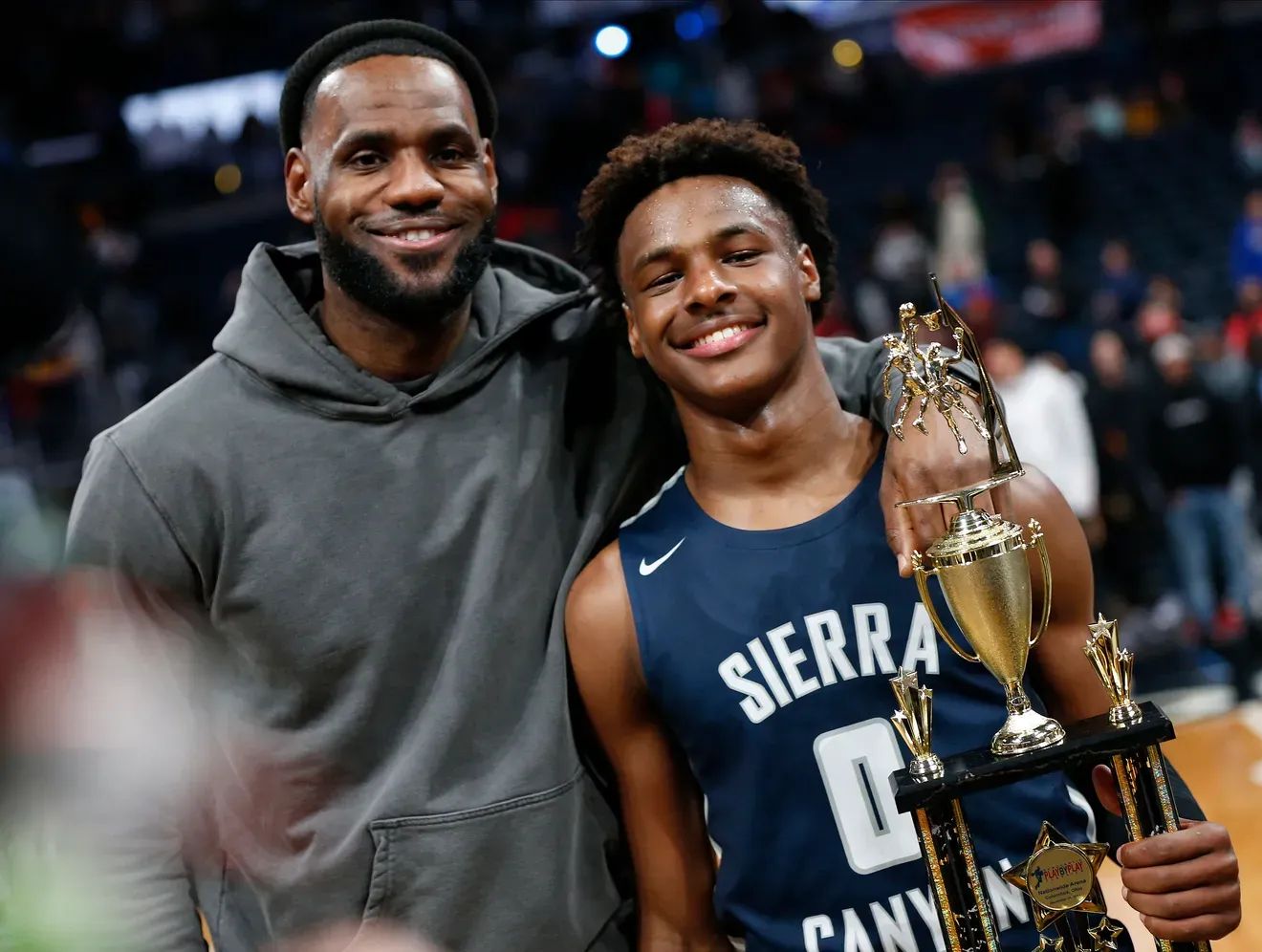 It's official! Wherever Bronny James ends up in the NBA, LeBron James will follow suit. The NBA icon is dishing deets on how he will retire and it has everything to do with his firstborn. More inside…
The first father-son NBA duo is officially in the works.
LeBron James confirmed he will leave the Los Angeles Lakers to play with his firstborn, Bronny James, when he enters the NBA. Once the deal is locked in, the father-son duo will make NBA history.
While making his rounds at All-Star Weekend in his hometown of Cleveland, LeBron took a moment to chop it up with The Athletic's Jason Lloyd about his retirement plans.
While a specific date hasn't been set, what we do know is King James has one last feat he wants to accomplish before he retires from the court. The 37-year-old NBA star wants to play at least on year with his firstborn son, Bronny James. And it doesn't matter which team.
"My last year will be played with my son," King James said. "Wherever Bronny is at, that's where I'll be. I would do whatever it takes to play with my son for one year. It's not about the money at that point."
There has never been a father-son duo actively playing together at the same time. The closest may have been Kobe Bryant and his father Joe Bryant. Fours years after Joe retired, Kobe was drafted into the league.
Right now, Bronny is in his junior at Sierra Canyon School in California. If Bronny goes the traditional one-and-done prospect path, the earliest he can play in the NBA is at the start of the 2024-25 season. In 2019, NBA commissioner Adam Silver said he plans on eliminating the one-and-done rule in the future and that the change was years away.
Would LeBron – who is a free agent after next season – return to Cleveland for a third stint?
"The door's not closed on that."
– LeBron James on a potential return to Cleveland
(via @ByJasonLloyd) pic.twitter.com/PtdDwvG6Bv
— Bleacher Report (@BleacherReport) February 19, 2022
"The door's not closed on that," he said. "I'm not saying I'm coming back and playing, I don't know. I don't know what my future holds. I don't even know when I'm free."
Well, there you have it.
The kids from Akron reunited at All-Star weekend in Cleveland
(via @twithersAP) pic.twitter.com/o1DveeBXau
— Bleacher Report (@BleacherReport) February 19, 2022
Coming back to his hometown for All-Star was extra special for LeBron since he was able to link up with his bestfriends, the high school teammates who have been there for every step of his amazing journey.
"My guys," LeBron said about his real-life homies. "I speak to them almost every day. We have that connection and that friendship that's been going on since we were 9. This is the first time we've all spent the All-Star weekend together. So it makes it even more special."
Sweet.
The rosters are set for tonight's big game with Team LeBron facing Team Durant once again during the 71st All-Star Game at Rocket Mortgage FieldHouse in Cleveland.
Here's the line up:
The full #NBAAllStar Game roster for #TeamLeBron!
2022 #NBAAllStar Game: Sunday, Feb. 20 on TNT & TBS pic.twitter.com/ajz2HZOGNX
— #NBAAllStar (@NBAAllStar) February 11, 2022
Team LeBron
Starters:
Giannis Antetokounmpo, Milwaukee Bucks
Stephen Curry, Golden State Warriors
DeMar DeRozan, Chicago Bulls
LeBron James, Los Angeles Lakers [CAPTAIN]
Nikola Jokic, Denver Nuggets
Reserves:
Jarrett Allen (Replaces injured James Harden)
Jimmy Butler, Miami Heat
Luka Doncic, Dallas Mavericks
Darius Garland, Cleveland Cavaliers
James Harden, Philadelphia 76ers (Injured, will not play)
Donovan Mitchell, Utah Jazz
Chris Paul, Phoenix Suns
Fred VanVleet, Toronto Raptors
The full #NBAAllStar Game roster for #TeamDurant!
2022 #NBAAllStar Game: Sunday, Feb. 20 on TNT & TBS pic.twitter.com/QRaff0Zw2t
— #NBAAllStar (@NBAAllStar) February 11, 2022
Team Durant
Starters:
Kevin Durant, Brooklyn Nets [CAPTAIN] (Injured, will not play)
Joel Embiid, Philadelphia 76ers
Ja Morant, Memphis Grizzlies
Jayson Tatum, Boston Celtics
Andrew Wiggins, Golden State Warriors
Trae Young, Atlanta Hawks
Reserves:
LaMelo Ball, Charlotte Hornets (Replaces injured Kevin Durant)
Devin Booker, Phoenix Suns
Rudy Gobert, Utah Jazz
Zach LaVine, Chicago Bulls
Khris Middleton, Milwaukee Bucks
Dejounte Murray, San Antonio Spurs (Replaces injured Draymond Green)
Karl-Anthony Towns, Minnesota Timberwolves
Draymond Green, Golden State Warriors (Injured, will not play)
Who will you be rooting for?!
Also…
View this post on Instagram
Savannah James – LeBron's wife – has been applying pressure in Cleveland like only she can!
Photo: AP/Jay LaPrete