Some disturbing details about Wendy Williams have surfaced, claiming the daytime host displayed very erratic behavior on the in-home set of her show. Sources said the 57-year-old TV host got super intoxicated, stripped naked and touched herself in a sexual manner in front of her manager and show staff.
Alleged details inside…
The last few years have been rough for daytime talk show host, Wendy Williams.
Since 2019, she has been battling with her health, divorced her husband, Kevin Hunter Sr., after two decades when she learned he fathered a child with another woman, her mother's death, and she has been struggling with staying sober.
As all that was going on, the COVID-19 pandemic hit, only making things worse for the 57-year-old talk show host.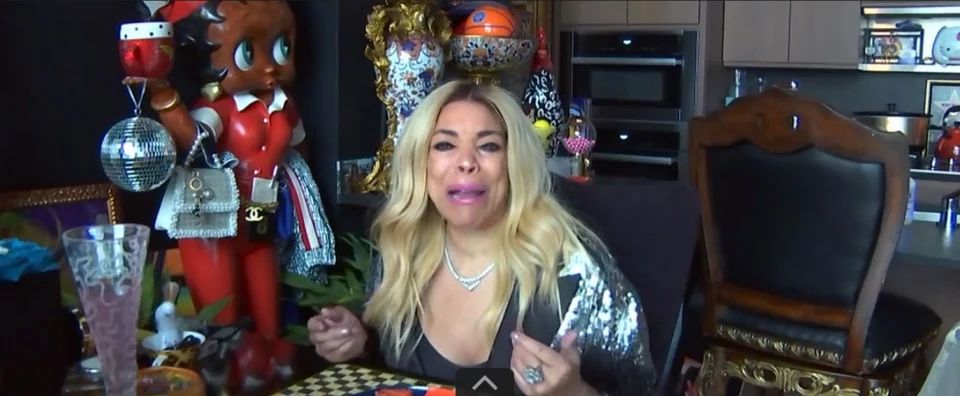 To keep a show afloat, Wendy began filming episodes via Zoom from her luxe $4.5 million NYC penthouse apartment. However, there was tons of drama going on behind the scenes, which sometimes spilled on-screen as fans noticed her behavior was becoming erratic. She would cry uncontrollably during episodes and more.
Sources tell The Sun the outspoken TV host had been heavily drinking ever since her 2019 stint in a New York sober house. You'll recall, she shared she admitted herself into the home to help get a handle of herself following the split from her husband of 20+ years, Kevin Hunter Sr.
One day, things took a turn for the absolute worse!
In May 2020, Wendy's team became concerned with her behavior, so they called her manager to come check on her. Soon after, Wendy's manager and a few others came to the apartment and they found she was allegedly intoxicated.
Multiple sources say she stripped down naked in her room and began touching herself in a sexual manner while shouting vulgar comments as everyone looked on. After calling 911, it's alleged Wendy became even more aggressive and belligerent.
Soon after, she was take to the hospital where she ended up staying for weeks. When it was announced Wendy had been hospitalized, the show released a statement claiming she had been admitted to the hospital due to complications of Graves' disease. Producers put the show on pause, claiming she was taking a hiatus due to her health.
According to The Sun, the majority of people who witnessed what happened that day appear to have been cut out of Wendy's life.
"Wendy clearly does not want to associate with anybody who was there that day," one source said.
"Everyone knows not to get too close to Wendy. It will backfire, and when it does, you'll get burned," a second source claimed.
View this post on Instagram
Last week, Wendy's 21-year-old son, Kevin Jr., shared video of her chilling in bed after her former co-worker Charlamagne Tha God shared throwback pics of his time on the Wendy Williams radio show along with Nicole Spence, who later accused Wendy and her husband Kevin Sr. of sexual harassment among other serious issues.
Thomas Williams Jr. – Wendy's brother – denied the reports that said she was showing early signs of dementia and that she was confined to a wheelchair. There seems to be something going on though.
Prayers up for Wendy Williams!
Photo: Omar Vega/Invision/AP