Jacqueline "Jackie" Avant – the wife of legendary music executive and Rock & Roll Hall of Famer Clarence Avant – was shot and killed during a home invasion in Beverly Hills. She was 81.
There are conflicting reports on if Clarence – who was in the home – was also injured. Details inside…
The influx of home invasions in Los Angeles are becoming even more alarming as a wave of "follow-home robberies" continue.
Jacqueline Avant – the wife of famed music executive Clarence Avant – was reportedly shot and killed during a home invasion robbery at the couple's Beverly Hills home early Wednesday morning, according to The Hollywood Reporter & TMZ. She was 81.
There are conflicting reports on what exactly happened.
According to TMZ, Police responded to calls about a shooting at the couple's home – in the Trousdale Estates – at 2:30 AM for a home invasion. The caller told the 911 dispatcher someone had been shot, but by the time they arrived, Jackie – who was married to Clarence for 54 years – had reportedly already been taken to a nearby hospital.
According to documents provided to The Hollywood Reporter, the Beverly Hills Police Department's communications center received a call at 2:23 a.m. in response to a shooting on the 1100 block of Maytor Place. Upon arrival, police discovered a victim with a gunshot wound. Paramedics transported the victim to a local hospital, but the victim did not survive.
A spokesperson for Netflix confirmed to THR that Clarence – who was in the home during the invasion – was NOT injured.
Netflix co-CEO Ted Sarandos is Jacqueline & Clarence Avant's son-in-law. He's married to their daughter, Nicole Avant. The couple also share a son, Alexander Avant.
Russell Simmons' brother, Danny Simmons, claims "Joey" (possibly his brother Joseph "Rev Run" Simmons) called him in tears and said Clarence had also been shot and is "clinging to life." He said that information was not revealed in the TMZ article he shared on Facebook.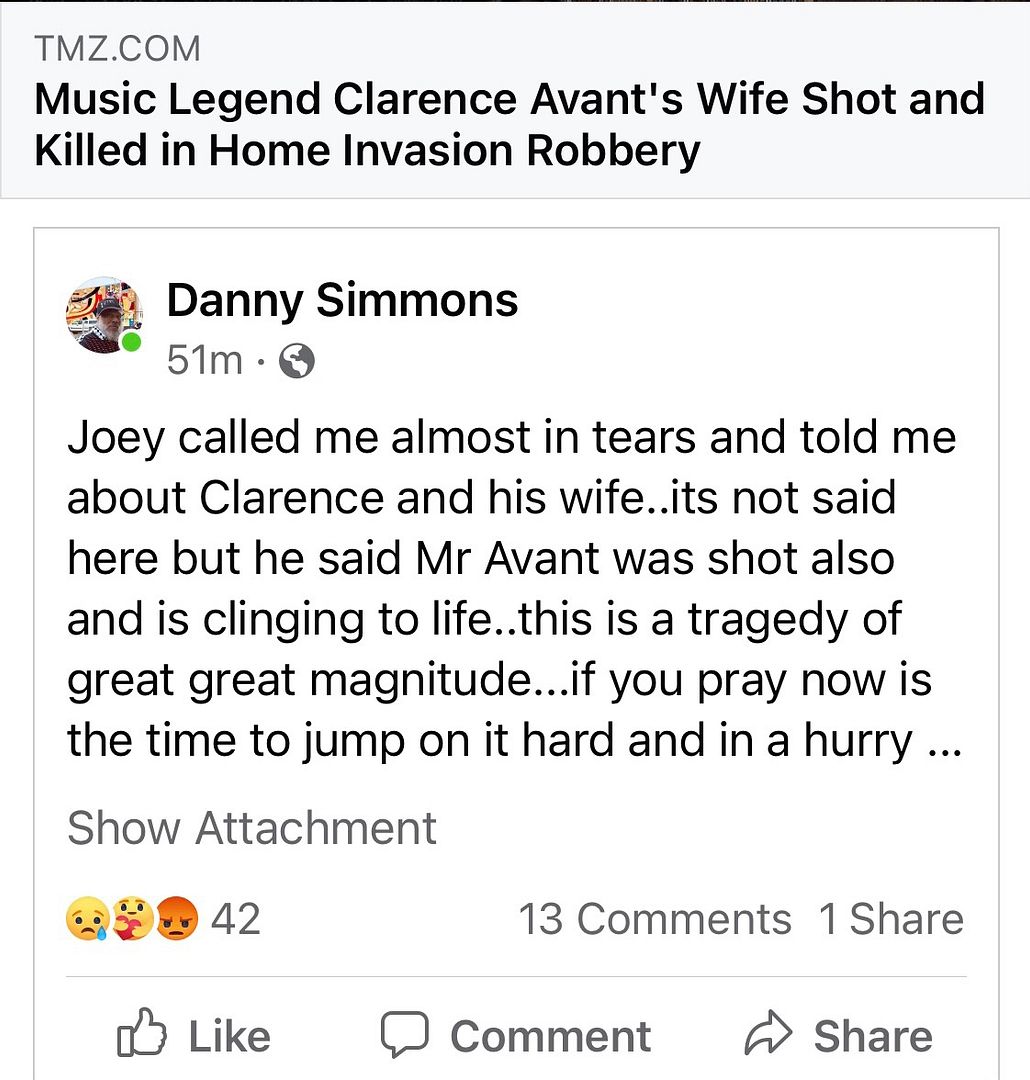 "Joey called me almost in tears and told me about Clarence and his wife..its not said here but he said Mr Avant was shot also and is clinging to life..this is a tragedy of great great magnitude…if you pray now is the time to jump on it hard and in a hurry," he wrote.
A homicide investigation is currently underway.
90-year-old Clarence Avant – who was recently honored as the recipient of the Ahmet Ertegun Award from the Rock and Roll Hall of Fame – is known as the "Godfather of Black Music. He's a pioneering music exec who helped launch the careers of some of music's biggest stars, including Michael Jackson, Babyface and more.
Los Angeles is seeing a trend of "follow-home" robberies, targeting people based on the jewelry they're wearing and their cars. Last month, former BET host Terrence J was shot at while escaping an attempted robbery at his Sherman Oaks home. In February 2020, rapper Pop Smoke was fatally shot during a home invasion in Los Angeles.
We are sharing this community alert in an effort to increase awareness of a series of robberies occurring in the City of Los Angeles. pic.twitter.com/mE5vVfCZZo
— LAPD HQ (@LAPDHQ) November 8, 2021
The Los Angeles Police Department released a community alert for Los Angeles residents, warning of an ongoing crime trend called "follow-home robberies" last month.
Folks on social media are speculating if this was a home invasion or a targeted killing:
Most shocking crime to hit Hollywood since Ronnie Chasen's 2010 murder. https://t.co/GfXRt8OuvU
— Seth (@SethAbramovitch) December 1, 2021
That wasn't a robbery. That was a hit masked as a home invasion. https://t.co/kEmDLyhUGc
— HeronDemarco (@HeronDemarco) December 1, 2021
Our thoughts and prayers are with the Avant Family during this tragic time. L.A has to do better!
Photo: Getty