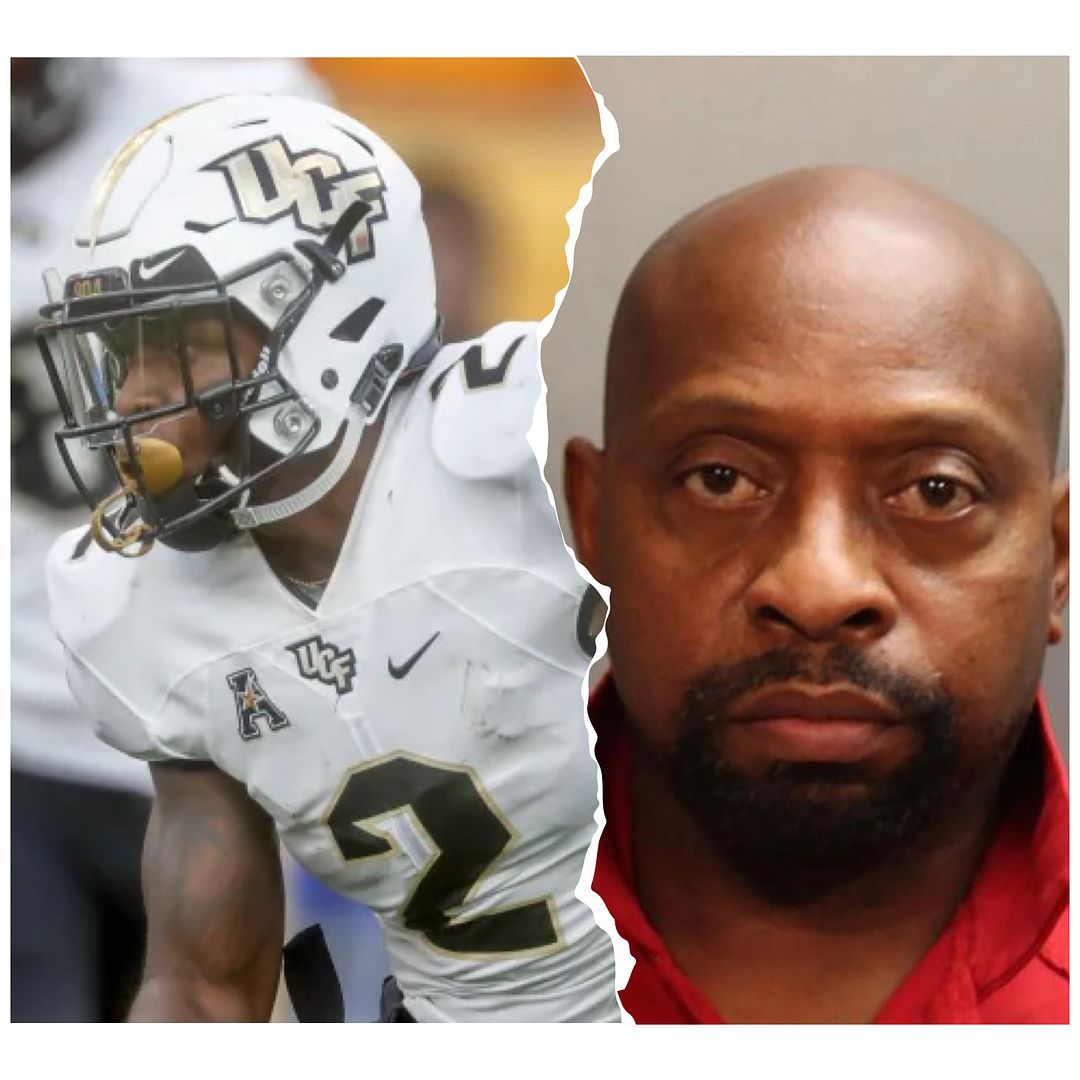 Former UCF football player Otis Anderson Jr. was reportedly shot and killed at his parents' home in Jacksonville, Florida. His father, Otis Anderson Sr., has been charged with first-degree murder in his death.
It's alleged the father shot his son after an argument over a dog bite. The shocking details inside…
It seems the world is getting scarier and scarier by the day as headlines about fatal domestic disputes continue to pour in.
On Monday (Nov. 29th), former University of Central Florida running back Otis Anderson Jr. was fatally shot by his father, Otis Anderson Sr., during a dispute about a dog bite, according to authorities. As more details about what happened start to trickle in, it seems the young athlete was stepping in to make sure nothing happened to his mother and it ended up costing him life.
The 23-year-old was killed by his own father in his parents' Jacksonville home after an argument over a dog bite. Otis Sr. was reportedly bitten by a dog that belonged to his son's girlfriend and that ignited a heated exchange between father and son.
Prayers up for Otis's Mom @nymzdee
pic.twitter.com/VRWvhE8agI
— UCFacts A Gritty Inclusive UnderDog Culture (@Facts_UCF) November 30, 2021
In the arrest report released by the Jacksonville Sherriff's Office, Otis Jr.'s mother, Denise Anderson, told police Otis Sr. and Otis Jr. got into an argument following the dog bite. The two were separated at one point, when Denise told her son to go upstairs. Tensions were still high and Denise ended up arguing with her husband, Otis Sr. Apparently, Otis Sr. flipped over a recliner, which caused Otis Jr. to come back downstairs to make sure his mother was OK.
Once Otis Jr. made it back downstairs, the father and son got into another verbal altercation "and it appeared like they were going to fight." They were separated again – Otis Jr. went through the formal dining room and Otis Sr. went the other direction into the garage. She said Otis Sr. came back inside and met Otis Jr. in the kitchen.
Details about what exactly happened next are a bit unclear because the report was heavily redacted by police.
Once cops arrived on the scene, they found Otis Jr. suffering from "a gun shot wound to his chest and back (shoulder blade)." The mother was also injured with multiple graze wounds. Both were rushed to a nearby hospital. Sadly, Otis Jr. was pronounced dead, while Denise was treated for her wounds and later released.
Check out the arrest report below:
Here is the arrest report for Otis Lee Anderson Sr, who was charged with the murder of his son, #OtisAndersonJr, and first-degree attempted murder of Anderson Jr.'s mother — he was booked in Duval County Jail on Tuesday morning. pic.twitter.com/Apzb77yhPc
— megan nicole (@megnturner_) November 30, 2021
Otis Sr. was arrested and charged with first-degree murder and attempted first-degree murder.
On Tuesday, Otis Sr. appeared before a judge, who found probable cause on the charges. The 52-year-old is currently being held without bond and has been appointed a public defender. He's set to go before a judge again on December 22nd.
Otis Jr. has no relation to former NFLer/Giants player Ottis OJ Anderson, however, people thought he was involved and had been blowing his phone up. He tweeted about being mistaken for the father of the former UCF player.
View this post on Instagram
"My phone is blowing up. I am not the father of the young man who played for UCF and was killed by his father. I only have daughters. It is a tragic situation and I pray, as should all of you, for his mother and the rest of his family. He was gifted! Rest well young man," he wrote.
Otis Jr., whose nickname was "Juice," was a running back and played at UCF from 2017 to 2020. He spent a couple of months with the Los Angeles Rams this year after signing with them as an undrafted rookie out of UCF. He ranks ninth all-time at UCF with 2,182 career rushing yards. He also ran for 17 touchdowns and caught nine others as a receiver as a key part of UCF's program.
People who knew him are devastated by the news of his killing.
Otis Jr.'s former coach Josh Heupel shared a tribute to the former player yesterday:
Saddened and stunned by the passing of Otis Anderson Jr. Tough and gritty, fun and full of laughter, he made such a positive impact on our university, community, and our locker room. He was an unbelievable teammate. My condolences go out to the entire UCF family. pic.twitter.com/ehG9JyoL5Q
— Josh Heupel (@coachjoshheupel) November 30, 2021
Former teammates have bene posting tributes on social media since hearing the news:
I'm simply in disbelief this morning as the news rolls in. This is just heartbreaking. Prayers for his mother and other family members who support and love him. #UCFamily https://t.co/bRyTvoPM21
— Ben Stout (@BigSocial32) November 30, 2021
Bra no way
— McKenzie Milton (@McKenzieMil10) November 30, 2021
Otis was my friend. Many don't know how he really was. He had the biggest heart. Always helped everyone. Cared and loved everyone. Had dreams. Loved his mom and grandfather more than anything. If he touched your life, you are blessed. I am broken. I am grieving. I am praying.
— Shareholder John (@TheJCMorning) November 30, 2021
— Otter (@ryanhel10) November 30, 2021
It's a sad day on campus as students and staff mourn the loss of former UCF football star, Otis Anderson Jr. His old teammates set up this memorial on the field in his honor with his jersey and flowers. Everyone says Otis would light up a room with his smile pic.twitter.com/OqpR1p3vBQ
— Stephanie Buffamonte FOX 35 (@StephBuffamonte) November 30, 2021
There are no words to express our devastation at the loss of UCF's Otis Anderson. Please stand in prayer w/his Mom, Dee Anderson, UCF Mom Squad & Moms all the world. She needs us as she goes through the darkest days of her life. We love you & we are here for you. #gumbyfootball pic.twitter.com/IUaQXzN12D
— Dr. Harriet Roberson (@harrietroberson) December 1, 2021
I will always remember @Gumby_football as simply a young man raised by an incredible woman and when she needed him most he was there to protect her! We can all hope to be that kind of man or have our daughters find a man who loves and cares for his family like Otis did! #2 pic.twitter.com/D2FXYiTHr3
— Craig Bullock (@PureKnight717) December 1, 2021
Otis Jr. was also a member of Kappa Alpha Psi Fraternity, Inc.:
I'm raising money for LETS SHOW OUR SUPPORT UCF. Click to Donate https://t.co/Vb1Ph7GNeQ
— DSnelsonMom-UCFMOMFOREVER (@Mia8753) November 30, 2021
GM Family &Friends – Dee is resting @ home naturally still trying 2 handle all that happened thanking God she is health wise okay, I will be bringing the Go Fund Me to a close on Friday. Please continue to keep her in your prayers – More information to follow soon #LLO
— DSnelsonMom-UCFMOMFOREVER (@Mia8753) December 1, 2021
We send our deepest condolences to his mother, family and friends during this horrific time.
Photos: AP Photo/Keith Srakocic/Jacksonville Sheriff's Office