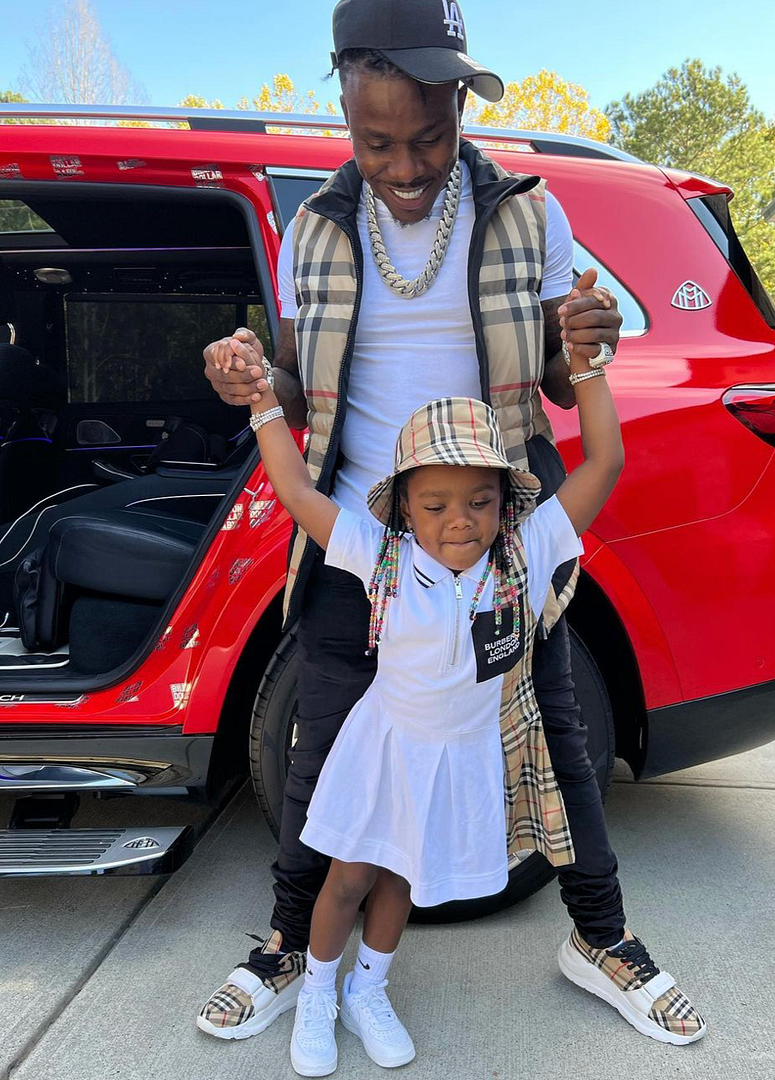 DaBaby shares an adorable FaceTime session with his eldest daughter, Princess Renny, where she's spitting bars like her daddy.
The cute clip comes on the heels of the rapper posting a cringey caption to a video of himself and his newest bundle of joy, whom he shares with DaniLeigh. Check it out all inside…
DaBaby says being a father is his number 1 priority, so videos of him vibing out with his kiddies come as no surprise. Some may side-eye how he "parents," but he doesn't care.
Watching dads put a smile on their kids' faces is always a good look and after all the drama that has been going on with DaBaby, he could use some good energy. Recently, the Baby on Baby rapper shared an adorable video of himself on a FaceTime call with his four-year-daughter, Princess Penny (whom he shares with his first baby mama MeMe), where they are freestyling together. Crazy thing is, she already sounds like a little wordsmith. Peep the video below:
View this post on Instagram
"FaceTime Freestyling w/ Twin last night," he captioned the clip.
The "BOP" rapper is fresh off spending Thanksgiving in West Palm Beach with his family, including his daughter's mother MeMe.
View this post on Instagram
It's Onsite noticed DaBaby and MeMe posted videos with the same palm trees in the background. "A place for a playa," she captioned a video of herself listening to "Super High" by Rick Ross & Ne-Yo. Peep the comparison videos above.
The Charlotte native took his family to West Plan Beach to celebrate the release of his newest musical offering, Back On My Baby Jesus Sh*t AGAIN. As he often does, he posted a series of flicks to show off his 'fit with the caption, "raise ya hand if you got drunk before the pictures. Too sexy not to show y'all #HappyThanksGiving."
View this post on Instagram
We doubt DaniLeigh was in the mix considering everything that went down two weeks ago. The "Yellow Bone" artist did share some cute flicks of their daughter on IG though:
View this post on Instagram
View this post on Instagram
After spending Thanksgiving with his family and MeMe, the "ROCKSTAR" rapper took to his Instagram to share a video of himself playing with his youngest daughter, whom he shares with DaniLeigh. DaBaby and Dani are fresh off a toxic argument that spilled over online when he hopped on IG Live. In the videos shared online, he was asked DaniLeigh to leave his residence and even called the cops on her.
After all the drama, the 29-year-old rapper has been in "daddy mode," posting videos and IG captions about how he will always be a father first and everything else comes second. He recently shared a video of himself and his infant daughter (that he shares with Dani), making her dance to Nelly's "Hot In Herre." The caption he attached to the video was uber cringey.
View this post on Instagram
"imagine thinking it's sweet enough to play w/ my kids then boom… I whip out & burn yo a** n front of everybody & walk away [straight] face," he wrote, likely referring to the time he fatally shot a man who tried to rob him in a Walmart a few years ago. It's unclear who he's referring to, but we'd like to note DaniLeigh's brother did go off on him following his online drama with Dani. Her brother said he was going to beat his a** whenever he comes to the west coast.
"Let this fame sh*t fool you into thinking I'm not living & dying for ALL mines," DaBaby continued. "Aint sh*t changed, The FIRST one of y'all I catch playing in person I'm doin you dat. So y'all n****s be safe. Daddy love you baby.Can't wait to put ya boyfriend on a T-Shirt."
SMH. Very disturbing.
Fans were in his comments slamming him for not properly supporting his infant daughter's neck, so he turned the comments off on the post.
We're not sure what he's trying to prove with this video. Hopefully, his baby mama drama will cease – at least for a little while because we're all collectively TIREDT.
Photo: DaBaby's IG