She is now Her Excellency, Ambassador and National Hero Robyn Rihanna Fenty. And she'll be addressed as such.
As Barbados cut ties with the British Royal Family – ditching Queen Elizabeth II as head of state – the first order of business was to give Rihanna her flowers, which she rightfully deserves. Deets inside…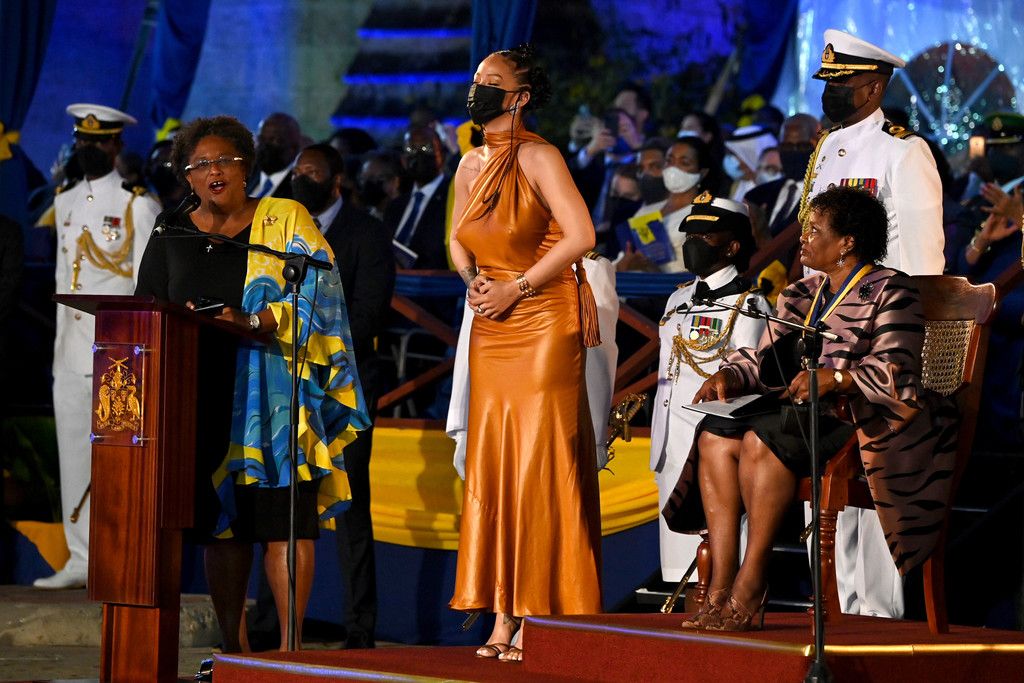 That Rihanna reign just won't let up…literally! The Bajan beauty's homeland just gave one of its highest honors as the island transitions into officially becoming a republic.
On Monday night, the self-made billionaire was honored with the title "national her" by Barbados Prime Minister Mia Mottley during a ceremony marking the country's split from the United Kingdom. After 55 years, Barbados officially cut ties with Queen Elizabeth II as head of state and is now officially a republic.
Despite its status as a republic, Barbados will reportedly remain in the Commonwealth organization of nations.
"On behalf of a grateful nation, but an even prouder people, we therefore present to you the designee for national hero for Barbados, Ambassador Robyn Rihanna Fenty," Prime Minister Mia Mottley said during the Pride of Nationhood ceremony in Bridgetown, Barbados.
"May you continue to shine like a diamond and bring honor to your nation by your works, by your actions, and to do credit wherever you shall go," she said while referring to Rih's hit track "Diamonds."
The Grammy Award winner looked stunning in a silk one-shoulder Bottega Veneta midi dress.
Peep the clips below:
View this post on Instagram
The global superstar becomes only the second woman to be given the honor, and 11th person in total. So yeah, it's a big deal and it's likely one of her greatest life achievements.
During her speech (the next day), she said "nothing compares to being recognized from the soul that you grew in." :
The Right Honourable Robyn "Rihanna" Fenty! pic.twitter.com/wLkPNvoVEQ
— Clara Lionel Fdn (@ClaraLionelFdn) November 30, 2021
And here's a quick video of her arriving:
Intrepid @CBCNews producer @thomsoncbc1 got this shot of Rihanna arriving to be honoured as a national hero of Barbados pic.twitter.com/P0fHMjuWw7
— Thomas Daigle (@thomasdaigle) November 30, 2021
One thing about RiRi, she's always putting on for her homeland. Since 2018, she has held the title of ambassador for culture and youth in Barbados. Every year on February 22nd, natives celebrate "Rihanna Day." In 2011, she was given the honor of being the island's travel ambassador.
As the Black Lives Matter movement intensified, calls for the island to become a republic also ramped up. Barbados announced that it would become a republic by November 2021 (on the 55th anniversary of its independence) and here we are!
Heir to the British throne, Prince Charles, was also in attendance and gave a speech where he acknowledged Britain's "appalling atrocity of slavery" as the nation removed Queen Elizabeth II as head of state and inaugurated its first-ever President.
"From the darkest days of our past, and the appalling atrocity of slavery, which forever stains our history, the people of this island forged their path with extraordinary fortitude," he said. "Emancipation, self-government and independence were your way-points. Freedom, justice and self-determination have been your guides. Your long journey has brought you to this moment, not as your destination, but as a vantage point from which to survey a new horizon," Charles added.
Watch below:
Hmph.
The Queen also delivered a message to the people of Barbados:
#UPDATE: Her Majesty The Queen's message to the President & people of Barbados on becoming a republic within the Commonwealth on its 55th anniversary of Independence today.
Her Majesty is now the former Head of State of Barbados – as of midnight November 30th #BIMRepublic pic.twitter.com/0Ugz0r6f96
— Kevz Politics (@KevzPolitics) November 30, 2021
It's unclear if her boyfriend, A$AP Rocky (who traveled to Barbados with her for Christmas last year), was in attendance as he was spotted in New York a day before the ceremony:
SPOTTED: ASAP Rocky in New York rocking Y/Project pic.twitter.com/PB5i68D77h
— Outlander Magazine (@StreetFashion01) November 29, 2021
CONGRATS, Rihanna!
Photos: Getty