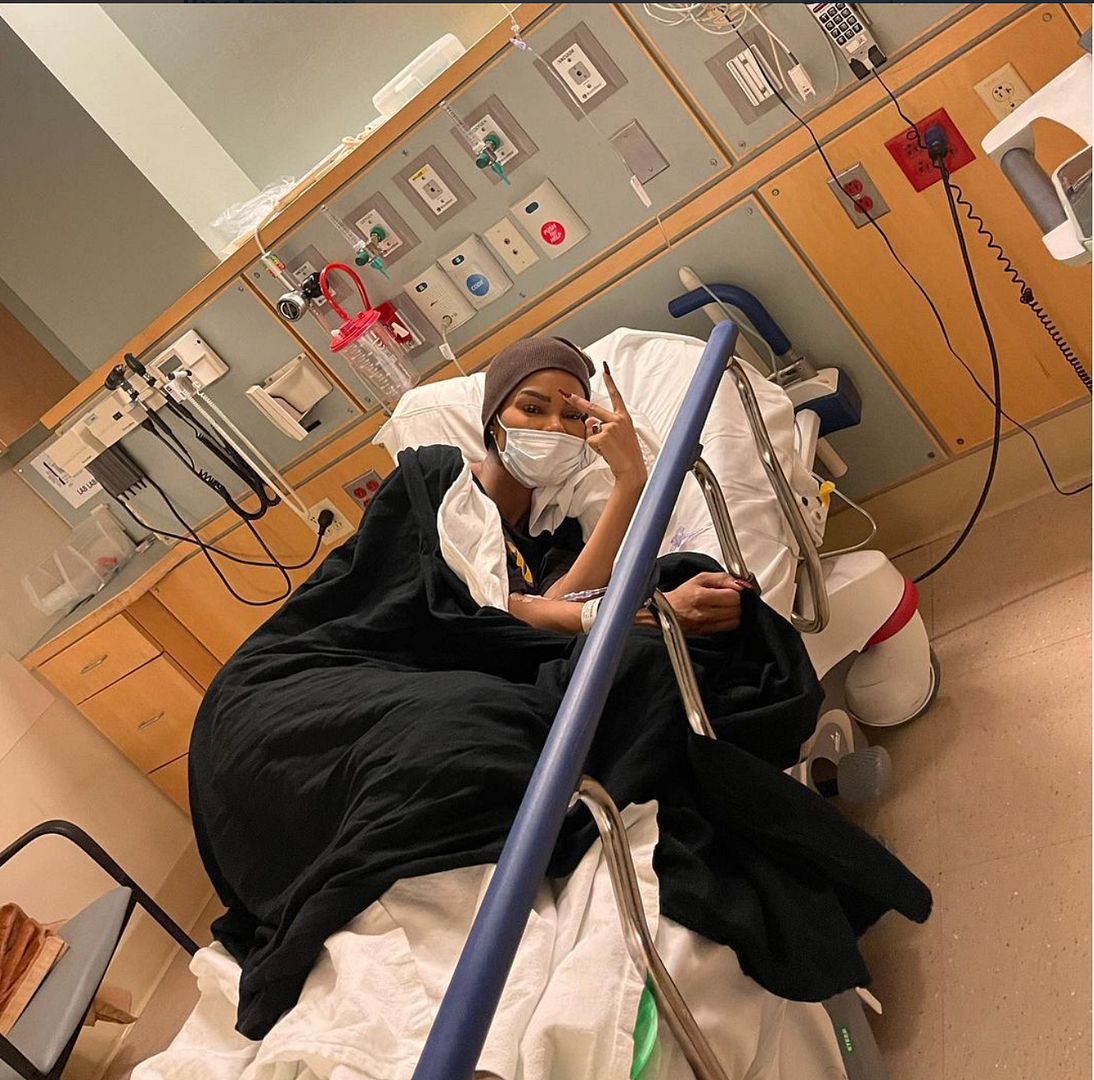 Teyana Taylor had to pull out of her show last night after falling ill. She was rushed to the emergency room after her body completely "shut down." Her daughter, Junie, held her down though! She stepped out on stage to announce Teyana wasn't feeling well and apologized to her fans.
Watch it inside….
Teyana Taylor is on the road to recovery after falling ill yesterday.
Sis has been going hard for over a month, but things took a turn before her performance the Femme It Forward event with Ari Lennox and Sevyn Streeter. The ladies were booked to perform at the Premier Theater at Foxwoods Resort Casino in Mashantucket, CT last night, but Teyana had to pull out after getting sick.
While she has been killing it on stage, it seems her high-energy performances are taking a toll on her body. Now, she's recovering in the emergency room.
The mom-of-two was rushed to the hospital last night after her body "gave out." Teyana said she tried everything to make it to the stage, but her body said AHT AHT!
View this post on Instagram
"Thank you, thank you, thank you so much for all the warm love, sweet videos & prayers from my CT rose petals…. I love y'all!," she captioned a picture of herself in a hospital bed.
"Thank you for being so understanding. Y'all know Petunia don't miss no shows & most importantly, know I've been leaving it all on tha stage for a month straight 1000%. So I am really saddened to have not been able to do the same for you last night. My team & I tried everything down to the very last second to get me out on that stage, but my body simply just gave out, which actually started a few days ago. SHUT DOWN, my body actually low key betrayed me cause ah b*tch was tryna get on that stage Y'all know I'm with the sh*ts! y'all have seen me with a broken foot and all types of other crazy shit but still got on that stage and bodied it," she continued.
The 30-year-old entertainer said she's going to rest up and take the next few days off to recover, but she promised her CT fans that she will return and their tickets they already purchased will be honored.
"But honestly you have to listen to your body and know when to sit down; or it will definitely sit you down….. in the ER mine sat my a** down in the ER for sure but I've since got the proper fluids and nutrients put back into my body all night/morning & will take the next few off days to continue to recover. However, I promise I will be back to CT rescheduled and better than ever & all tickets will be honored for yesterday's show!!!! Shoutout to my lovelies @arilennox & @sevyn for holdin it downnnnn! As well as Heather Lowery and the entire @femmeitforward team for their extreme understanding & support. Shout to @babyjunie4 for holding it down for mommy," she concluded.
Junie – Teyana and Iman Shumpert's eldest daughter – def held it down for her mom. The 5-year-old went out on the stage to deliver the news tot her fans that her mother wasn't feeling well.
"My mom is sick and I want to tell you guys that I'm sorry that she's sick. I – I hope she's going to feel better," she announced in the cutest way possible.
Peep the clips below:
@TEYANATAYLOR FEEL BETTER!!! WE GON BE RIGHT WHERE YOU LEFT US pic.twitter.com/mUZWwVPUG2
— peng ting. (@bxbystallion) November 28, 2021
Junie came out on stage to tell us her mommy Teyana Taylor was sick and couldn't perform tonight pic.twitter.com/PO8ZrT3wA9
— monie the pony (@viasimone_) November 28, 2021
Aww! We can't even.
Femme It Forward also released a statement after Tey pulled out:
View this post on Instagram
"Y'all send healing prayers to @teyanataylor. We watched her try to defy body to get on stage @Foxwoods to not let down her fans, but she physically couldn't do it.
"Sometimes we think that artists are superheroes because we're super fans, but they are human just like us. And the human body doesn't give AF about screams and boos. Thank you to Teyana's fans for being so understanding. We will reschedule Teyana's performance and all tickets last night will be honored for the future date.
"We love and appreciate you @teyanataylor. Feel better soon. And @babyjunie4 thank you for protecting your mommie last night. Shout out to @sevyn and @arilennox for holding it down for CT!"
Take a peek at how Teyana has been tearing up the stage below:
View this post on Instagram
View this post on Instagram
View this post on Instagram
FIRE.
We're sure hubby Iman and the kiddies – Junie & Rue – will make sure she gets her rest. Get well soon, Tey!
Photo: Teyana's IG