A family affair! Will Smith was joined by his wife Jada Pinkett-Smith and their children, Jaden and Willow Smith, for a screening of his new movie, King Richard, during the AFI Fest in West Hollywood.
Also, Serena Williams, Venus Williams and more hit the carpet! See the flicks inside…
Will Smith was joined by his wife of 20+ years Jada Pinkett Smith on the red carpet for the first time as more details about their marriage come out via his new memoir, Will.
Before King Richard hits theaters and HBO Max on November 19th, the film based on the lives of Venus and Serena Williams was shown at the 2021 AFI Fest Closing Night at the TCL Chinese Theatre in Hollywood on Sunday evening. In the biographical drama feature, Will plays Richard Williams, the father of tennis superstars, Venus and Serena Williams.
The 53-year-old actor turned the night into a family affair, hitting the carpet alongside his wife Jada and their two children, Jaden, 23, and Willow, 2.
It's the first time Will and Jada have been seen together publicly since the recent influx of headlines about their marriage.
The former "A Different World" actress opened up about her entanglement with singer August Alsina, which seemed to spearhead an online obsession about their marriage. And don't get it twisted, they both have been cutting up behind-the-scenes.
The "Fresh Prince" alum opened up about cheating on Jada in a recent GQ article and his "raging jealousy" of Tupac since he knew Jada was madly in love with him.
Several dark truths about their marriage have come out in these past few months, resulting in online criticism from every corner of the Internet.
It seems Jada is tired of y'all opinions because she limited the comments on her latest Instagram post she put up of herself and the Smith gang at the AFI Fest.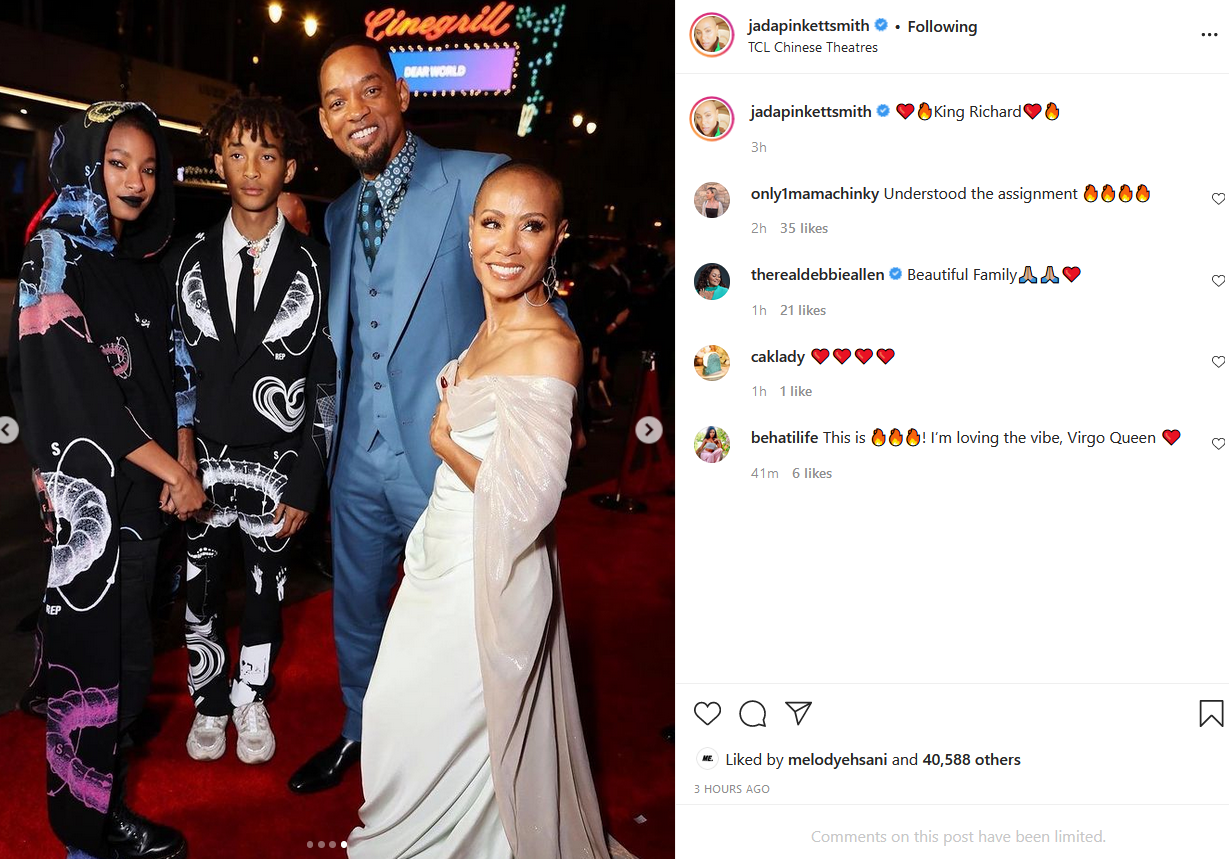 Despite the issues they've gone through, it seems they're both committed to loving each other forever.
During an appearance on "Good Morning America," Will explained that he and Jada are working toward something special, whether their style of love is what works for everyone else or not.
Will Smith discusses his unconventional marriage to Jada Pinkett Smith: "We are pursuing the kind of love that everybody dreams about." https://t.co/vRreY7Ex8P@tjholmes pic.twitter.com/eLb0Y1HDzH
— Good Morning America (@GMA) November 9, 2021
"We are pursuing unconditional love," he explained. "We are pursuing the kind of love that everybody dreams about. We just know that the road doesn't look like everybody think it's supposed to look."
Peep the clip above.
Back on the carpet…
Will snapped it up with the movie's stars, Demi Singleton, Saniyya Sidney, and Aunjanue Ellis, along with Serena Williams and Venus Williams.
NBA star Dwight Howard was seen dapping up Will on the carpet.
Come on, slayage! The Williams Sisters snapped it up with the girls who play them as young tennis playing sisters, Demi Singleton and Saniyya Sidney. They all look gorgeous!
Loving the throwback to the hairbeads that the Williams Sisters became known for during their tennis careers. Always fun times when they hit the carpet together.
And look who joined mommy on the carpet: Olympia! The mother-daughter duo was the cutest in their matching 'fits, posing it up alongside husband/dad Alexis Ohanian.
Momy & me! Adorbs.
Work, Venus!
Peep a few videos from the red carpet below:
View this post on Instagram
View this post on Instagram
FAB times!
King Richard hits theaters and HBO Max on November 19th.
Photos: Getty