DaBaby has more – you guessed it – baby mama drama! This time he's feuding with his daughter's mother, DaniLeigh. They got into a heated argument in front of their newborn while on IG Live and it resulted in the rapper kicking her out and calling the cops on her. The drama spilled into the next morning where he called her a "certified side b*tch" in a video.
DaBaby's other baby mama, MeMe, didn't waste any time to join the chat, causing Dani to tell her to "pull up." Everything inside…
It appears DaniLeigh is realizing a "yellow bone" isn't all that he wants like she rapped on her cringey track.
On Friday, all three of DaBaby's baby mamas were promoting his new EP. Now, he's feuding with one of them.
View this post on Instagram
Late last night, DaBaby and DaniLeigh got into a heated argument that eventually spilled over on social media when the North Carolina rapper grabbed a phone and hopped on IG Live.
As Dani held and fed their newborn baby girl, she feuded with the "BOP" rapper – dropping the n-word and all – after she claims he got upset and attempted to kick her out. Why was he mad? She said she had a Plan B sent to his condo she's been living at, explaining all he wants to do is "c*m inside" her, but never wants to take responsibility for his actions.
Here's some of what went down:
DaBaby just went live on Dani Leigh page for like 20 seconds and sounds like they up to no good pic.twitter.com/UNb74AROcP
— The Hood Therapist (@OhhMar24) November 15, 2021
After she cooked food for him, things escalated! DaBaby called the cops on Dani after he asked her to leave his residence. She didn't want to leave because she had their 3-month-old daughter and she didn't want to take her out in the middle of the night.
Check it:
DaBaby really trying Danileigh rn pic.twitter.com/cH9BncJBM2
— (@jass_fenty) November 15, 2021
Minutes after the IG Live ended, DaBaby hopped on IG Stories, releasing a statement, saying he called the cops for his "safety" and then proceeded to plug his new album and his upcoming tour. He also shared the covers of two films, A Thin Line Between Love & Hate along with Jordan Peele's Get Out to describe his current situation.
Check it: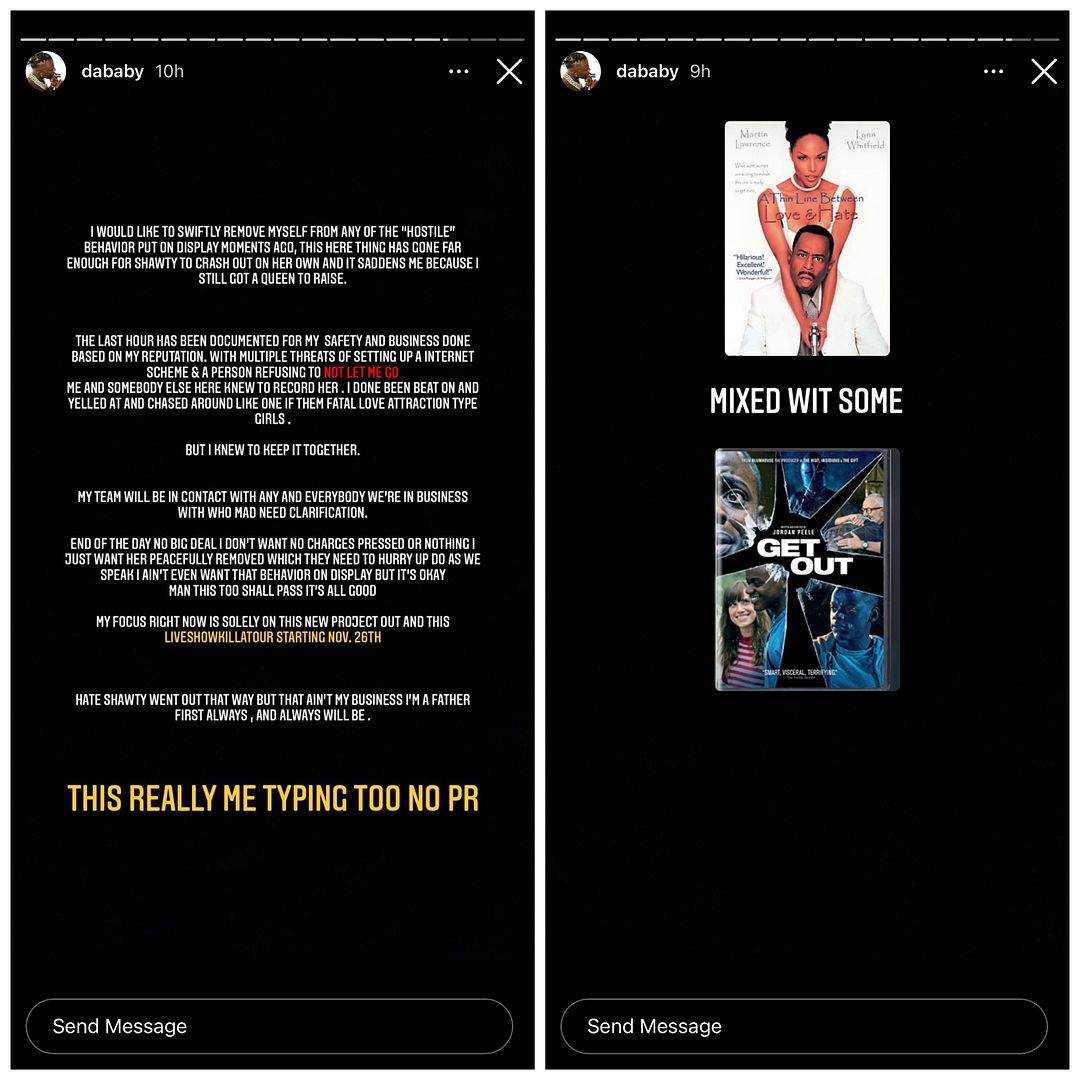 DaniLeigh then hopped on IG Stories to tell her side of the story. She claims he broke up with her after she got pregnant, but she took him back right before their daughter was born. They have allegedly been living together ever since. Dani posted videos of herself and DaBaby all boo'd up with dates attached to prove they were secretly together after everyone else believed they had broken up.
Dani also called out MeMe, writing, "Why every time I'm viral this girl wanna post about me???!!! U know where tf I am!!! I have reached out to u to be cordial plenty of times!!!":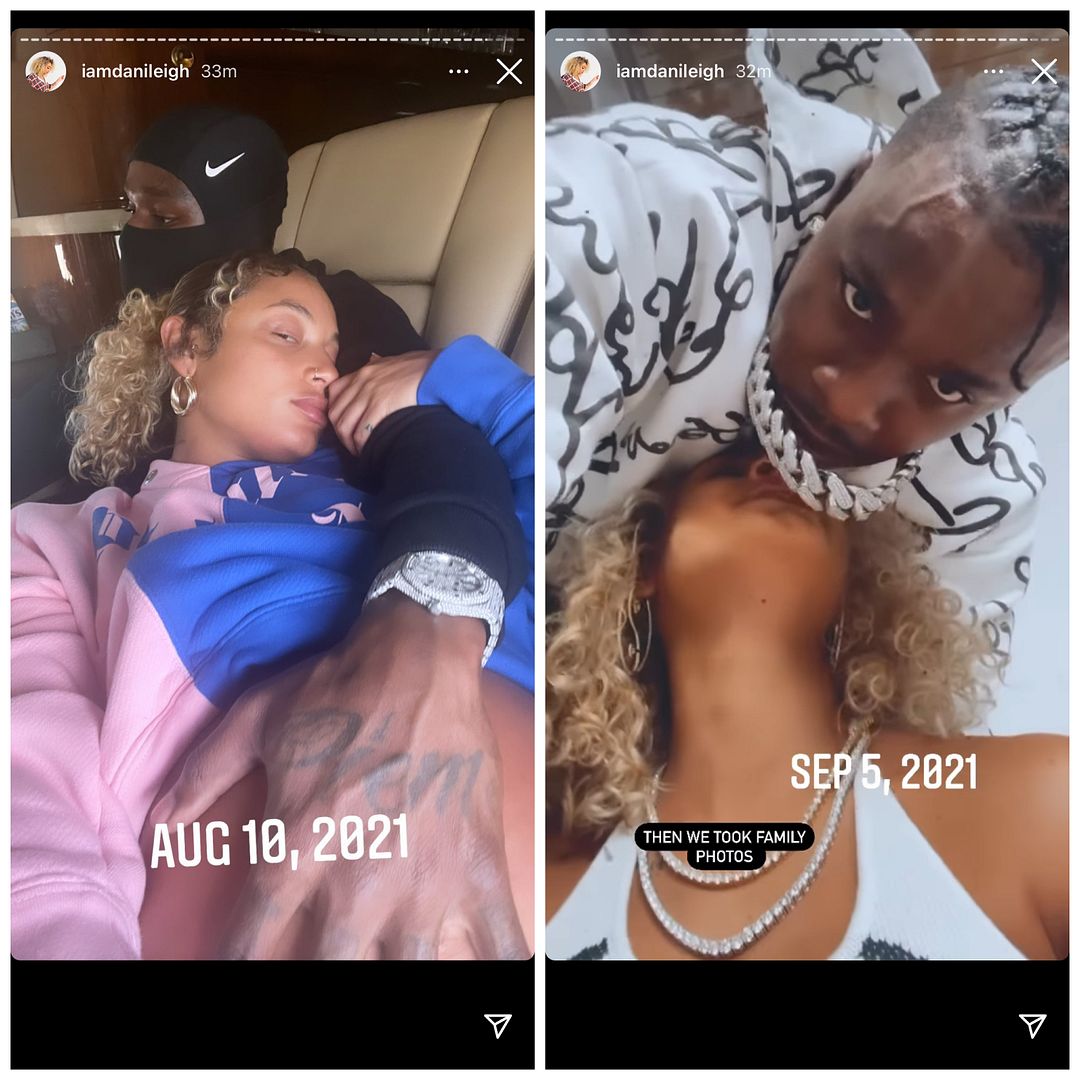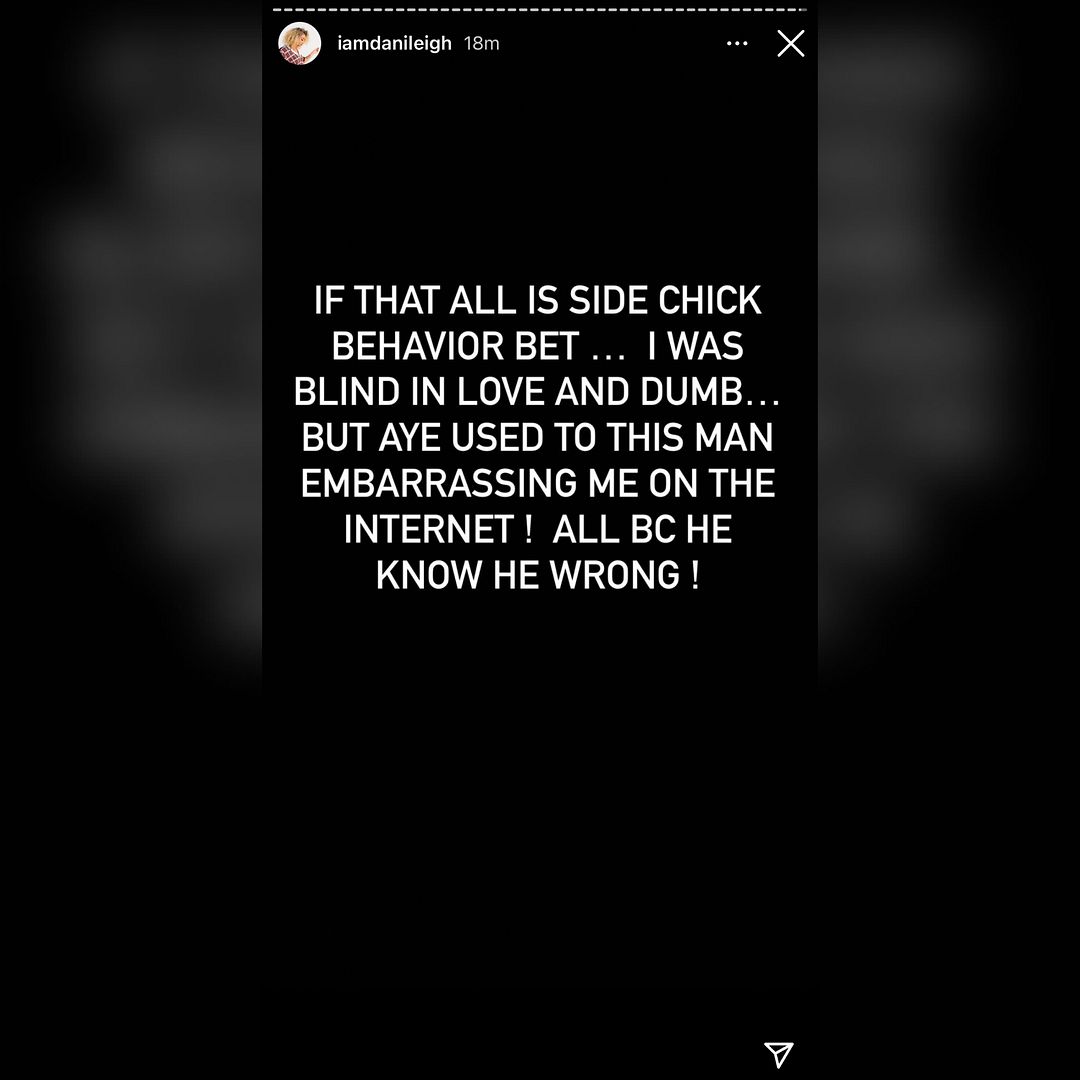 Yikes!
DaniLeigh returned to IG Live and broke down crying over everything that happened. She said she has no where to go because she moved in with DaBaby because she wanted her daughter to grow up knowing her father.
Peep the video below:
If you can't view the video, click HERE.
View this post on Instagram
DaBaby's first baby mama, MeMe, joined in on the drama, posting up laughing emojis on IG Stories after Dani basically told her to pull up on her.
Later, she posted a video asking DaBaby and Dani to keep her name out of their drama. She claims she's winning because she's having her way and isn't stressed over a man. Peep the clip below:
Meme tells #DaniLeigh and #Dababy to stop bringing her name in their mess! She does NOT give a F!
Tell 'em pretty girl pic.twitter.com/RCt2hAJGY6
— MouthyMouthy (@mouthymouthy) November 15, 2021
Just last week, MeMe shared a video onher IG Stories of DaBaby recording her son, likely for a music video. Last month, there were rumors that MeMe could possibly be pregnant by DaBaby for a second time. (FYI – MeMe's son is from a previous relationship, but DaBaby treats him like his own).
The drama continued into the morning….
Now why DaBaby goin disrespect DaniLeigh like that! She's the mother of your child. pic.twitter.com/sIQq8L5tmo
— TheFifthElement (@_Neik_) November 15, 2021
DaBaby hopped on IG Live, yet again, with DaniLeigh in the background. Apparently, she didn't leave after the cops were called.
"He wants to f*ck me, f*ck his baby mama, f*ck his Charlette hoes," Dani said.
During the Live, DaBaby said he's NOT in a relationship with Dani and that she doesn't want the world to know she's a "certified side b*tch." He begged her to leave his home. Then, Dani revealed she has her own closet and her own side of the bathroom. She told him she plans on leaving, but she needs to get her stuff first.
Peep the clips above and below:
DaBaby and DaniLeigh still in the house together and things still not looking good at all pic.twitter.com/Ayy8SonRt6
— The Hood Reporter (@OhhMar24) November 15, 2021
After blasting Dani online for a second time, DaBaby posted up a video on his IG timeline where he said no matter what goes on with him and Dani, he's going to take care of all of his kids:
View this post on Instagram
What a mess. We're feeling second hand embarrassment for all three of them, tbh.
Photos: IG