Dave Chappelle will not be canceled, although some folks are trying. He says his upcoming documentary is being blackballed, so he decided to put a self-funded tour together to show the film in 10 cities across the nation.
The famed comedian also addressed the trans community following many people's outrage over his Netflix comedy special, "The Closer." More inside….
Ever since Netflix premiered Dave Chappelle's newest comedy special, "The Closer," earlier this month, the comedian has been catching heat over jokes he made. Now, the controversy is causing drama with his new documentary.
According to the 48-year-old comedian, his new documentary is being dropped by film distributors as the transgender community rallies to have him canceled over the comedy special, which they interpreted to be "transphobic."
In a new standup clip posted to Instagram, the five-time EMMY winner shared details about his new porject. When outside was shut down due to the pandemic, Chappelle's neighbor was nice enough to offer his Ohio cornfield to host comedy shows over the summer. In the doc, he'll take viewers along with him while working during the pandemic.
Since the backlash from "The Closer" sparked off, he noticed invitations to major film festivals were being rescinded as well.
"They began disinviting me from these film festivals. And now, today, not a film company, not a movie studio, not a film festival, nobody will touch this film," he said.
So, what does he do? He launches his own tour to screen the documentary.
"You will be able to see this movie in its entirety and you can see what they're trying to obstruct you from seeing and you can judge for yourself," he said.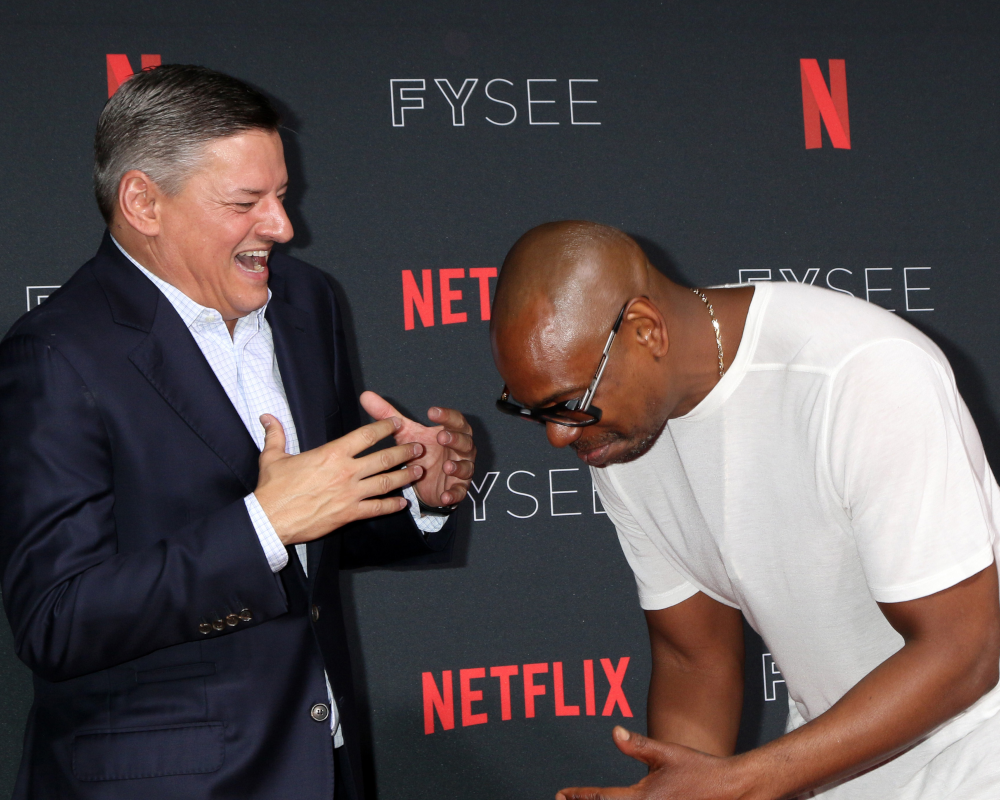 Transgender activists have been going hard in the paint to have Chappelle canceled. Some Netflix employees even walked off the job due to the company keeping the comedian's special on the streaming platform. While several employees have spoken out about the special, Netflix co-CEO Ted Sarandos is standing ten toes down for Chappelle.
"Thank God for Ted Sarandos and Netflix. He's the only one that didn't cancel me yet," he shared.
While Sarandos does support Chappelle, he did admit he "screwed up" in the way he communicated the decision to keep the show on the platform to his staff.
Trans personality Caitlyn Jenner recently came to Chappelle's defense:
Dave Chappelle is 100% right. This isn't about the LGBTQ movement. It's about woke cancel culture run amok, trying to silence free speech.
We must never yield or bow to those who wish to stop us from speaking our minds. pic.twitter.com/Nklalj6h5Y
— Caitlyn Jenner (@Caitlyn_Jenner) October 26, 2021
One thing is for sure, Chappelle isn't going to let anyone cancel him. And he's doubling down on every joke he made in "The Closer."
"It's been said in the press that I was invited to speak to the transgender employees of Netflix and I refused. That is not true. If they had invited me I would have accepted it, although I am confused about what we would be speaking about," he said in the video.
"I said what I said, and boy, I heard what you said. My God, how could I not? You said you want a safe working environment at Netflix. It seems like I'm the only one who can't go to the office," he continued.
Chappelle said he would meet with the trans community, but under certain conditions (that he semi-jokingly shared).
"To the transgender community, I am more than willing to give you an audience, but you will not summon me. I am not bending to anybody's demands," he said.
"And if you want to meet with me, I'd be more than willing to, but I have some conditions. First of all, you cannot come if you have not watched my special from beginning to end. You must come to a place of my choosing at a time of my choosing, and thirdly, you must admit that Hannah Gadsby is not funny."
At the end of the clip, Chappelle asked the audience "Am I canceled or not?"
Peep the full video below:
View this post on Instagram
Dave Chappelle's "Untitled" documentary tour kicks off November 4th in San Francisco and will travel to major cities like Cleveland, Toronto, and Atlanta before wrapping up on November 22nd in New York.
Is Dave capitalizing off the "controversy" or are people actually attempting to drop him? Will you be copping tix?
Photos: Kathy Hutchins/Shutterstock