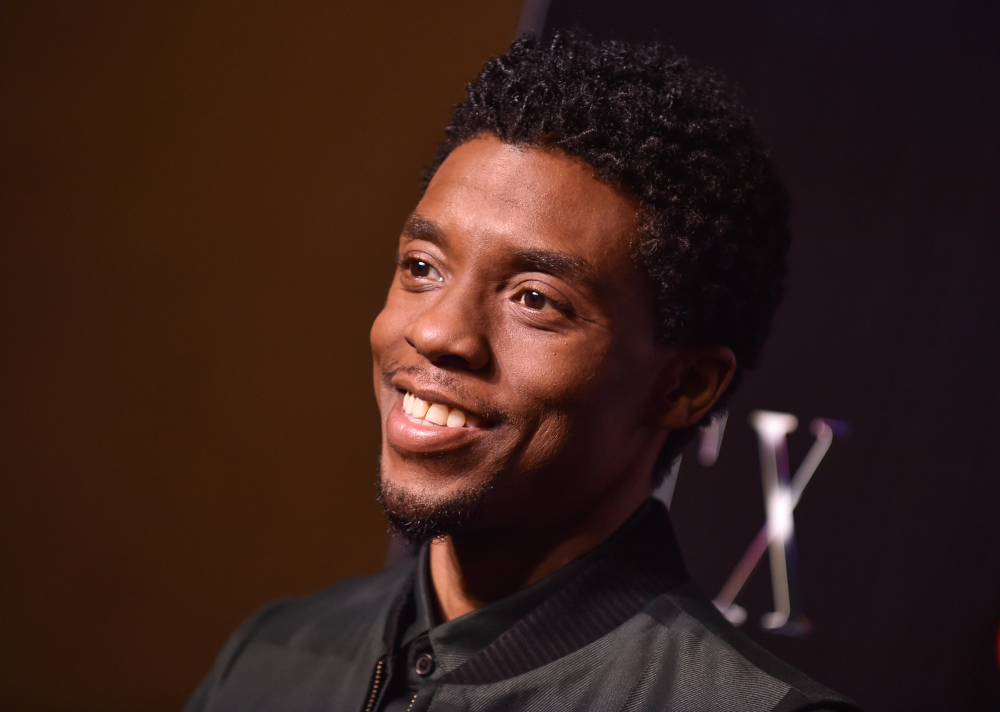 Netflix is setting up a multi-million dollar scholarship at HBCU Howard University in honor of the late Chadwick Boseman.
Deets on the memorial scholarship, plus his wife Simone's emotional performance during the Stand Up To Cancer telethon inside…
Gone, but never forgotten.
Actor Chadwick Boseman gave us lessons and gifts during his time on earth. And he's still giving back to his community even after his time here on earth.
Netflix has established a $5.4 million scholarship in honor of the late alumnus Chadwick Boseman, called The Chadwick A. Boseman Memorial Scholarship.
The Black Panther star's memory and legacy will live on through recepients of the scholarship. Money from the scholarship will cover four years tuition at Howard's College of Fine Arts, which was renamed after Chadwick earlier this year. The Ma Rainey's Black Bottom star graduated from Howard in 2000 with a Bachelor of Fine Arts in directing. During his tenure, he had the fortunate opportunity to be trained and mentored by Phylicia Rashad, who now serves as the dean of Howard University's College of Fine Arts.
This semester, one scholarship will be awarded to each class year. After that, one incoming freshman will receive the scholarship annually. Students in the dramatic arts will be considered first.
More details about the Chadwick A. Boseman Memorial Scholarship (via THR) below:
The Boseman scholarship will preferentially consider students in the dramatic arts, and those who exemplify the late actor's values, described as:
A Drive for Excellence: Students who are continuously working toward improvement and putting in time above and beyond the basic requirements. This includes engagement in academic departments, campus or community organizations.
Leadership: Students who have the personal fortitude to do what is right, even when this means they are in the minority. They exhibit honesty and are trustworthy, caring and ethical. They keep their word and honor their commitments while accepting consequences and admitting their mistakes.
Respect: Students who treat others fairly. They listen to and accept input from others. They maintain self-control and exhibit consideration for the things and people that they encounter.
Empathy: Students who show kindness and understanding toward all those they encounter and actively listen in an effort to understand the unique experiences of others. They advocate for their community by identifying needs and working to meet them.
Passion: Students who show an ardent desire to absorb all aspects of the art of storytelling. They understand the deeply rooted, critical importance of storytellers as cultural historians and aspire to inform, uplift and strengthen their community through their work.
President of Howard University, Dr. Wayne A.I. Frederick, shared his excitement about the new scholarship:
"It is with immense pleasure and deep gratitude that we announce the creation of an endowed scholarship in honor of alumnus Chadwick Boseman, whose life and contributions to the arts continue to inspire," he said. "This scholarship embodies Chadwick's love for Howard, his passion for storytelling, and his willingness to support future generations of Howard students. I am thankful for the continuous support and partnership of Chadwick's wife, Mrs. Simone Ledward-Boseman, and to Netflix for this important gift."
Netflix co-CEO and chief content officer Ted Sarandos also released a statement:
"While [Boseman] was taken from us too soon, his spirit is with us always in his work and the good that he has inspired. He always spoke of his time at Howard and the positive way it shaped his life and career. Now, we will have the opportunity to give many future superheroes a chance to experience the same. We are grateful to Simone and Chadwick's whole family and our partners at Howard University for making this possible."
It's still hard to believe Chadwick died in August 2020 after he secretly battled colon cancer for several years. He was 43.
In honor of the one-year anniversary of Chadwick Boseman's death, Simone Ledward Boseman hit the stage at the 2021 Stand Up To Cancer telethon to perform for her husband. She delivered an emotional ballad of Billie Holiday's "I'll Be Seeing You."
"black-ish" star Anthony Anderson paid tribute to the late actor before introducing Simone.
Grab a tissue before clicking the clip above. Sending love, strength, and prayers still to Chadwick's wife and loved ones.
Photo: DFree/Shutterstock