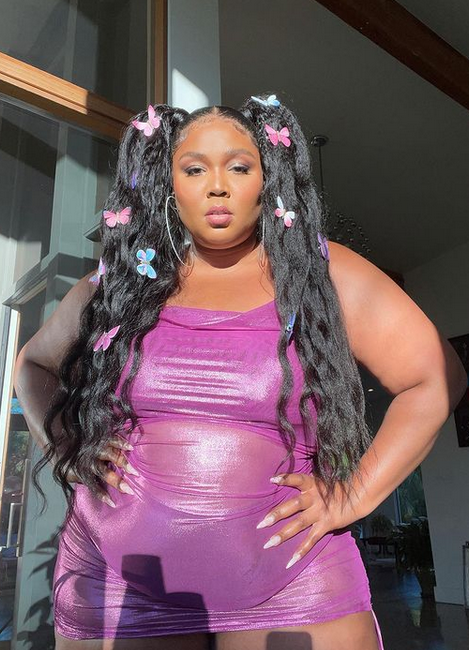 You've never seen (or heard) a TED Talk like this! Lizzo takes the stage to school the masses on the history of twerking and how the movement helped her love her body. Gems inside…
Welcome to TED TWERK!
From twerking to hosting Ted Talks, Lizzo is schooling the masses on the origins of twerking, an act she LOVES to perform. So here's some "farm-to-table" for that a**…literally.
Before getting into the history of the popular movement during her TED Talk, the "Rumors" singer shared she wasn't always as confident as she is now.
"If you follow me on social media before you've probably seen my heinie before," she said. "I used to hate my a**, believe it or not. I have my father's shape and my mother's thighs, so it's big, and long. I used to think that only asses like J.Lo's or Beyoncé's could be famous. I never thought that could happen to me."
Growing up, she felt her body type was the "ideal" shape of beauty and she had a hard time loving herself. In fact, her a** was the part of her body she hated the most.
"I always felt like my body type wasn't the right one, or the desirable one growing up because I grew up in an era where having a big a** wasn't mainstream," she shared.
Luckily, the tables have turned!
View this post on Instagram
"My a** could do magic. My a** has been the topic of conversations, my a** has been in magazines, Rihanna gave my a** a standing ovation. Yes, my booty! My least favorite part of my body," she said. "How did this happen? Twerking. Through the movement of twerking, I realized that my a** is my greatest asset. Ladies and gentlemen, welcome to my TED Twerk."
The 33-year-old Grammy Award winner then went on to drop facts on the orgins of twerking, serving up a history lesson to the audience about how the roots of twerking originated in African culture.
"Modern-day twerking derived from Black people and Black culture. It has a direct parallel to West African dances like Mapouka.
During her TED TWERK, she gave props to artist like Big Freedia, Master P and Beyonce for making twerking mainstream.
"For me, twerking ain't a trend," she said. "My body ain't a trend. I twerk because of my ancestors, for sexual liberation, for my b*tches, hey girl. Because I can. Because I know I look good. I twerk because it's unique to the Black experience, it's unique to my culture, and it means something real to me."
Watch her TED TWERK below:
Loves it.
Photo: Lizzo's IG