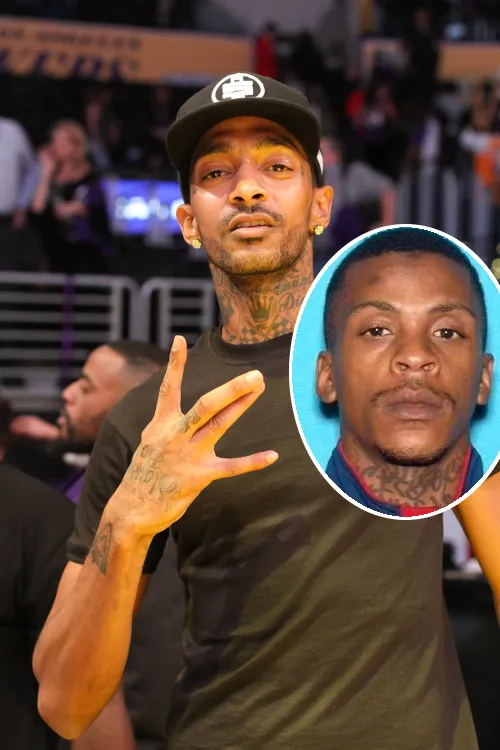 Two years after he was officially charged with murdering rapper Nipsey Hussle, Eric Holder finally receives a trial date. His lawyer plans to argue that Eric was having "mental health issues" on the day of Nipsey's death. More inside…
It's been a few years since Nipsey Hussle's alleged killer was officially charged with his murder. The COVID-19 pandemic was the cause for the delay for his trial, but there are new updates in the case.
Finally, a date has been set for Eric Holder to stand trial in the murder of Nipsey Hussle.
In April 2019, Eric Holder was formerly charged with the murder of rapper and entrepreneur Nipsey Hussle (real name Ermias Joseph Asghedom). He was also charged with two counts each of attempted murder and assault with a firearm and one count of possession of a firearm by a felon for the shooting death of Nispey and wounding two others.
According to a Los Angeles County judge, the 31-year-old alleged shooter is set to face trial on January 5, 2022. He has pleaded not guilty to all of the charges.
If Eric is convicted as charged, he faces a possible life sentence.
"He's nervous, but he knows it's time to get the case moving to trial," Eric Holder's latest lawyer, Deputy Public Defender Aaron Jansen, told Rolling Stone.
Previously, Chris Darden, the lawyer who prosecuted O.J. Simpson, was his lawyer. A month after Eric was charged, Chris filed a motion to remove himself as Eric's defense lawyer.
Deputy Public Defender Aaron Jansen claims his client was experiencing "a substantial mental health issue" and was "off his medication" the day of the shooting. Back in June, Jansen revealed Eric's mother had just passed way and that was "one of the things affecting him." He declined to elaborate on any prior mental health diagnosis. SMH.
The Grammy nominated rapper, who was 33, was gunned down on March 31, 2019 outside of The Marathon Clothing, a store he owned in South Los Angeles at Slauson Avenue and Crenshaw Boulevard.
Surveillance video shows a shooter running up to Nipsey – who won two posthumous Grammys for his songs "Racks in the Middle" and "Higher" – and two others with him, reportedly after exchanging words with the men earlier when the suspect first approached the store. The shooter then shoots Nipsey and the others before kicking Nipsey in the head and ran off.
It's reported Eric Holder fired at least 10 rounds into Nipsey's body with a black semiautomatic handgun in one hand and a smaller silver revolver in the other.
"Mr. Holder was firing with two different handguns, trading (shots) between his right and his left hand," Los Angeles County Deputy District Attorney John McKinney previously told a grand jury, according to a transcript obtained by Rolling Stone.
Unfathomable.
What do you think the outcome will be?
Photo: Pacific Coast News/LAPD