The search for missing Illinois State University graduate student Jelani "J.J." Day is over. Police confirmed the body found three weeks ago in a river near Peru, Ill is Jelani. More inside…
Illinois State University graduate student Jelani "J.J." Day went missing on August 24th. His body was discovered September 4th in Peru, Illinois, however, his remains weren't identified until after his mother went public to plead to authorities to do their job.
Today, (September 24th), the coroner's office in LaSalle County, Ill., identified a body found in a river as Jelani's. The 25-year-old been living in Bloomington (which is about an hour away from Peru) and he aspired to be a doctor.
"There are no words to clearly communicate our devastation," Jelani's family said in a statement. "Our hearts are broken."
Two days after his disappearance, his car – a white Chrysler 300 – was found in Peru in "a wooded area south of the Illinois Valley YMCA," police said. Inside the car were the clothes Jelani had been wearing when he was last seen.
He was last seen at Beyond/Hello cannabis dispensary in Bloomington around 9:15 a.m. on August 24th: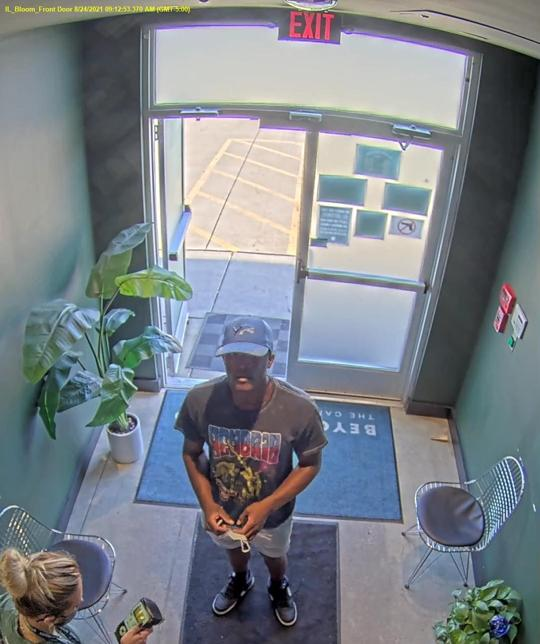 Jelani's family and professor reported him missing after several failed attempts to get in contact with him.
According to reports, the coroner used dental records and DNA analysis to identify Jelani's body. His relatives had previously submitted DNA samples to aid the search.
The body identification comes right after Jelani's mother, Carmen Bolden Day, started publicly pointing out the racial disparities when white people are missing compared to when people of color go missing, referencing Gabby Petito, the 22-year-old white woman who went missing and was later found dead. MSNBC's Joy-Ann Reid called out "missing white woman syndrome" on her show, which caused a stir online.
"Jelani hadn't been getting the coverage. Jelani has been missing for 24 days, and as I said, it seems like the effort to find him has slacked down," she said during an interview with Newsy. "I know about Gabby, the missing girl, and she's been missing for two days, and her face is plastered everywhere, and the FBI is involved, and I do not understand why Jelani doesn't get that same coverage."
Before the body was confirmed to be her son's, Mrs. Day talked about how the coroner's office was disrespectful towards her and how she hadn't heard from the Peru police department since September 4th after numerous attempts to get updates about the case.
"He said to me, 'Do you want to know if this is your son or not?'" Jelani's mother shared. "They were so rude to me."
Peep the interview below:
Toxicology testing will be done to attempt to determine how Jelani died.
Jelani's mother spoke with CNN after her son's body was found and she rightfully criticized the way authorities handled her son's case.
"To them, Jelani didn't mean anything," Carmen Bolden Day told CNN on Friday. "There is no effort. There is no push. There is no nothing that was being done about my son. Me and my kids, me and everybody that never knew Jelani — my family, friends, strangers — did all the leg work. My son didn't get any type of help… He didn't deserve this."
So sad and unfortunate.
As family and friends wait to get answers surrounding his death, tribute for the aspiring doctor have been posted on social media. Jelani was a member of Omega Psi Phi Fraternity, Inc. and they shared a tribute to their brother:
Our prayers go out to the family of Bro. Jelani Day ('18 NE) and the Brothers of Alabama A&M University. Rest in Peace. #OmegaChapter
@NuEpsilonQues #Jelani #JelaniDay pic.twitter.com/sJXfD7g6t5
— Omega Psi Phi (@OfficialOPPF) September 24, 2021
Now, police need to find answers as to what happened to Jelani and who did it!
Photos: Facebook/Twitter