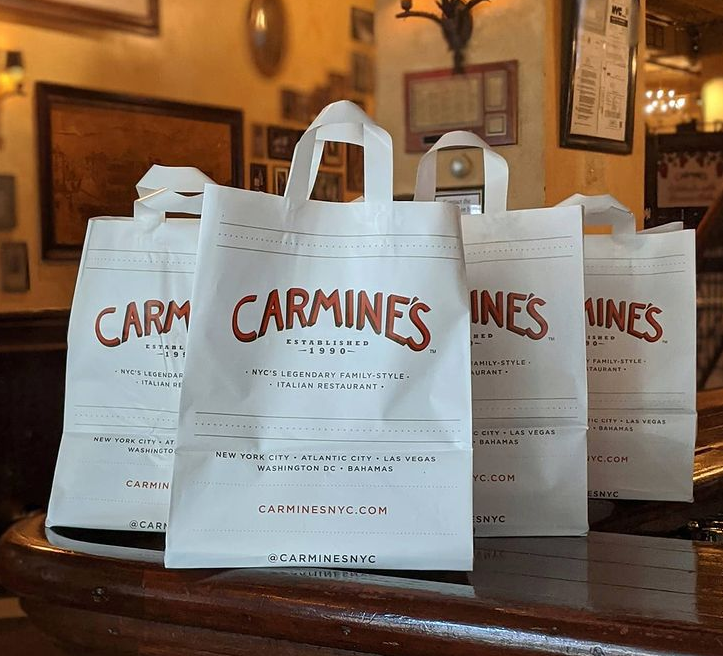 There's surveillance footage leading up to that viral brawl involving three black Texas women and an NY hostess over vaccination proof. And it debunks some of the previous reports that accused the women of using fake vax cards, but there's more involving alleged racism. Details inside.
There are updates on that brawl involving three Black Texas women and an NYC hostess that paints a clearer picture of what really went down before the viral moment outside of popular Italian restaurant Carmine's on the Upper West Side of Manhattan.
Previously, headlines were published that made it seem like three Black Texas women just decided to "beat down" an NYC restuarant hostess because she asked them to show proof that they were vaccinated. Peep some of the headlines below: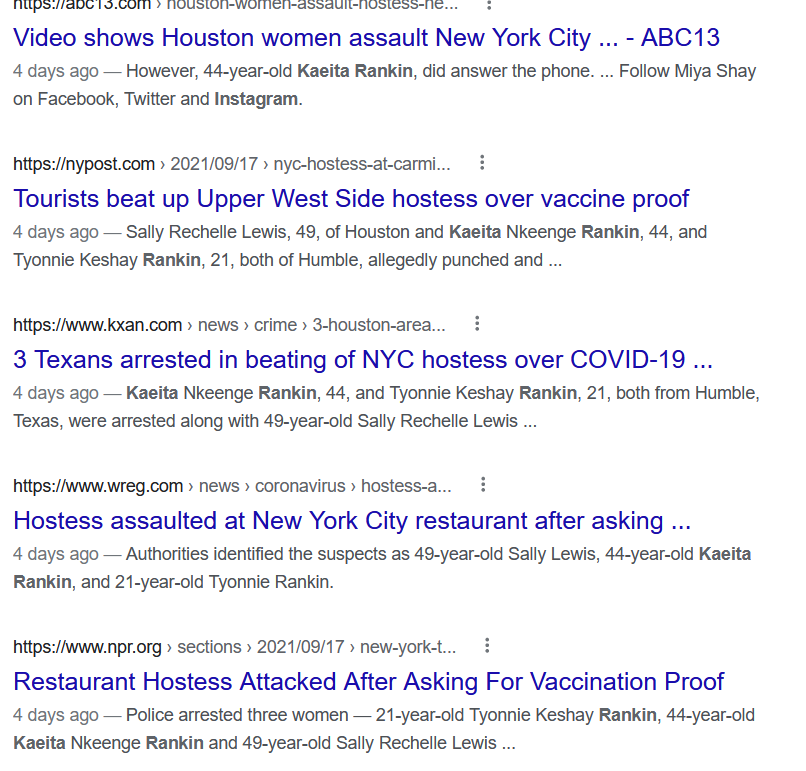 Well, now there's surveillance footage of what led up to the viral moment and the three Texas women are telling their side of what really went down.
The lawyer of one of the women says the ladies were victims of racism after the hostess started "spouting out derogatory comments," and that "the N-word" was being used towards them.
Initially, police said they responded "to an assault in front of Carmine's on the Upper West Side of Manhattan involving a 24-year-old hostess, who told them that she got into a dispute with three women after she requested to see their Covid-19 vaccination cards.
The three women – Kaeita Rankin (a businesswoman with a Ph.D. in pharmaceutical science), 44, her niece Tyonnie Rankin, 21, and her assistant, Sally Lewis, 49 – were charged with assault and criminal mischief.
The new video footage paints a different picture of what led up to the drama.
According to The New York Times, both lawyers for Carmine's and the women said that the three women had, in fact, provided documentation of Covid vaccinations. However, a few men came to to join the party minutes later, and they were unable to provide vaccination proof, the lawyers on both sides said. A few of the women also could not provide identification to match their vaccination certs.
The Times reports:
Security camera footage reviewed by The New York Times shows three women, who were with several other people, being ushered into the restaurant after showing documentation near the entrance. Several minutes later, three men arrive to join the group, but only one of the three shows a vaccination card, lawyers for both sides said. A short time later, after the three women, who are Black, have joined the men outside, the fight breaks out.
Justin Moore – a lawyer representing Dr. Kaeita Nkeenge Rankin – said the hostess used a racial slur and spoke condescendingly to the women. She even suggested that their vaccination cards were fake. He also said the Texas women claim that the hostess assaulted them.
"The hostess begins spouting out derogatory comments, and speaking with two of the women; they claim that the N-word is being spewed out" Mr. Moore said in an interview. "They also heard the hostess say, 'Yeah, you guys can leave my restaurant,' or something very aggressive like that. When Dr. Rankin hears that, she turns around and addresses the hostess. She tells her: 'This isn't your restaurant. You're just a staff member here. Please address us with respect.'"
He called the altercation "mutual combat."
On Instagram, Attorney Moore has been calling out Carmine's and the hostess for allegedly lying:
View this post on Instagram
View this post on Instagram
View this post on Instagram
Hmph.
He also shared a tweet about why Carmine's isn't releasing the video publicly: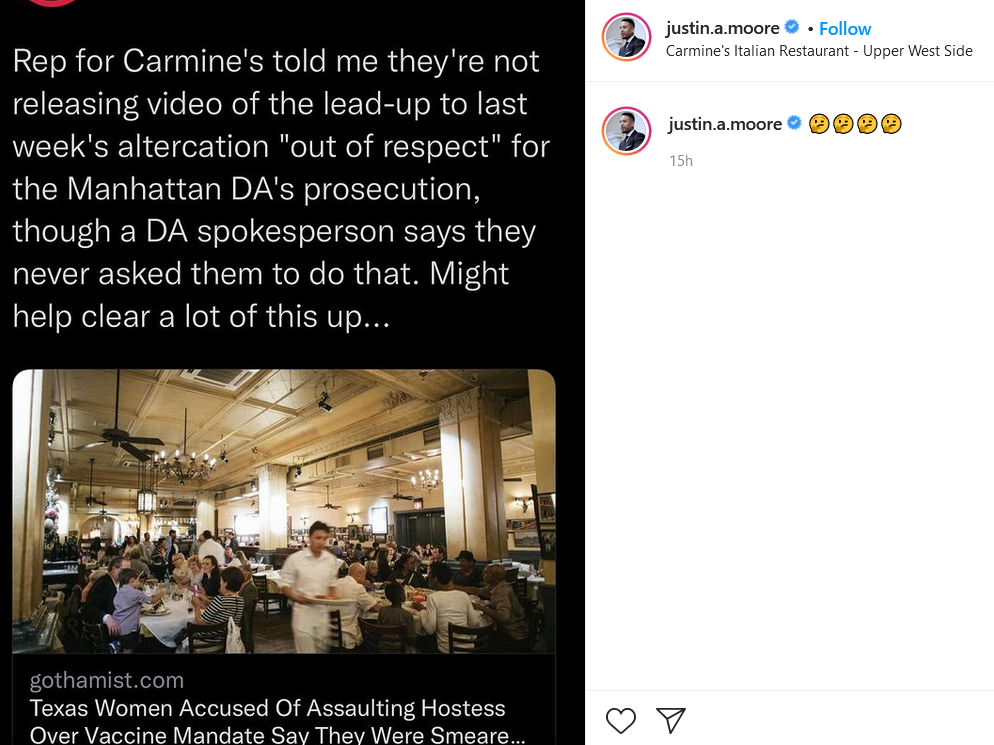 On the flip side, the restaurant claims racism did not play a part in the altercation and no racist slurs were uttered.
"Nothing about this incident suggests race was an issue," Carolyn Richmond, a lawyer who represents the restaurant, wrote in an email. "The pandemic has added a key responsibility to the host position — insuring the safety and health of all employees and guests by checking for proof of vaccination in compliance with New York City law."
"The idea that anyone would become violent as an employee performs this necessary function is anathema to New York, the hospitality industry and New Yorkers in general," she added. "As all of the women showed proof of vaccination they were all permitted to enter and were in fact seated inside."
All three women were reportedly given desk appearance tickets alleging third-degree misdemeanor assault and must face a judge in New York City next month. Their defense attorney is hopeful the case will be dismissed before then:
"I don't expect anything to come of it, " defense lawyer Javier Solano, who represents all three women, said. "I really do hope that cooler heads prevail, that the district attorney's office has an opportunity to investigate this case before [the next court date] and that they dismiss the case."
Hawk Newsome, co-founder and chairman of BLM Greater New York, told The New York Times that BLM plans to protest against the treatment of Black patrons.
"Restaurants are using vaccine mandates to enforce their racist beliefs and excluding Black patrons," Newsome said.
Now that more information has come out, do you feel differently about the situation?
Photo: Carmines' IG