Nicki Minaj cooked up some drama online when she shared her thoughts about getting the COVID vaccine. MSNBC's Joy-Ann Reid scolded Nicki for her postings on the vaccine, which eventually erupted in an online feud.
All of the social media drama comes on the heels of a report that her husband's rape victim was finally able to serve her and her husband Kenneth Petty with the intimidation & harassment lawsuit she filed.
Nicki Minaj ruffled some feathers after she shared her opinions about the COVID vaccine on social media. A conversation about the vaccine with her Barbz turned into an all-out feud with MSNBC's Joy-Ann Reid with Nicki accusing the news anchor of being "thirsty to down another black woman."
After announcing she would be skipping out of performing at the MTV VMAs and attending the 2021 Met Gala, Nicki Minaj hopped on Twitter to chat with her fans about her hesitancy to get the COVID-19 shot. Proof of vaccination was required to attend the Met Gala.
"They want you to get vaccinated for the Met," she tweeted. "if I get vaccinated it won't for the Met. It'll be once I feel I've done enough research. I'm working on that now. In the meantime my loves, be safe. Wear the mask with 2 strings that grips your head & face. Not that loose one"
The 38-year-old entertainer also revealed she caught COVID while prepping for the VMAs.
View this post on Instagram
In a follow-up tweet, the QUEEN raptress shared a story about reactions her cousin supposedly had from getting the vaccine. She also said she'll likely get the vaccine so she can go on tour.
"My cousin in Trinidad won't get the vaccine cuz his friend got it & became impotent. His testicles became swollen. His friend was weeks away from getting married, now the girl called off the wedding. So just pray on it & make sure you're comfortable with ur decision, not bullied."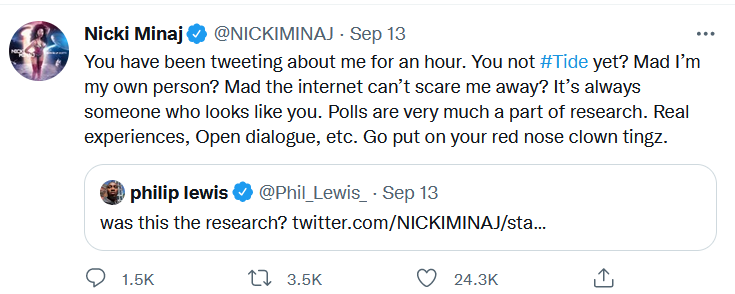 MSNBC host Joy-Ann Reid aired out her frustrations with Nicki's tweets on her show, "The ReidOut," scolding her for not promoting the shot to her 22 million Twitter followers.
"For you to use your platform to encourage our community to not protect themselves and save their lives, my God, you could do better than that. It's a blessing. It's a blessing that you got that. That people listen to you and they listen to you more than they listen to me," Joy-Ann said.
"For you to use your platform to put people in the position of dying from a disease they don't have to die from, oh, my God! As a hip-hop fan, as somebody who is your fan, I'm so sad that you did that. So sad that you did that, sister. Oh, my God. Lord."
Peep the clip below:
.@JoyAnnReid responds to @NICKIMINAJ's tweets on the #COVID19 vaccine: "For you to use your platform to encourage our community to not protect themselves and save their lives… As a fan, I am so sad that you did that." #TheReidOut #reiders pic.twitter.com/nmr85LSmug
— The ReidOut (@thereidout) September 13, 2021
The Pinkprint rapper took offense to Joy-Ann's commentary and responded in several tweets, accusing the TV host of lying on her and trying to take "down a black woman."
"This is what happens when you're so thirsty to down another black woman (by the request of the white man), that you didn't bother to read all my tweets. 'My God SISTER do better' imagine getting ur dumb a– on tv a min after a tweet to spread a false narrative about a black woman," Nicki tweeted..
"A lying homophobic c**n. I guess I can join in the reindeer games too right? Ppl can go on tv & lie on me, I can report on them, too right? Smiling face. Doesn't have to be truths. It can be half truths. Uncle Tomiana asked who on earth would trust the US FDA guys…," she tweeted..
When media outlets started picking up on the story, Nicki started calling them out online for publishing lies about her: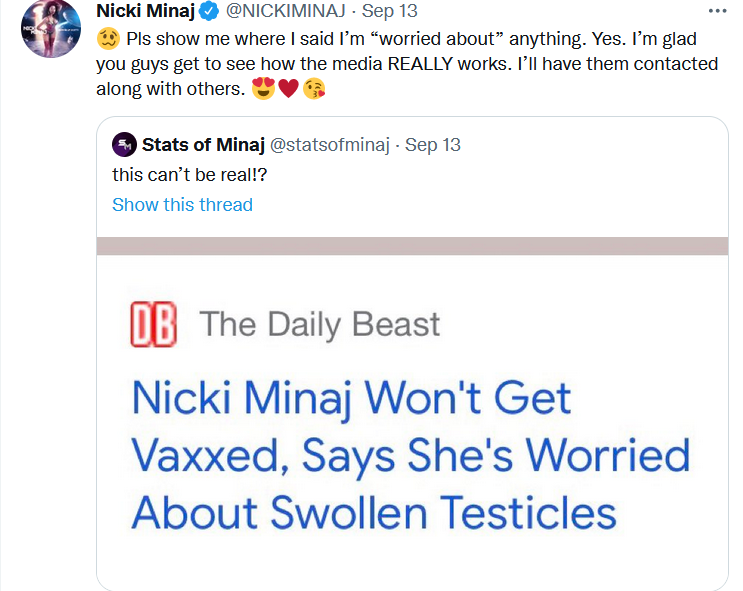 Nicki also popped back at Meghan McCain and Piers Morgan's reations to her COVID commentary: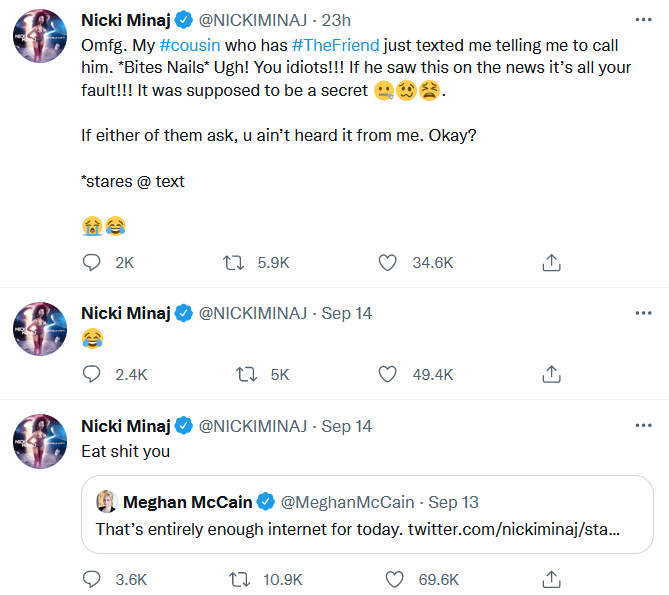 Hmph.
Still, some people may only see the one or two posts where she did promote nonfactual distrust of the vaccine. And that is what people believed was irresponsible.
People – including doctors – quickly pointed out this alleged story about her cousin's friend in Trinidad is not a side effect of Covid but is definitely something that happens to people with untreated STI's. Others claimed that story is nothing more than a fake anecdote floating around online circles similar to other "my aunt's friend's brother said the FBI xyz" because they were told the same thing and everyone doesn't have the same cousin.
View this post on Instagram
While people have a right to "research" what actual scientific researchers have already researched for years, it appears that her sharing unconfirmed and likely false anecdotal stories to sow distrust is what JoyAnne and millions on social media took issue with.
Fans noticed Nicki's social media drama came on the heels of a NEW report about her husband Kenneth Petty's rape case. The woman who accused Petty of rape in the '90s filed a lawsuit accusing the couple of harassing and intimidating her. There were reports that her attorney was having a hard time serving Nicki & Kenneth, but that seemingly has changed.
Last month, Jennifer Hough filed a lawsuit against The Petty's, claiming the famous couple has harassed and intimidated her in an attempt to get her to recant rape allegations against Kenneth Petty. According to reports, Jennifer's legal team was having a problem serving The Pettys, but it seems they may have located the couple.
AllHipHop reports:
According to Hough, Nicki and Kenneth have bombarded her with phone calls, stalked her in numerous states, offered her cash, and even contacted her family with a $500,000 offer if she would just retract the allegations against Nicki's husband.
Hough even claims associates of Kenneth sent her chilling messages flashing guns as recently as August, which made her fear for her life and moved to another state – again. Hough refuses to do so. She is adamant she was raped by the rapper's husband.
After the lawsuit was filed, Hough's attorney Tyrone Blackburn told the court he was having trouble tracking the couple down, because their lawyers were refusing to reply to emails and phone calls.
Last week, Hough attempted to serve Kenneth Petty (even though he appeared via Zoom) when he appeared at the Central District Of California Court in Los Angeles, where he formally pleaded guilty to failing to register as a sex offender, on September 9.
It is unclear if that attempt was successful. However, Jennifer Hough and her attorney finally found Nicki's address in Calabasas, California, where she was formally served with the complaint.
Nicki has 21 days to respond to the complaint, or a default judgment will be entered against the Petty's.
You'll recall, Kenneth "Zoo" Petty, 43, struck a plea deal with the feds last month. However, he could still end up behind bars.
Mr. Petty agreed to plead guilty to one count of failing to register as a sex offender in California. In return, the feds will reportedly seek a sentence towards the low end of the guidelines. The maximum sentence allowed for the crime is 10 years in prison and a lifetime of supervised release.
His sentencing is scheduled for January 24, 2022, so he'll be home with Nicki and "Papa Bear" for the holidays.
View this post on Instagram
In March 2020, Mr. Petty turned himself in to police after he was pulled over by police for a traffic stop in November 2019. Cops ran his name and realized he was a registered sex offender in New York, but failed to register in California after he moved there in 2019 with his wife.
Kenneth was convicted of first-degree attempted rape in 1995. According to reports, he served nearly 4 years in NY state prison and was required to register as a sex offender.
Photo: Nicki's IG