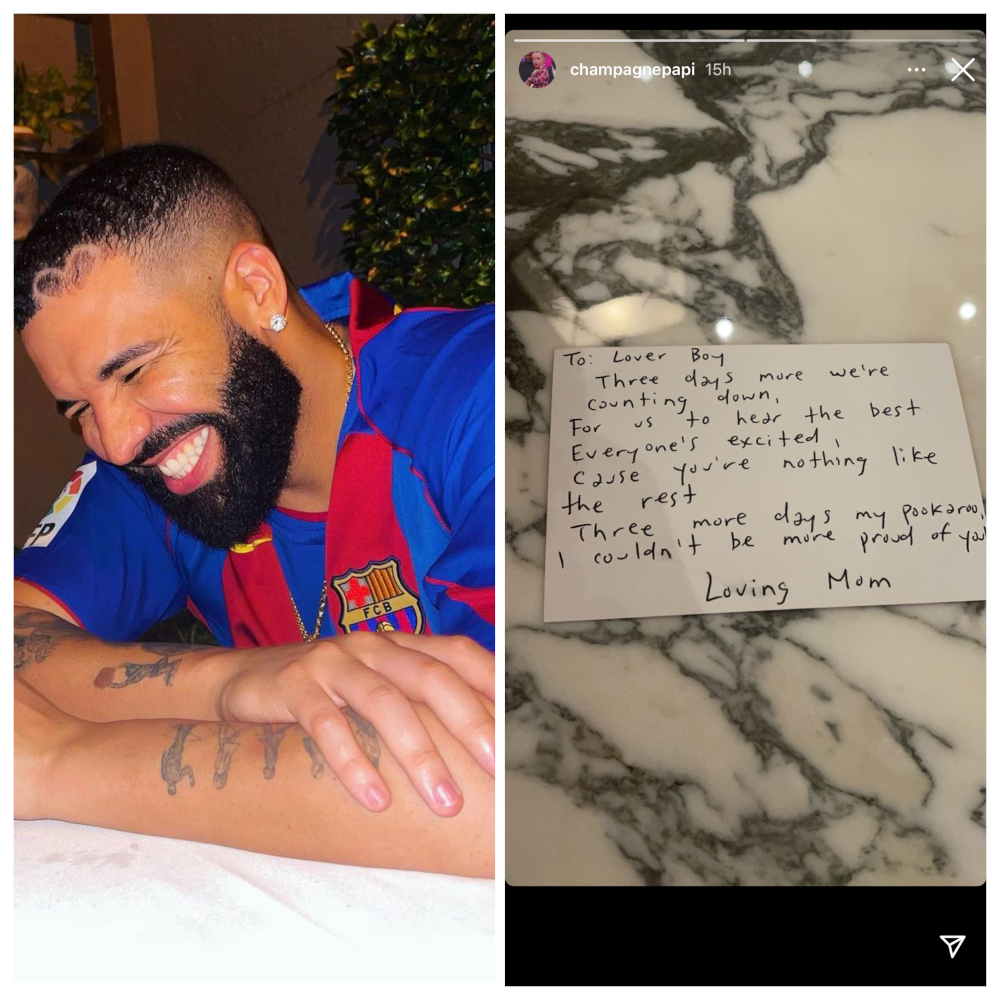 Drake is receiving all the love from mom days before his highly-anticipated album Certified Lover Boy drops.
In the days leading up to his album release, the Certified Lover Boy has been active on social media, showing Soulja Boy some love amid his "beef" with Kanye West and his album promo has received the meme treatment. Get it all inside…
As fans countdown the days and hours before Drake offers up his upcoming sixth studio album, the Certified Lover Boy has been heavy on social media.
Last week, Drizzy leaked the release date of his Certified Lover Boy album, stealing his rap nemesis Kanye West's DONDA thunder. Hours after Kanye's third listening party in Chicago for his DONDA album, which was inspired by the Chicago rapper's late mother, the Canadian rapper seemingly hijacked ESPN's SportsCenter broadcast with a cryptic announcement about the release of his upcoming album, adding fuel to his ongoing rap beef with the Chi-town rapper.
In the clip, a piece of cardboard paper is held up in the camera with the handwritten words "CLB September 3" on it.
Check it:
Did Drake just announce Certified Lover Boy's release date of next Friday on SportsCenter? pic.twitter.com/nTq3s4OvpM
— XXL Magazine (@XXL) August 27, 2021
Then, Drake announced on Instagram that his album was dropping this Friday after several delays. The project was originally scheduled to drop in January.
The album announcement featured a dozen emojis of pregnant women of different shades. Fans quickly pointed out the album's new release date comes nine months after the original scheduled release.
View this post on Instagram
It didn't take long before the promo recevied the meme treatment. Lil Nas X took a page out of Drake's book to announce his Montero album set to drop September 17th:
"MONTERO" THE ALBUM
OUT SEPTEMBER 17, 2021 pic.twitter.com/M7qVwV1uOu
— MONTERO (@LilNasX) August 30, 2021
IG comedian Tony TV did the same thing:
View this post on Instagram
HA!
The God's Plan rapper appeared on IG Live with his longtime friend OVO Mark as he drove around Toronto handing out Certified Lover Boy t-shirts:
Drake got OvO mark giving out CLB Merch in Toronto rn pic.twitter.com/X9ColI9SYR
— DJ Akademiks (@Akademiks) August 31, 2021
Yesterday, Drake's label, Young Money, shared an updated "CLB" artwork, which features Drake emojis with the heart haircut:
View this post on Instagram
We will just have to wait until Friday to see what the official album artwork will be.
On IG Stories, Drizzy brought his mom into the promo frenzy and shared a heartfelt handwritten note from Sandi Graham herself. And she's got (mom) bars.
"To: Lover Boy. Three days more we're counting down, For us to hear the best, Everyone's excited, Cause you're nothing like the rest. Three more days my pookaroo, I couldn't be more proud of you. Loving Mom," the letter reads.
View this post on Instagram
Also…
WOKE UP AND DRAKE IS USING MY SOULJA BOY INSTAGRAM FILTER pic.twitter.com/rAtcrjWuFg
— LateFX.ETH // (@LATE_FX) August 31, 2021
Drizzy got on his troll god steez using a Soulja Boy filter amid the rapper's "beef" with Kanye West. Over the last few days, Soulja has been popping off on Kanye for taking his verse off of DONDA track "Remote Control" Peep the clip above.
The CLB rollout has been insane and fans are eagerly awaiting the arrival of the musical offering. Are you?
Photo: Drake's IG