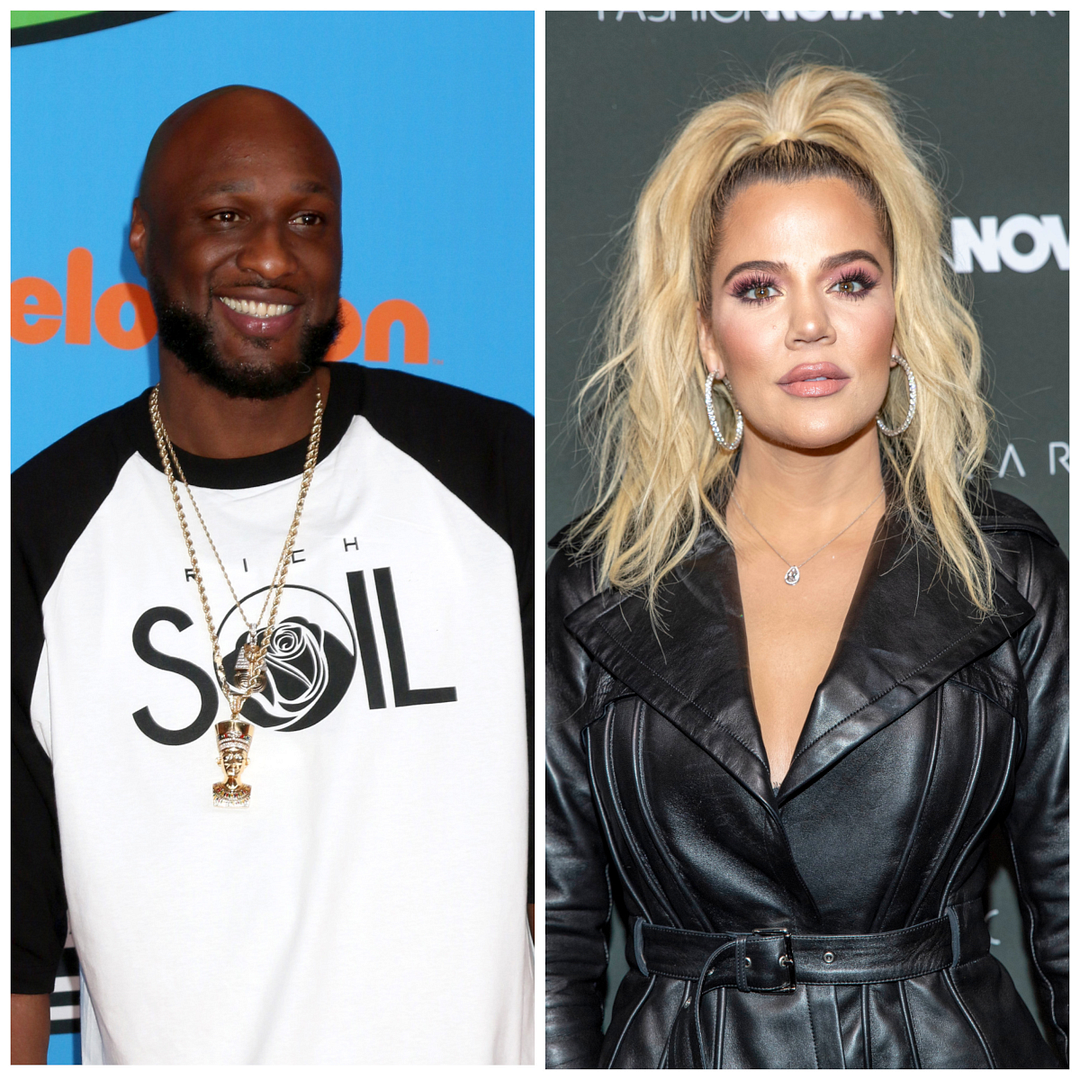 It appears Lamar Odom has turned into a social media troll and he's taking aim at his ex-wife Khloe Kardashian's baby daddy Tristan Thompson. Peep his latest post and get the scoop on the former NBA baller reportedly wanting his ex-wife back inside…
The fight for Khloe Kardashian's heart – or something – continues! And it seems her ex-husband Lamar Odom is using social media to help him win her back.
Just a few days ago, Lamar Odom sent Instagram in a frenzy when he hopped in his ex-wife Khloe Kardashian's Instagram comments to seemingly "test the waters" with a flirty comment. The "Keeping Up With The Kardashians" star posted up a bikini shot on IG last Friday, which caused some online drama between her ex-husband and her baby daddy Tristan Thompson.
LO wrote "Hottie" along with a few fire and heart eye emojis under a picture of Khloe in a bikini while getting wet under an outdoor shower. He's a single man these days after calling off his engagement with fitness fanatic, Sabrina Parr. Well, that pissed Tristan off, so the Boston Celtics player responded with what some dubbed a threat. If you missed the drama, catch up HERE.
Now, sources claim LO thought he'd try his hand with Khloe since she and Tristan allegedly broke up (again). "Sources" told TMZ Lamar "wasn't trying to be disrespectful" towards Tristan and that he was just testing the waters since it was reported Khloe and Tristan had called it quits after NEW cheating allegations came up.
Tristan and Khloe supposedly broke up completely after the latest cheating scandals. He was spotted entering and leaving a bedroom with multiple women at a recent house party as well, which led to "sources" confirming Khloe ended things with him weeks prior. Allegedly. However, she claims she's "genuine, great friends" with Tristan.
Also, there were those rumors about him cheating with a woman named Kimberly Alexander and another woman named Sydney Chase made claims she slept with Tristan as recent as January 2021.
While the sources said LO wasn't trying to be disrespectful, his social media tells another story.
Just recently, the former Los Angeles Lakers baller retweeted a video with the caption, "NBA Twitter watching Tristan Thompson pretend to act tough on Lamar Odom."
The clip features several NBA players and celebrities laughing in reaction to Fergie's tragic National Anthem performance from NBA All-Star 2018.
Here's evidence of the retweet:
And here's the video:
NBA Twitter watching Tristan Thompson pretend to act tough on Lamar Odom pic.twitter.com/GgIngzUBsh
— (@DayDreamThis) July 10, 2021
Tristan posted up a cryptic response on his IG Stories, asking the Lord to help him stay focused on him.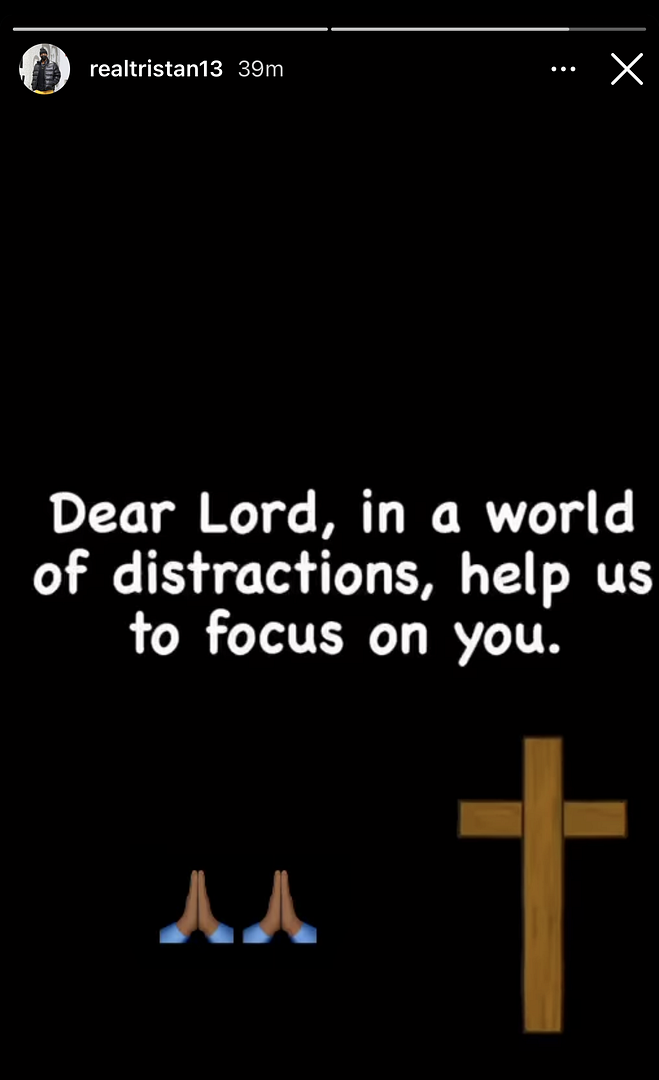 Oh.
An "insider" told E! News Khloe thinks the public beef is "childish."
"Khloe thinks the IG comments from Lamar and Tristan were childish," the source said. "She hates they were publicly acting like that, but also had a laugh."
We bet.
Ever since the IG drama popped off between LO and Tristan, Twitter has been cutting up with reactions:
Tristan Thompson sounds like this when he talks…is Lamar supposed to be scared? pic.twitter.com/by8Saku9tW
— Megan (@itsmeheauxxx) July 10, 2021
Lamar came back from the dead. you think he not beating Tristan ass? pic.twitter.com/tSNO19R7OS
— brianavision (@imnotbri_) July 10, 2021
Black men are down so bad for the Tristan Thompson Lamar Odom beef over Khloe.
— i am the cleopatra in pyramids. (@eyemnotplaying) July 10, 2021
Idk I got Lamar, I mean, the guy has practically died fourteen times but keeps coming back so tristan's got nothing on him.
— Mia "embattled Utah Jazz fan" Lastname (@themiasandrist) July 10, 2021
Let's break this down two black men in Tristan Thompson and Lamar Odom are sitting there fighting over a white woman Tristan would bring up a horrible situation where Lamar almost died that's where we are as the modern black men were in a crisis
— certifiedblacklife (@certifiedblack5) July 10, 2021
Tristan Thompson having fun running the streets and cheating on Khloe Kardashian until he sees Lamar Odom post a comment about one of her Instagram pics pic.twitter.com/olmFFAo6yI
— Rich (@UptownDC_Rich) July 10, 2021
Tristan and Lamar beefing on the internet over milk? pic.twitter.com/2IJXjXN8eb
— Jason Maples (@JJMaples55_MST) July 10, 2021
By the way, Lamar is starring on the new season of "Love & Hip Hop: Atlanta" so this drama could likely bump him up to a legit castmate. Or maybe he's trying to get his next opponent for another celebrity boxing match? Hmph.