Chile, Tristan Thompson and Lamar Odom are beefing in Khloe Kardashian's Instagram comments. LO left a flirty comment on Khloe's bikini pic and Tristan had the audacity to react…in a threatening way. Find out what he said inside…
Khloe Kardashian's exes are beefin' over her on social media. We know, cray.
Tristan Thompson sent a seemingly threatening comment to Lamar Odom after LO left a flirty comment under a picture of Khloe in a bikini.
The former Los Angeles Lakers baller wrote "Hottie" along with a few fire and heart eye emojis under a picture of his ex-wife in a bikini while getting wet under an outdoor shower.
LO shooting his shot we see now that he's a single man.
Well, Khloe's most recent ex wasn't feeling it. The 30-year-old Boston Celtics baller didn't like LO in his baby mama's comments, so he responded.
"@lamarodom God brought you back the first time. Play if you want, different results," the Canadian native wrote in response.
Are those fighting words? Sounds like Tristan wants all the smoke. He's referring to when Lamar almost died in 2015 after a drug overdose inside a Nevada brothel.
In a separate message posted minutes earlier, he sent Khloe heart and drooling emojis.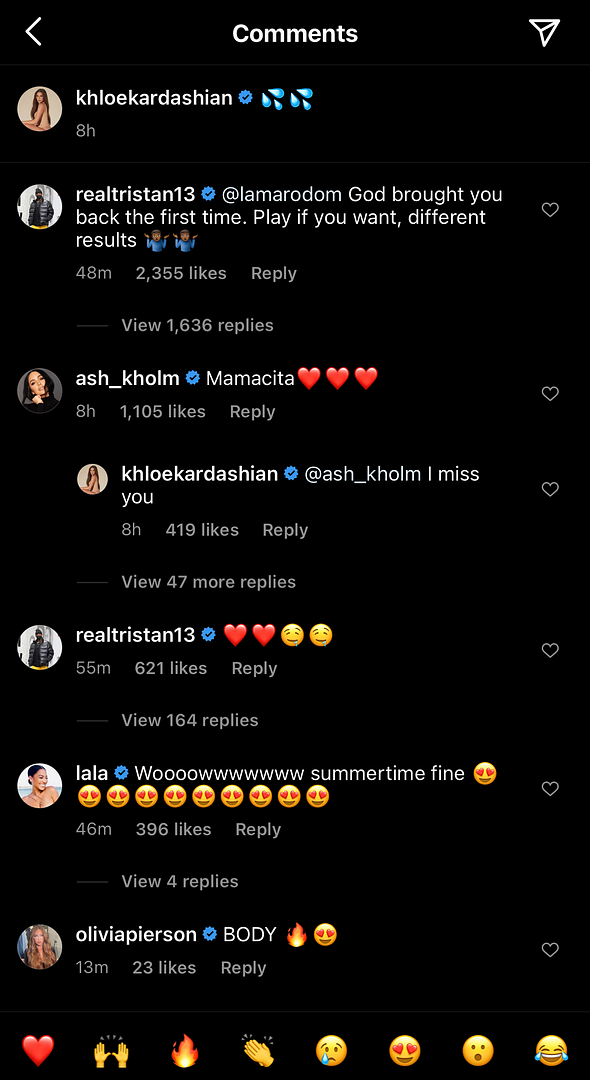 After Tristan and Lamar posted their comments, fans in the comments were sounding off and a lot of them were #TeamLamar: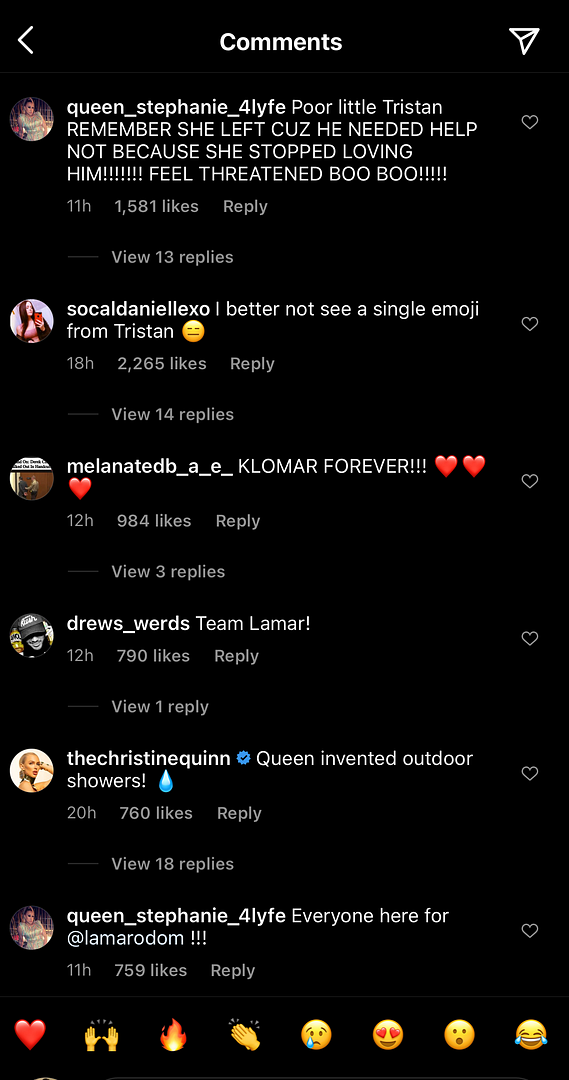 Hmm…we wonder if Lamar is creating drama for a "Love & Hip Hop: Atlanta" storyline. He's starring in the new season that premiered last week.
Peep a few Twitter reactions to the Tristan vs. Lamar drama below:
Tristan Thompson constantly cheats on Khloe then gets in his feelings when Lamar Odom comments on her photo pic.twitter.com/8R3zu7IJDd
— RY (@ryan_fortner25) July 10, 2021
Real footage of Tristan threatening Lamar under Khloe Kardashian's latest edited pic. pic.twitter.com/IgksfI348U
— MountainsMama (@MamaMountains) July 10, 2021
Khloe got Lamar Odom and Tristan Thompson going back and forth bout her city girls get a 1000 points respectfully
— lil duval (@lilduval) July 10, 2021
Tristan Thompson having fun running the streets and cheating on Khloe Kardashian until he sees Lamar Odom post a comment about one of her Instagram pics pic.twitter.com/olmFFAo6yI
— Rich (@UptownDC_Rich) July 10, 2021
A few days before, Tristan hopped in Khloe's IG comments posting up heart eye emojis:
And he also posted a Happy Birthday tribute on her birthday last month:
View this post on Instagram
Tristan really has a lot of audacity. As we all know, he has cheated on Khloe publicly MULTIPLE times. And it doesn't seem like he plans on stopping anytime soon.
EXCLUSIVE: Tristan Thompson disappeared into a bedroom with three women at a house party and emerged 30 minutes later looking 'disheveled' https://t.co/1gVN3ODi52
— Daily Mail Celebrity (@DailyMailCeleb) June 21, 2021
Tristan and Khloe supposedly broke up completely after the latest cheating scandals. He was spotted entering and leaving a bedroom with multiple women at a recent house party as well, which led to "sources" confirming Khloe ended things with him weeks prior. Allegedly. However, she claims she's "genuine, great friends" with Tristan.
Also, there were those rumors about him cheating with a woman named Kimberly Alexander and another woman named Sydney Chase made claims she slept with Tristan as recent as January 2021.
Hmph.
Photos: Tristan's IG/Lamar's IG