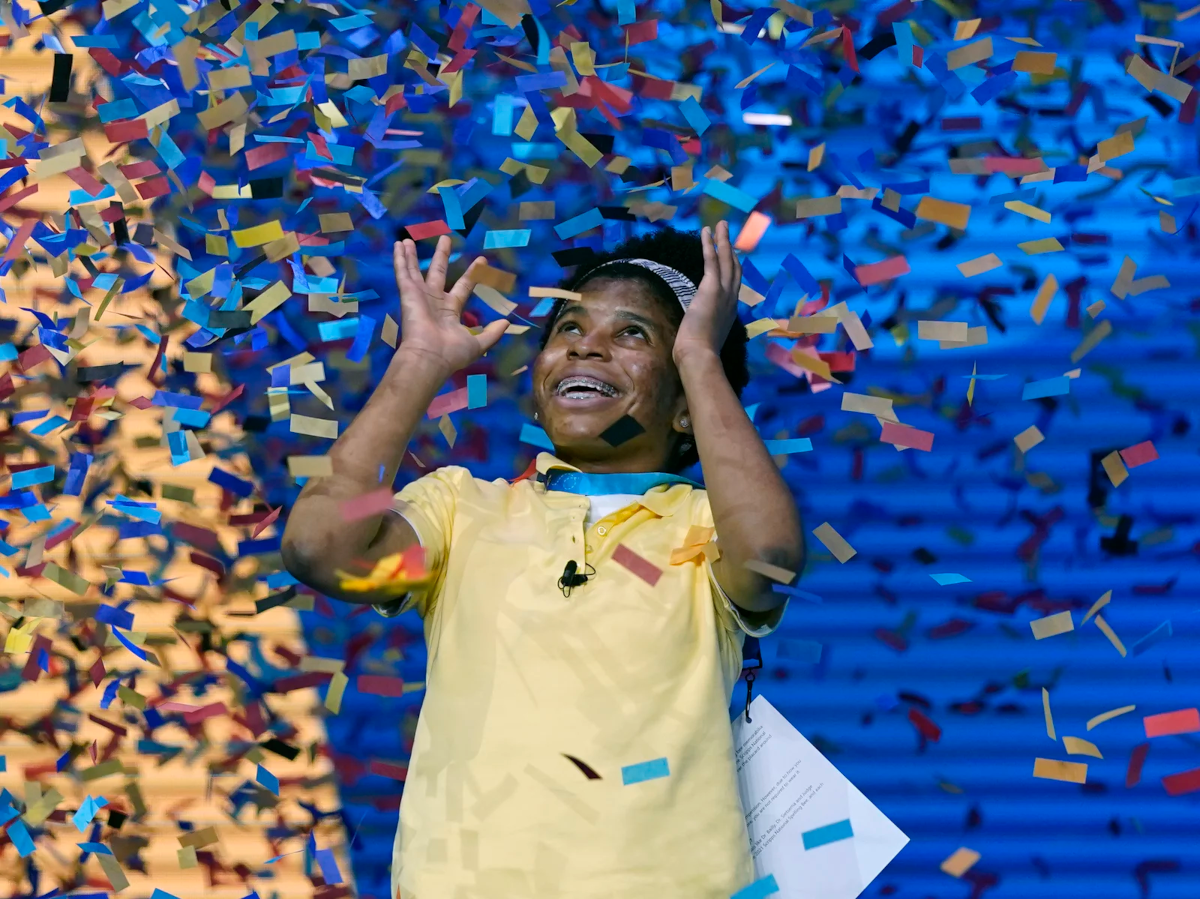 #BLACKGIRLMAGIC – double time! 14-year-old Zalia Avant-garde just won this year's national spelling bee and she is the first African American champ in the competition's history.
Not only that, she's also a phenomenal basketball player. She holds not one, not two, but THREE Guinness World Records! Celebrate this BOMB YBF Teen inside…
Remember this name: Zalia Avant-garde. Trust, she's doing big things.
14-year-old Zalia Avant-garde is the FIRST African American to win the Scripps National Spelling Bee! The 8th grader from Harvey, Louisiana (just outside of New Orleans) was crowned the 2021 Scripps National Spelling Bee yesterday (July 8th). Previously, the only Black winner – who also is the only champion from outside of the U.S. – was Jody-Anne Maxwell of Jamaica who won the spelling bee in 1998.
The word that Zalia spelled correctly for the win? "Murraya," which is a genus of flowering citrus plants in Asia. She took home the win after runner-up Chaitra Thummala misspelled "neroli oil" in the 17th round.
Watch how Zalia took home the win, a $50K check and that celebration twirl below:
View this post on Instagram
Yassssss! We LOVE to see it.
The YBF Teen said she hopes to see a more diverse group of kids to compete.
"I'm hoping that within the next few years, I can see a little bit of an influx of African Americans, and not many Hispanic people, either, so I'm hoping to see them there, too," she said.
Zalia Avant-Garde's dad has this bemused "this is just her side gig" vibe going on in this pic. pic.twitter.com/3ab57NVFm0
— Mary (@marysjudgingyou) July 9, 2021
Not only is she a spelling whiz, she's also a gifted athlete. Zalia currently holds THREE Guinness world records for basketball. You read it right.
#8thgrader #Middleschooler Zaila Avant-garde, . pic.twitter.com/fyjKQI4rME
— Zaila Avant-garde (@Basketballasart) June 1, 2021
The NY Times reports:
Zaila, whose father changed her surname from Heard to Avant-garde in homage to the jazz great John Coltrane, has for years found other avenues of success. A gifted basketball player, she set three Guinness world records for the most basketballs dribbled simultaneously (six basketballs for 30 seconds); the most basketballs bounces (307 bounces in 30 seconds); and the most bounce juggles in one minute (255 using four basketballs). With her victory on Thursday, she also became the first winner from Louisiana.
Zalia also appeared in a commercial with Golden State Warriors baller Steph Curry a few years ago.
In 2018, she appeared in a Steph Curry commercial that showcased her skills. She also learned how to speed read and figured out that she could divide five-digit numbers by two-digit numbers in her head, a skill she said she had a hard time explaining.
She hopes to one day play in the WNBA. Watch her flex her skills below:
Zaila Avant-garde #SpellingBee finalist Guinness World Record holder. pic.twitter.com/yiSn6kTCwy
— espnW (@espnW) July 9, 2021
6th & 7th grade #Highlights. Wait 'till you see her now , #waayyybetter. Been working like usual. [For more extensive highlights check out her Instagram page: @basketballasart]. pic.twitter.com/xkUcgtvSXW
— Zaila Avant-garde (@Basketballasart) October 19, 2020
And we'll be right here cheering her on.
MAJOR CONGRATS!
Photo: John Raoux/AP