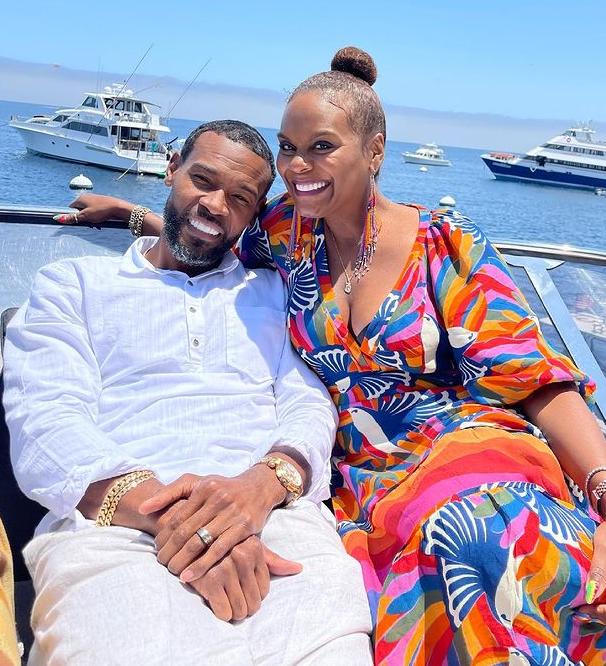 Daytime talk show host Wendy Williams shaded vegan influencer Tabitha Brown and Auntie Tab clapped back with an EPIC classy, southern read. Meanwhile, the Tabbage Patch is wreaking havoc in Wendy's comments section with avocado emojis. More inside…
Listen, Tabitha Brown is NOT to be messed with, okay? Whatever opinions you have about her – keep them to yourself, honey. Because Auntie Tab will serve up the most classiest reads ever while clearing WHOMEVER out, including Wendy Williams.
So check it…
During her Hot Topics segment, Wendy Williams addressed Tabitha Brown's announcement that she was reitiring her husband, Chance. In the clip, Tabitha shared Chance was a LAPD police officer for 15 years after they moved to the west coast from the east coast so Tab could follow her dreams as an actress.
"When my husband went on this journey, he really felt like he could make a difference and I know that he has in his community. He has done his part. But I also know it's time for him to dream again," Tabitha said in the video.
Peep her video below:
View this post on Instagram
While some would see Tabitha's post as something to celebrate, Wendy felt the exact opposite.
"Nope," Wendy said after playing a clip of Tabitha's video.
The daytime talk show host went on to compare her failed marriage to Kevin Hunter Sr. – who was also her manager for decades – to Tabitha and Chance's marriage. In so many words, Wendy said Tabitha's marriage will not last with a man like Chance.
"I was married to one of those, 'I make the money!' and so on and so forth. 'Go live your dreams! Open a business! Go, go, go!' See how that turned out," Wendy said. "I predict that this marriage is going to be on real rocky ground in a moment."
The 56-year-old divorcee was super negative about Tab's accomplishment and didn't hold back how she really felt about it. Check it below:
Apples and oranges.
While it's Wendy's job to talk about pop culture and call it like she sees it, that doesn't absolve her from getting cleared for it in return.
Once Auntie Tab caught wind of Wendy's comments, she hopped on social media to respond. And listen, this woman served up a REGAL READ. Auntie Tab served up he classiest read we've ever witnessed and GATHERED Wendy for speaking on her marriage.
View this post on Instagram
"People sent me a little clip, and I said, 'Oh my God, the pain this woman must be in' the pain you must be in to feel this way, and I'm so sorry," Tab started the video. We knew at that very moment Tab was about to go in on Wendy and do it all in love.
It's truly a superpower. Peep the clip above.
Needless to say, once Tab posted her response to Wendy, the Internet lost it:
Tabitha Brown said… I pray that someone will love you enough to see you when you are not well, when you need true support, compassion and kindness.
That's the most beautiful, loving response to negativity ever. I aspire. Wow.
— Gia Peppers (@GiaPeppers) July 1, 2021
Tabitha Brown told Wendy Williams "my husband supported me and I know you may not know what that looks like" sjdhfnsnmsns babyyyyy
pic.twitter.com/qiZLG6VzvG
— q. (@preludetoq) July 1, 2021
I'm not arguing with nobody anymore imma just say "whew, the pain you must be in, my God" and that's word to Tabitha Brown pic.twitter.com/y5nnfpTuGK
— crazy tail self. (@Flipoutquik) July 1, 2021
Somebody said Tabitha Brown cussed Wendy out without using any cuss words. pic.twitter.com/KVsjAhUjGl
— Nk3play2 F#cktheCDC_Still6ftBitch (@Nk3play2) July 1, 2021
They put Tabitha Brown reading Wendy over the Ether beat and I can't breathe Jesus somebody somebody send help pic.twitter.com/wrYaR9EZn5
— Naima Cochrane's Burner Acct (@stillnaima) July 2, 2021
When Tabitha Brown said to Wendy Williams, "The pain you must be in. And I'm so sorry. But listen, let me tell you this…" pic.twitter.com/4sF9FOwI5U
— Jermaine (@JermaineWatkins) July 1, 2021
Everybody being like "Tabitha Brown was so wholesome in that video to Wendy" clearly didn't know when a certain type of southern woman has threatened their lives before
— David Dennis Jr. (@DavidDTSS) July 1, 2021
Mood: Tabitha Brown pic.twitter.com/7ID6MgHhxe
— E (@Iamgrooootttttt) July 1, 2021
SCREAMING!
It didn't stop there…
View this post on Instagram
Tabitha Brown fans – who dubbed themselves the Tabbage Patch – booted up with avocado emojis and filled Wendy's comments with them. Tabitha is vegan and she LOVES avocados. Bloop!
Don't come for Auntie Tab! She's unproblematic and minds HER business.
Photo: Tabitha's IG