Hip Hop pioneer Queen Latifah was honored with the Lifetime Achievement Award during the 2021 BET Awards. Fellow rap queens MC Lyte, Lil Kim, Rapsody, and Monie Love hit the stage with a medley of her hits. More inside…
ALL HAIL THE HIP HOP QUEEN!
View this post on Instagram
Hip Hop pioneer Queen Latifah was given her flowers after decades of putting in work, which ultimately opened the doors for generations of Black women in music and entertainment.
The mutli-hyphenate star (whose real name is Dana Owens) was honored with the Lifetime Achievement Award during the 2021 BET Awards, hosted by Taraji P. Henson. This year's awards show theme was "Year of the Black Woman" and they made sure to celebrate all women.
For the tribute, Rapsody kicked things off with "Ladies First," before she was joined by British rap star Monie Love. NYC raptress Lil Kim hit the stage for a rendition of "U.N.I.T.Y." and then rap queen MC Lyte joined her on stage to finish the track.
"Queen Latifah, we are here today to give you your flowers — your so-deserved flowers, long-overdue flowers. You are the first Queen! The Queen! My Queen! Thanks for paving the way for us. Thank you," Kim said at the end of tribute performance.
Check it out below:
Queen Latifah hit the stage to thank the ladies for the honor.
"Thank you so much, everyone. Thank you, my sisters – y'all my sisters in the name of rap. You always have been. I'm so extremely moved that I don't even know what to say. Let me just say that I want to thank God because God designed this whole thing to be this way," the 51-year-old entertainer said during her acceptance speech.
View this post on Instagram
She went on to thank her family and friends, including her dad (who was right there with her) and her mom (who passed away in 2018). She used a picture of her mother on the back of her acceptance speech as well.
View this post on Instagram
"There is no way that I could have had the parents that I was born to – my father, my mother [who died in 2018], who is still so much in me – my family, I love you – my siblings. My best friends who ride or die with me whether my face is on the dirt or I'm flying in the skies – they know me. And they're there for me," she said while getting emotional.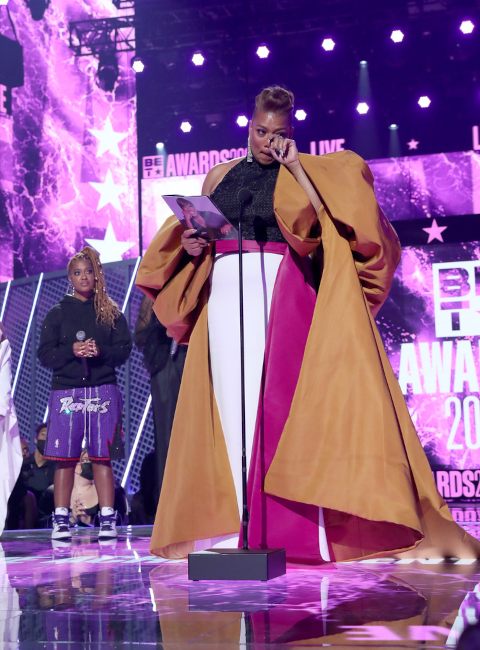 Queen thanked her longtime Flavor Unit Entertainment business partner Shakim Compere and she also gave a rare shoutout to the two people closest to her.
"Eboni, my love, Rebel, my love" she said, which is a reference to her partner Eboni Nichols and their son. "Peace, happy Pride," she ended her speech.
View this post on Instagram
Peep her emotional speech below:
CONGRATS QUEEN!
Photo: Getty
WE'RE OUTSIDE WITH IT: A LOOK AT THE 2021 BET AWARDS RED CARPET