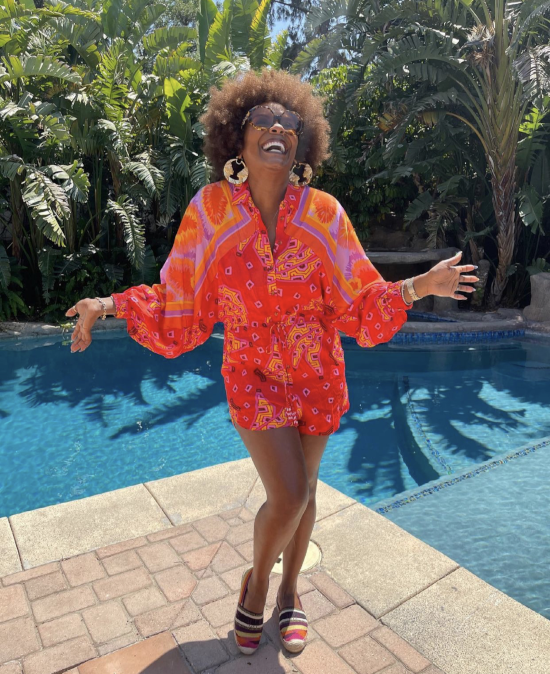 Our favorite vegan influencer Tabitha Brown is set to release her own "sunshine" all purpose seasoning because THAT'S HER BUSINESS. And we're going to buy it all up when it goes on sale "like so, like that." Find out when you can get your hands on a bottle inside…
*squeals* Our girl Tabitha Brown is making major moves and we LOVE to see it. And soon eat it!
After starring in the new season of "The Chi," vegan influencer Tabitha Brown is gearing up to bring a little sunshine in their lives of her fans. And we're HUGE fans. We've been watching auntie Tab for YEARS before everyone else caught on, so seeing her prosper has us super excited.
So, let's get into it.
Auntie Tab partnered up with McCormick to create a seasoning that would bring some joy and "Sunshine" in people's lives – particually their food because what is Tabitha known for online? Creating BOMB vegan dishes for everyone. The famed social media influencer will launch a new, limited-edition Sunshine All Purpose Seasoning and we can't WAIT to try it.
The spice mix includes garlic, allspice, thyme, turmeric, cayenne pepper, mango, and pineapple.
"Sunshine for me is about spreading positivity. I always say, 'Have a good day and if you can't, don't you dare go messing up nobody else's.' This seasoning is all about bringing that radiance and positive energy into your kitchen," Tabitha said in a press release. "You can use the Sunshine All Purpose Seasoning on any dishes you have planned this summer, whether it's for heading out to a BBQ or cooking at home because that's your business."
And get this! She even made sure to share a few vegan recipes that feature her new all purpose seasoning, which include Sunshine Shick'n, Chicky Farro Bowl and Maple Roasted Sweet Potato Wedges.
Our mouth is literally watering.
Screenwriter Kevin Fredericks received a promo box and his impersonation of Tab is hilarious. Check it:
View this post on Instagram
"Claws" actress Niecy Nash also copped a bottle and praised Tab on her Instagram.
Sunshine All Purpose Seasoning (which is a limited edition) will go on sale starting July 8th and it'll be sold exclusively online through McCormick.com while supplies last. So, you know what that means….you better get your order in EARLY "like so, like that."
Now, if you're unable to cop a bottle of sunshine and you're mad about it, "don't go messing up" nobody's else day, you hear? Auntie Tab will come after you for that!
Photo: Tabitha's IG