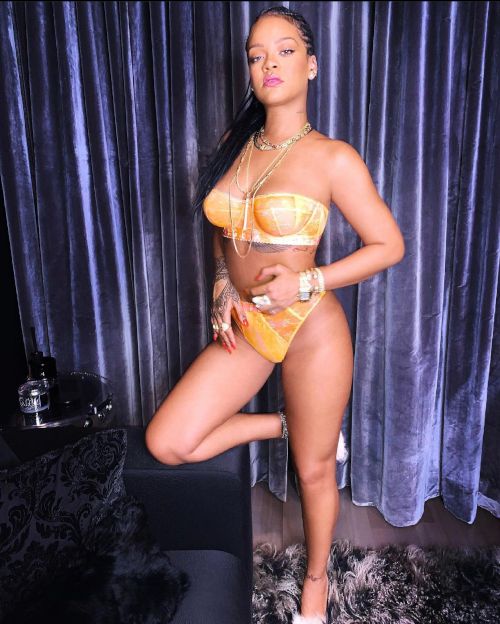 Yes, she does it all! Rihanna serves as the muse, the photographer, and the stylist for the cover of VOGUE Italia's June 2021 issue. Get into her creative vision inside…
View this post on Instagram
Rihanna had a vision for her newest VOGUE cover and she understood the assignment!
Almost 12 years after her first appearance on one of the top fashion magazines in the world, the Fenty Beauty mogul returns to grace the cover of VOGUE Italia's June 2021 issue. Get this…
The global superstar graced her first VOGUE cover for Italia's September 2009 issue. Now, it's like a full circle moment over a decade later where SHE is calling all of the shots. Oh yes, RiRi does more than pose it up in front of a camera. For the "do it yourself" issue, she served as the model, the photographer and the stylist!
Dripping in Valentino, the Pop Princess oozed sex appeal with an exaggerated model pose that showed off extra skin, but she kept it classy. The pixie cut topped off the high fashion lewk and we stan.
Rihanna by Rihanna and we're here for it!
View this post on Instagram
"In recent years we have tried to use our cover in many different ways: with photography or illustrations, or with no images at all," said Emanuele Farneti, editor-in-chief of Vogue Italia.
"But we've never invited the featured person to do everything by themselves: to pose, take the photographs and choose the clothes to wear. If there was a right occasion for this new experiment, it could only have been the DIY issue. Neither could there have been a better protagonist than Rihanna – who has appeared on so many covers, but never like this time in the version in which she, and only she, has chosen to portray herself, without filters or any mediation," he continued.
View this post on Instagram
Fans noticed some Internet chatter that said her VOGUE Italia cover pushed her next to singer Madonna as two singers who achieved "The Big Four" in Vogue history, which means they have covered American VOGUE, British VOGUE, VOGUE Paris and VOGUE Italia. However, she accomplished that goal in 2017 when she appeared on VOGUE Paris. By that time, she had already landed covers on "The Big Four."
Of course, that Rihanna reign still isn't letting up.
Photo: Rihanna's IG