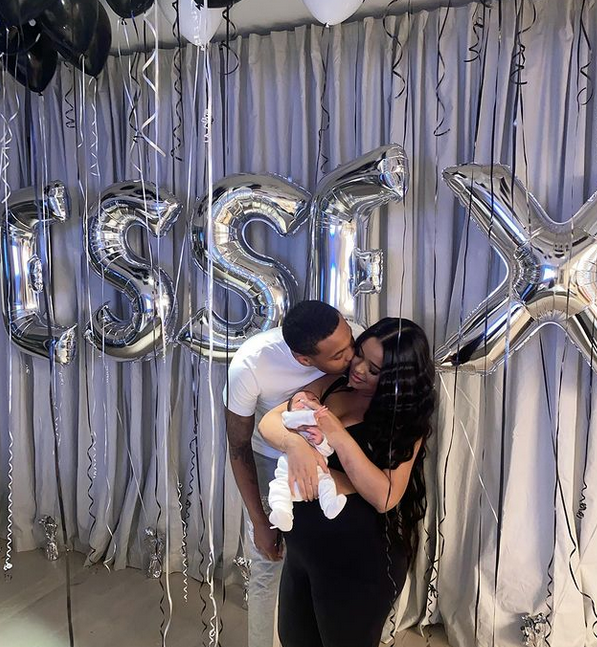 G Herbo and Taina Williams are showing off their adorable baby boy, Essex William Wright, just days after he made his grand entrance into the world. Get into the cuteness overload inside…
A couple of days ago, rapper G Herbo and his girlfriend Taina Williams welcomed their first child together. The happy couple named their baby boy Essex William Wright. Herbo grew up on 79th & Essex, so the baby's name is seemingly a tribute to his beginnings.
Baby Essex was born May 27, 2021 at 12:23am, weighing in at 6lbs 12oz. And to say he's adorable is an understatement.
After G Herbo shared a picture of the baby's hand on his arm, Taina gave fans a full shot of their new bundle of joy. Baby Essex was dressed up in a rainbow onesie with a matching cap. Fans noticed Taina used the hashtag #myrainbowbaby, which led some fans to believe she may have suffered a miscarriage before as "rainbow baby" is a term used for babies born after the mother has suffered a miscarriage. The new mom didn't specify if that is the case or not, though.
View this post on Instagram
View this post on Instagram
In another shot, Herbo gave Taina a little kis on the cheek as she held their baby boy. She captioned it, "Bendiciones."
View this post on Instagram
The "Ridin' With It" rapper shared an adorable flick of Baby Essex smiling, with the caption, "HOW I SLEEP WHEN I GOT A RAW ASS FIT TO PUT ON TOMORROW"
Lord.
View this post on Instagram
And "Mimi" Emily B gushed over her grandson with a sweet message.
"So, there's a boy. He stole my heart," she wrote. "Essex William Wright."
"Congratulations @latainax3 & @nolimitherbo! Remember there's no place like home—except Mimi's house lol!"
FabPa (rapper Fabolous) hopped in the comments and posted a black heart along with the grandpa emoji.
Baby Essex is Taina's first child and Herbo's second. The PTSD rapper has a 3-year-old son, Yosohn Wright, from a previous relationship with Ari Fletcher.
While his personal life is going great, G Herbo is currently in the middle of legal drama. He recently entered a not guilty plea on a new charge of lying to the feds amid his wire fraud case.
On May 25th (two days before Essex was born), G Herbo (real name Herbert Wright III) reportedly entered a "not guilty" plea via a Zoom conference with U.S. District Judge Mark G. Mastroianni in Springfield, Massachusetts. The Swervo rapper has been accused of lying about participating in alleged identity/wire fraud and his dealings with the man identified as his manager, Antonio Strong.
This past December, G Herbo turned himself in to police over the 14-count indictment, to face charges that include conspiracy to commit wire fraud, aggravated identity theft, and aiding and abetting. The next pretrial hearing in the case is set for August 5th.
Herbo and Taina are also building their first home together, so there's plenty to get done before August.
Photo: Taina's IG